Below the Fold (Clare Carlson Mystery #2) (Paperback)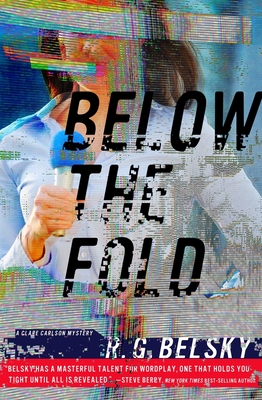 $16.00
Backordered or Out of Print
Other Books in Series
This is book number 2 in the Clare Carlson Mystery series.
Description
---
Foreword INDIES Book of the Year Award Gold Winner for Mystery

When the murder of a "nobody" triggers an avalanche

Every human life is supposed to be important. Everyone should matter. But that's not the case in the cutthroat TV news-rating world where Clare Carlson works. Sex, money, and power sell. Only murder victims of the right social strata are considered worth covering. Not the murder of a "nobody."

So, when the battered body of a homeless woman named Dora Gayle is found on the streets of New York City, her murder barely gets a mention in the media. But Clare—a TV news director who still has a reporter's instincts—decides to dig deeper into the seemingly meaningless death. She uncovers mysterious links between Gayle and a number of wealthy and influential figures.

There is a prominent female defense attorney; a scandal-ridden ex-congressman; a decorated NYPD detective; and—most shocking of all—a wealthy media mogul who owns the TV station where Clare works.

Soon there are more murders, more victims, more questions. As the bodies pile up, Clare realizes that her job, her career, and maybe even her life are at stake as she chases after her biggest story ever.

Perfect for fans of Harlan Coben and Robert Crais

While all of the novels in the Clare Carlson Mystery Series stand on their own and can be read in any order, the publication sequence is:

Yesterday's News
Below the Fold
The Last Scoop
Beyond the Headlines
It's News to Me
Broadcast Blues (coming 2024)
About the Author
---
R. G. Belsky is an author of crime fiction and a journalist in New York City. He has been a top editor at the New York Post, NY Daily News, Star Magazine, and NBC News. Below the Fold is the second in his award-winning Clare Carlson Mystery Series, following Yesterday's News, and is followed by The Last Scoop and Beyond the Headlines. Belsky resides in New York City.
Praise For…
---
"
Below the Fold
takes readers on a whiplash ride through a New York murder case. The television news investigation provides a fascinating lens for the story. Heroine Clare Carlson is formidable, human, and thoroughly authentic. R. G. Belsky knows his stuff." —Meg Gardiner, Edgar Award-winning author
"In an era of "fake news" and political attacks on the free press, reporter-turned-TV news director Clare Carlson personifies the best in journalism—tenacious, honest, and relentless in her pursuit of the truth and to giving a voice to those who can't speak for themselves." —Lee Goldberg, New York Times best-selling author
"Below the Fold is a gripping and intelligent thriller that rips open the dark underbelly of TV news, written by a former television and print journalist himself. Fast-moving and full of colorful, down-and-dirty characters, this terrific novel is the second in a series starring the compelling and engaging TV journalist Clare Carlson." —Douglas Preston, New York Times best-selling author
"In Below the Fold, R. G. Belsky has created a twisty tale where almost nothing is as it seems and everyone is hiding dark secrets, including damaged heroine Clare Carlson. Belsky's background in everything news makes you feel like you're feeling the heat of the spotlights right next to the anchors in front of the TV cameras." —Matt Coyle, Anthony, Shamus, and Lefty Award-winning author
"Below the Fold is a terrific mystery, written with a veteran journalist's eye. The pacing and plotting are everything you want, but it's R. G. Belsky's insider knowledge that adds a wonderful layer to this story of media and murder." —Michael Koryta, New York Times best-selling author
Praise for The Clare Carlson Mystery Series
"Belsky's 
Yesterday's News
 elicits all parents' deepest fear—the disappearance of a child. But this intelligent, gripping novel is about so much more: ambition, secrets, and, most shocking of all, truth." —Reed Farrel Coleman, 
New York Times
 best-selling author
"(
Yesterday's News
) A complex and compelling nonstop cat-and-mouse chase—and you're never quite sure which one's the mouse. Even the savviest of readers will be gasping in awe at Belsky's impressive story-telling skills." —Hank Phillippi Ryan, Agatha, Anthony, and Mary Higgins Clark Award-winning author
"Belsky's behind-the-headlines thriller 
Yesterday's News
 is about truth, lies—and how much of each we're willing to live with." —Lori Rader-Day, Mary Higgins Clark Award-winning author
"Taut, fast-paced and compelling characters make 
Yesterday's News
 a page-turner." —Mary Burton, 
New York Times
 best-selling author
"
The Last Scoop
is another surefire success for author R. G. Belsky as well as for Oceanview Publishing which has been putting out one top-notch page-turner after another." —
New York Journal of Books
"Belsky's experience as a journalist provides fascinating insights and a sense of authenticity. Readers will look forward to seeing more of doggedly determined Clare." —
Publishers Weekly
"Belsky (
The Last Scoop
) is rubbing elbows with Michael Connelly, Daniel Silva, Louise Penny, and C.J. Box, James Lee Burke, John Grisham, Ken Bruen, Robert Crais and Greg Iles. That is high praise for Belsky. If you're a fan of murder mysteries, then start this book which you won't put down until the story is over." —
Men Reading Books