Vindication (A Matt Royal Mystery #11) (Paperback)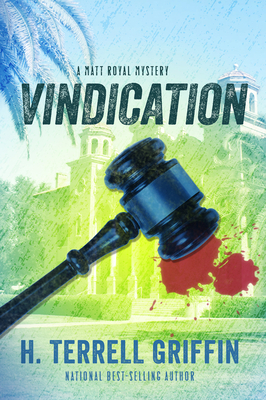 $16.00
Usually Ships in 1-5 Days
Description
---
Premier adult community with everything you could possibly want, need, or dream of doing in your retirement years is just a golf cart ride away—now the scene of a murder
In this John Grisham style mystery, Matt Royal, the retired lawyer-turned-beach-bum is called back into the courtroom to defend his girlfriend J. D. Duncan's Aunt Esther, who lives in the sprawling North Central Florida retirement community of The Villages. A best-selling author has been murdered after a book signing, and Aunt Esther has been arrested. Matt has a history with the local sheriff—one which may not bode well for his client.
Matt reluctantly suits up for the courtroom, and J.D. takes a leave from the police department to go undercover. A bizarre specter from the past haunts their investigation every step of the way. As they delve further into the case, the pieces of the puzzle refuse to fall into any kind of coherent pattern. Jock Algren arrives with his special skill set to expose the real murderer and free Aunt Esther, but to no avail. Not until the case goes to trial and the evidence is revealed does the truth emerge—and a strange kind of justice prevails.
About the Author
---
H. Terrell Griffin, a former board-certified civil trial lawyer and soldier, is the award-winning and best-selling author of ten Matt Royal mysteries set on the Florida Gulf Coast island of Longboat Key, and now Vindication, which takes place in The Villages in Central Florida. He and his wife, Jean, divide their time between their homes in Maitland, Florida, and Longboat Key, Florida.
Praise For…
---
"A case of literary theft propels Griffin's appealing 11th outing for semi-retired Longboat Key, Fla., lawyer Matt Royal … [a] well-plotted whodunit."
—Publishers Weekly
"[Matt Royal's] efforts to connect the jigsaw pieces make for fascinating reading."
—Booklist
"Courtroom drama not seen since … the glory days of John Grisham's legal masterpieces."
—Bookreporter
>
Praise for the Matt Royal series:
"Bitter Legacy is another solid cruise in the sun with H. Terrell Griffin. This story takes you in and holds you to the very last page. I enjoyed the ride!"
—Michael Connelly, New York Times best-selling author
"Witty, smart, and highly entertaining. [Found] is an intriguing mix of hopes and fears that combine into a pulse-pounding treat."
—Steve Berry, New York Times best-selling author
"Terry Griffin's latest entry [Collateral Damage] in the Matt Royal set-in-Florida mysteries is a perfect blend of old south, beach bum, funky character-driven stories—the kind that made J. D. MacDonald famous—only Griffin's tale tops the best with its unexpected blend of international intrigue."
—David Hagberg, New York Times best-selling author
"[In Chasing Justice] Royal ensures that justice triumphs in this highly satisfying courtroom drama."
—Publishers Weekly (Starred Review)
- -