The Future of War: A History (Hardcover)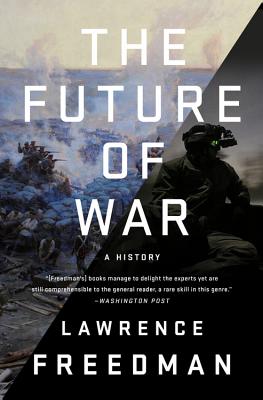 $40.00

NOT ON OUR SHELVES- available for order, usually ships in 1-5 days
Description
---
An award-winning military historian, professor, and political adviser delivers the definitive story of warfare in all its guises and applications, showing what has driven and continues to drive this uniquely human form of political violence.

Questions about the future of war are a regular feature of political debate, strategic analysis, and popular fiction. Where should we look for new dangers? What cunning plans might an aggressor have in mind? What are the best forms of defense? How might peace be preserved or conflict resolved?

From the French rout at Sedan in 1870 to the relentless contemporary insurgencies in Iraq and Afghanistan, Lawrence Freedman, a world-renowned military thinker, reveals how most claims from the military futurists are wrong. But they remain influential nonetheless.

Freedman shows how those who have imagined future war have often had an idealized notion of it as confined, brief, and decisive, and have regularly taken insufficient account of the possibility of long wars-hence the stubborn persistence of the idea of a knockout blow, whether through a dashing land offensive, nuclear first strike, or cyberattack. He also notes the lack of attention paid to civil wars until the West began to intervene in them during the 1990s, and how the boundaries between peace and war, between the military, the civilian, and the criminal are becoming increasingly blurred.

Freedman's account of a century and a half of warfare and the (often misconceived) thinking that precedes war is a challenge to hawks and doves alike, and puts current strategic thinking into a bracing historical perspective.
About the Author
---
Lawrence Freedman is emeritus professor of War Studies at King's College London. Elected a fellow of the British Academy in 1995 and awarded the CBE in 1996, he was appointed official historian of the Falklands Campaign in 1997. He was awarded the KCMG in 2003. In June 2009, he was appointed to serve as a member of the official inquiry into Britain and the 2003 Iraq War.

Professor Freedman has written extensively on nuclear strategy and the Cold War, as well as commentating regularly on contemporary security issues. His book, Strategy, was a best book of 2013 in the Financial Times, A Choice of Enemies: America Confronts the Middle East won the 2009 Lionel Gelber Prize and Duke of Westminster Medal for Military Literature.
Praise For…
---
Praise for Lawrence Freedman's Strategy: A History

"[Freedman's] books manage to delight the experts yet are still comprehensible to the general reader, a rare skill in this genre. On this occasion, he has produced what is arguably the best book ever written on strategy." --Washington Post

"Magisterial... wide-ranging erudition and densely packed argument."
--The Economist

"This is a book of startling scope, erudition and, more than anything, wisdom." --Financial Times

"Lawrence Freedman shows here why he is justly renowned as one of the world's leading thinkers about strategy, which he defines as the central art of getting more out of a situation than the starting balance of power would suggest." --Joseph S. Nye, Jr., Harvard University and author of The Future of Power

"This substantial, comprehensive, hermeneutic work examines the various dimensions and history of "strategy," which Freedman defines as "the art of creating power"...this very ambitious exploration provides readers with a useful introduction to the field of strategic studies." --CHOICE

"Freedman consistently brings the discussion down to real cases, covering a wide range of history and geography. The final section, which considers the place of gang warfare and civil unrest in many parts of the world and the likely role of China in future conflicts, is especially thought-provoking. The author's lively style adds to the interest for general readers. A valuable book for anyone interested in international affairs."—Kirkus Reviews, starred review

"The one thing that Sir Lawrence is sure of is that
predictions of future war rarely get it right. His message to policymakers is
to beware those who tout 'the ease and speed with which victory can be achieved
while underestimating the resourcefulness of adversaries'. Anybody who thinks
otherwise should read this book."—The Economist

"[An] engaging survey of how and why historians and
writers--of nonfiction, fiction and film--bravely prognosticate. The theme is
scholarly, but the tone is refreshingly popular: Tom Clancy makes the index,
but von Clausewitz does not."—Army Times

"The work is extremely well written and an erudite product produced by a
renowned military theorist. It should, without reservation, be considered a
welcome addition to both the personal library of the more seasoned scholar as
well as that of the senior level officer."—Parameters

"Innovative... Readers who spend their time with either tech-driven science fiction or RAND analyses should put them aside for a while and read this thought-provoking book on the power of ideas in shaping the future of grand strategy."—Lawfare