Operational Updates
Click HERE for the most updated hours, customer guidelines and updates to store policy.
The Walls Around Us (Hardcover)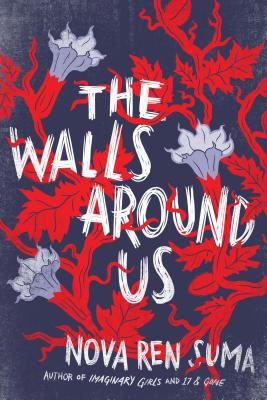 $17.95
Email or call for price
Description
---
An NPR Best Book of 2015
A Boston Globe Best Book of 2015
A Chicago Public Library Best Teen Fiction of 2015
A BookRiot Best Book of 2015
A 2016 YALSA Best Book for Young Adults
A Horn Book Fanfare Best Books of 2015
A School Library Journal Best Book of 2015
A 2015 Edgar Award Nominee for Best Young Adult 

"Ori's dead because of what happened out behind the theater, in the tunnel made out of trees. She's dead because she got sent to that place upstate, locked up with those monsters. And she got sent there because of me."

On the outside, there's Violet, an eighteen-year-old dancer days away from the life of her dreams when something threatens to expose the shocking truth of her achievement.

On the inside, within the walls of the Aurora Hills juvenile detention center, there's Amber, locked up for so long she can't imagine freedom.

Tying their two worlds together is Orianna, who holds the key to unlocking all the girls' darkest mysteries . . .

What really happened on the night Orianna stepped between Violet and her tormentors? What really happened on two strange nights at Aurora Hills? Will Amber and Violet and Orianna ever get the justice they deserve—in this life or in another one?

In prose that sings from line to line, Nova Ren Suma tells a supernatural tale of guilt and of innocence, and of what happens when one is mistaken for the other.

"A suspenseful tour de force, a ghost story of the best sort, the kind that creeps into your soul and haunts you." —Libba Bray, author of The Diviners and A Great and Terrible Beauty
 
About the Author
---
Nova Ren Suma is the author of the #1 New York Times bestselling The Walls Around Us, which was an Edgar Award finalist. She also wrote Imaginary Girls and 17 & Gone and is co-creator of FORESHADOW: A Serial YA Anthology. She has an MFA in fiction from Columbia University and teaches writing at Vermont College of Fine Arts and the University of Pennsylvania. Originally from the Hudson Valley, she spent most of her adult life in New York City and now lives in Philadelphia.
Praise For…
---
"With evocative language, a shifting timeline and more than one unreliable narrator, Suma subtly explores the balance of power between the talented and the mediocre, the rich and the poor, the brave and the cowardly… To reveal more would be to uncover the bloody heart that beats beneath the floorboards of this urban-legend-tinged tale." —The New York Times

"The Walls Around Us passionately testifies to the ways in which girls are walled up, held down, fenced in. It's a gorgeously written, spellbinding ghost story. . . Nova Ren Suma's prose hums with such power and fury that when the explosions do happen, they seem unavoidable." —Chicago Tribune

"Unputdownable . . . the well-paced plot reveals guilt, innocence, and dark truths that will not stay hidden." —The Boston Globe

"Mixing mystery and supernatural elements, this book is ridden with lyrical prose and will keep you guessing the truth right up until the very end." —Bustle.com

"Intense and haunting . . . This story is told in line after line of beautifully crafted prose that sear themselves into the reader's mind. Revelations seep out in an almost abstract way that sneaks up on you, then suddenly the truth is out and knocking you sideways. A stunning, unforgettable, and ghostly tale from start to finish." —San Francisco Book Review

"Suma excels in creating surreal, unsettling stories with vivid language, and this psychological thriller is no exception. Along the way, Suma also makes a powerful statement about the ease with which guilt can be assumed and innocence awarded, not only in the criminal justice system, but in our hearts—in the stories we tell ourselves. A fabulous, frightening read." —Booklist, starred review

"The wholly realistic view of adolescents meeting the criminal justice system is touched at first with the slimmest twist of an otherworldly creepiness, escalating finally to the truly hair-raising and macabre. Eerie, painful and beautifully spine-chilling." —Kirkus Reviews, starred review

"This haunting and evocative tale of magical realism immerses readers in two settings that seem worlds apart . . . Suma's unflinchingly honest depiction of the potentially destructive force of female friendship and skillful blending of gritty realism with supernatural elements is reminiscent of Laurie Halse Anderson's Wintergirls, and the eerie mood she evokes is unnervingly potent." —School Library Journal, starred review

"In lyrical, authoritative prose, Suma weaves the disparate lives of [the] three girls into a single, spellbinding narrative that explores guilt, privilege, and complicity with fearless acuity. . . The twisting, ghostly tale of Ori's life, death, and redemption is unsettling and entirely engrossing." —The Horn Book Magazine, starred review

"Gratifyingly disturbing . . . Suma craftily sets the two stories against one another, moving between Violet's fiercely grounded account and Amber's hauntingly destabilized one, enticing readers to figure out how the pieces go together." —Bulletin for the Center for Children's Books, starred review

"Powerful . . . The compelling narrative, written in scintillating prose and featuring incredibly real characters, brings the two stories together in an explosive finale with a supernatural twist that results in a satisfying resolution." —VOYA, starred review

"Gripping. . . Just try to put this down." —Shelf Awareness for Readers, starred review

"A suspenseful tour de force, a ghost story of the best sort, the kind that creeps into your soul and haunts you." —Libba Bray, author of The Diviners and A Great and Terrible Beauty

"Fearlessly imagined and deliciously sinister, The Walls Around Us is hypnotic, luring the reader deeper and deeper into its original, shocking narrative." —Michelle Hodkin, The Mara Dyer Trilogy

"Written in luscious and deliciously creepy prose not easy to forget…This is a story about guilt and innocence, about secrets and how deep we let people into those places within us, and it's a story about how the past can define our present, even if we try desperately to keep that past under wraps. Put it on your radars now; this is an outstanding literary young adult novel more than worth the wait." —Book Riot