Operational Updates
Dear Ripped Bodice Community,
We want to make sure we are keeping you updated on how we are handling this crisis. It's been a very challenging time but we are hanging in there.
The shop remains closed to all customers with no events on the calendar.
-Online orders
We are still accepting online orders and have adopted a process to best comply with the evolving guidelines from California and LA County Departments of Health.
This means that Leah is processing all incoming orders and our staff has been instructed to stay at home. Because this is now a one-woman operation, shipping may be slower than normal. We love and appreciate your support in this incredibly difficult time, so we ask that you bear with us as we continue to fill orders. Given the state of the world and The Post Office, we are strongly recommending that you use USPS flat rate shipping at this time to ensure the quickest and most accurate delivery.
-Care packages
We are now accepting new orders for care packages. However, because we are down to a shipping staff of one, we will be accepting orders in batches so as not to overwhelm Leah. Head to this link to enter your email address, and we'll send you the order link once it's your turn.
Questions about orders (or anything) can be directed to hello@therippedbodicela.com
Finally, now is a great time to think about becoming a Patron of the store.
http://patreon.com/TheRippedBodice
There is already a ton of cool content you can check out on our page. Including 12 original short stories from some amazing romance authors. Vlogs and other fun stuff. We know this is not an option for everyone and that's totally okay and understandable. But if you're looking for a way to help, this is a great option.

We hope you are all doing okay and making it through one day at a time.
xoxo, Bea & Leah and Fitz
Insurrecto (Hardcover)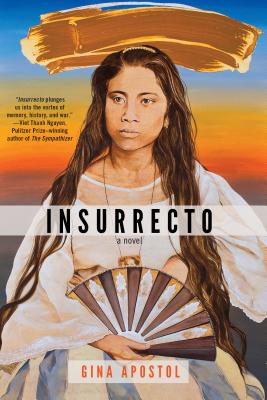 $26.00
Usually Ships in 1-5 Days
Description
---
"A bravura performance."—The New York Times

Histories and personalities collide in this literary tour-de-force about the Philippines' present and America's past by the PEN Open Book Award–winning author of Gun Dealers' Daughter.
 
Two women, a Filipino translator and an American filmmaker, go on a road trip in Duterte's Philippines, collaborating and clashing in the writing of a film script about a massacre during the Philippine-American War. Chiara is working on a film about an incident in Balangiga, Samar, in 1901, when Filipino revolutionaries attacked an American garrison, and in retaliation American soldiers created "a howling wilderness" of the surrounding countryside. Magsalin reads Chiara's film script and writes her own version. Insurrecto contains within its dramatic action two rival scripts from the filmmaker and the translator—one about a white photographer, the other about a Filipino schoolteacher.
 
Within the spiraling voices and narrative layers of Insurrecto are stories of women—artists, lovers, revolutionaries, daughters—finding their way to their own truths and histories. Using interlocking voices and a kaleidoscopic structure, the novel is startlingly innovative, meditative, and playful. Insurrecto masterfully questions and twists narrative in the manner of Italo Calvino's If on a Winter's Night a Traveler, Julio Cortázar's Hopscotch, and Nabokov's Pale Fire. Apostol pushes up against the limits of fiction in order to recover the atrocity in Balangiga, and in so doing, she shows us the dark heart of an untold and forgotten war that would shape the next century of Philippine and American history.
About the Author
---
Gina Apostol is the PEN Open Book Award–winning author of Gun Dealers' Daughter, as well as a two-time winner of the National Book Award in the Philippines for her novels Bibliolepsy and The Revolution According to Raymundo Mata. Her short stories have appeared in various anthologies and journals including The Gettysburg Review and the Penguin anthology of Asian American fiction, Charlie Chan is Dead, Volume 2.
Praise For…
---
A New York Times Book Review Editors' Choice
Longlisted for the 2020 International Dublin Literary Award
BuzzFeed's Best Fiction of 2018
A St. Louis Post-Dispatch Best Book of 2018
A Publishers Weekly Top 10 Best Book of 2018
The Millions Most Anticipated Fall Books of 2018
BookRiot's Best Books of November 2018

Praise for Insurrecto

"A bravura performance in which war becomes farce, history becomes burlesque . . . Apostol is a magician with language (think Borges, think Nabokov) who can swing from slang and mockery to the stodgy argot of critical theory. She puns with gusto, potently and unabashedly, until one begins reading double meanings, allusions and ulterior motives into everything."
—The New York Times 

"Apostol is no mystifier or arid avant-gardiste. Rather, she's playful like Italo Calvino or Kurt Vonnegut. She dishes up funny riffs on everything from the 'Thrilla in Manila' and her countrymen's love of Elvis Presley to what the book terms the Filipino Chekhov Rule: If you mention karaoke in the first chapter, somebody has to sing it in the last one . . . It's Insurrecto's great achievement that it confronts us with dreadful things without ever turning into an accusatory, anti-American screed. See, Apostol is after more than recrimination. Steeped in the love-hate relationship with American culture she shares with most Filipinos, she actually seeks to transcend the gap between the two countries."
—John Powers, NPR's Fresh Air

"Stunning . . . An arresting novel with a timely political message, Apostol's Insurrecto dazzles with its inventive structure and superb portrayals of women as leaders of ingenuity, creativity and reason."
—Los Angeles Times  

"[Insurrecto] begins in the present, when a Filipina writer and translator, Magsalin, agrees to help a stylish, young Sofia Coppola-esque American director, Chiara, who is making a film about a forgotten 1901 atrocity in which American occupiers retaliated against a Filipino uprising. After Magsalin reads Chiara's script, she writes one of her own, and soon we're reading two competing versions of historical events — one from the perspective of a white American socialite photographer, the other from the point of view of a Filipina schoolteacher. In the end, both Magsalin and Chiara believe they have failed in telling a true account of the event—but Apostol has not."
—T Magazine

"Wickedly funny . . . Ferocious in its political indignation . . . Pick one of the many figures offered by the novel itself: a palimpsest, a translation, a stereoscope, an abaca weave. Insurrecto is all of these things—a polyphonic work that challenges the reader to keep up with its plotting and to think with or against or through its complex moral reckonings."
—The Boston Globe

"A risk-taking, cinematic look at Duterte's Philippines and the 1901 Balangiga massacre during the Philippine-American war . . . Apostol uses techniques from Jorge Luis Borges and Julio Cortázar, expecting the reader to trust her as the story hopscotches through time and space. But for readers accustomed to the jump-cuts and montages of cinema, Insurrecto doesn't present a challenge so much as a cascade of pleasures and possibilities."
—The Financial Times  

"Gina Apostol—a smart writer, a sharp critic, a keen intellectual—takes on the vexed relationship between the Philippines and the United States, pivoting on that relationship's bloody origins. Insurrecto is meta-fictional, meta-cinematic, even meta-meta, plunging us into the vortex of memory, history, and war where we can feel what it means to be forgotten, and what it takes to be remembered."
—Viet Thanh Nguyen, Pulitzer Prize–winning author of The Sympathizer

"Dazzling . . . A tender character study erupting with blazing insights on the ethics of storytelling."
—Entertainment Weekly

"Gina Apostol uses an array of literary and cinematic techniques: memoirs, jump cuts, close-ups, and reveries to set a story in Duterte's Philippines that shows us that though victors often write histories, survivors and artists can revise them."
—NPR's Weekend Edition

"Apostol is preoccupied by the ways that history is mediated—and inevitably distorted—by artists and journalists, whether through photography, films or books . . . Brain candy for the theory-minded."
—The Wall Street Journal

"Intricate, funny, hyper-literate."
—CNN Philippines

"Undoubtedly a master."
—Philippine Star

"An ambitious, cheeky, at times savagely brilliant, tour de force."
—The Philippine Inquirer

"[A] sobering but humorous funhouse mirror . . . Elegant, wry, and brilliant."
—Dallas Morning News  

"Magnificent."
—BuzzFeed 

"Gina Apostol's novel combines pop culture references, fake movie scripts, road trip tropes, and character studies all in the effort of reexamining the United States' influence on the Philippines—and it works, man."
—Refinery29, Best Books of November

"Insurrecto is a potent rebuttal . . . parsing the intersections of politics and art with the finer tools of humor, skepticism, and playful misdirection."
—Jezebel

"It is novels like this that make me want to get down on my knees and weep with joy over the fact that such powerful, inventive fiction still exists . . . The narrative structure and writing of the novel are a continuous, beautiful punch in the gut. I loved, loved, loved this book."
—BookRiot

"A book by Gina Apostol is always an event, and this latest one is no exception. Lush and vigorous, Insurrecto mines the Philippines' troubled past with a scholar's careful attention to detail and examines the enduring riddles of voice and identity, revolution and nation. The ghosts of history stalk the pages of this dizzying, stunning novel, their footsteps echoing in our fraught and uncertain times."
—F.H. Batacan, author of Smaller and Smaller Circles

"Apostol fearlessly probes the long shadow of forgotten American imperialism in the Philippines in her ingenious novel of competing filmmakers . . . Layers of narrative, pop culture references, and blurring of history and fiction make for a profound and unforgettable journey into the past and present of the Philippines."
—Publishers Weekly, Starred Review

"Shrewd . . . inventive . . . stinging . . . [Apostol] puts the "unremembered" Philippine-American War on display, deftly exposing a complicated colonial legacy through the unlikely relationship between a U.S.-educated Filipino translator and a visiting American filmmaker . . . Exceptionally rewarding."
—Booklist, Starred Review 

"Dazzling, interlocking narratives on history, truth, and storytelling."
—Kirkus Reviews 

"A searing and psychedelic road trip through the long, sordid history of Philippine-American relations, Insurrecto is at once a murder mystery, a war movie, and a moving exploration of all the ways grief lives on, both in a people and in a person.  A masterful puzzle, in which, as Apostol writes, 'one story told may unbury another.'"
—Elaine Castillo, author of America Is Not the Heart

"In Insurrecto, a polymath's lyricism is woven with sharp cultural study and post-colonial tristesse. A deft and labyrinthine depiction of our helpless condition of ever-revolving insurrection, Gina Apostol has created an elegant mise en abyme wherein the colonizer and the colonized reflect themselves over and over and yet over again."
—Eugene Lim, author of Dear Cyborgs

"Insurrecto is an intricate fever dream of a novel. Gina Apostol's sublime intellect, razor-sharp humor, and fierce moral conviction shine a powerful light on the Philippines' violent history and present-day traumas. Through wildly inventive prose and richly layered plots, this book will provoke, unsettle, and ultimately transform the ways we read and remember the past."
—Mia Alvar, author of In the Country

"Dazzling."
—The Complete Review

"A mesmeric pastiche, a cleverly hilarious indictment, a vicious, unapologetic tour-de-force: Gina Apostol's Insurrecto is an astonishing literary masterpiece."
—Bookreporter.com

"Brilliant . . . [A] heady mix of highbrow and lowbrow references and Vonnegut-like humor."
—Kore Asian Media

"A fast, deceptively light read, with pop culture, literary, and film references that are sharp and funny. Yet, each reference contains layers of meaning and irony that become increasingly perceptible . . . Read it on a sunny day at the beach, but don't be surprised if it enters your dreams. Insurrecto floats like a butterfly—but stings."
—Public Seminar

"Apostol's sharply drawn scenes and characters make a literary masterpiece that is at turns hilarious and heartbreaking, and always compulsively readable."
—Arlington Public Library (Arlington, VA)

Praise for Gina Apostol
 
"[Apostol] weaves the complex tangle of Philppine history, literature, and languages (along with contemporary academic scholarship) into a brilliant tour de force of a novel."
—John Barth, author of Lost in the Funhouse

"A daring, fever dream of a novel."
—Alex Gilvarry, author of From the Memoirs of a Non-Enemy Combatant

"Brilliant . . . Apostol creates one of the most compelling characters in recent fiction."
—Los Angeles Review of Books

"Probes the hard truths of love, nationhood and exile . . . Apostol is a fearless, stylish writer of substance."
—Jessica Hagedorn, author of Dogeaters

"Apostol's writing is marked by a fierce intelligence, uncommonly delicious language, and a dark undercurrent of humor. As others have observed, she is a master of delineating the personal with the political, and how they are inextricably entwined. Also—and this is no small feat—she seems incapable of writing an unimpressive sentence."
—Luis Katigbak, The Philippine Star 
Coverage from NPR