Kristofferson and Yeats: Finding Christ in Verse (Paperback)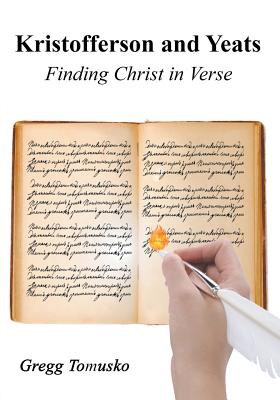 $21.50

NOT ON OUR SHELVES- available for order, usually ships in 1-5 days
Description
---
*** ANTHOLOGY OF SONGS AND POEMS WITH A CHRISTIAN PERSPECTIVE ***
*Kris Kristofferson *Leonard Cohen *Bob Dylan *Marijohn Wilkin *Joe Wise *Tom T. Hall *W.B.Yeats *T.S.Eliot *Longfellow *Gerard Manley Hopkins *Emily Dickinson *Shakespeare
Poetry first rented a room in my mind in English literature class at Borromeo Seminary in Cleveland. A Christian understanding serves as a flashlight in a cave: You can see more. The attributes of Christ - truth, beauty, and goodness - shine forever and keep verses alive. That's why poems live on.
Songs continue to occupy my mind. I view most songs as poetry set to music.
I greatly admire people who write poems and songs. Some create both lyrics and music like embroidery, and their works greatly affect others.
I desired my favorite songwriters and poets to be in one book. I suspect someday Kris Kristofferson, Leonard Cohen, William Butler Yeats, Henry Wadsworth Longfellow, and many others will be best friends. They all toiled in God's vineyard, producing good fruit. I'm hoping this book gets published before they all pass, so they can enjoy this tribute to their "fine wine."
Poets and songwriters who speak to those searching for truth take time to admire beauty, and are uplifted by acts of goodness. Poetry and songs were meant to be enjoyed, recited, and sung throughout the day. One can experience encounters with God through such works. These show the best side of mankind.
Gregg Tomusko lives in Broadview Heights, Ohio. He is a teacher of religious education, a Fourth Degree Knight of Columbus, and a former scoutmaster. He and his wife Barb raised two children, Greg and Emily. His book Two Lessons of Jesus / Jesus Never Said That is available from Tate Publishing & Enterprises.
Publisher's website: http: //sbprabooks.com/GreggTomusko