The Red Car: A Novel (Paperback)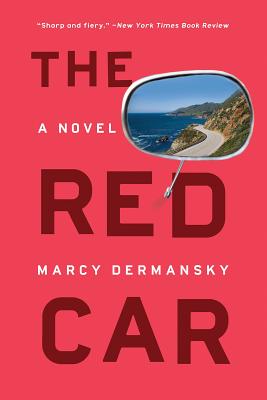 $14.95

NOT ON OUR SHELVES- available for order, usually ships in 1-5 days
Description
---
Named one of the Best Books of the Year by Buzzfeed, Huffington Post, San Francisco Chronicle, and Library Journal
"Sharp and fiery.... There is, now, a literary term for a book you can't stop reading.... It is The Red Car." —New York Times Book Review
In her "dry, delightful fairy tale for grown-ups" (People), celebrated novelist Marcy Dermansky offers a biting exploration of a woman's search for self-realization and models of a life well lived. When Leah's former boss and mentor, Judy, dies in an accident and leaves Leah her most prized possession—a flashy red sports car—the shock forces Leah to reevaluate her whole life. Leah is living in Queens with a husband she doesn't love and a list of unfulfilled ambitions. Returning to San Francisco to claim the mysteriously powerful car, she revisits past lives and loves in several sprawling days colored by sex and sorrow.
Dermansky evokes an edgy, capricious, and beautifully haunting heroine—one whose search for realization is as wonderfully unpredictable and hypnotic as the twists and turns of the Pacific Coast Highway. Tautly wound, transgressive, and mordantly funny, The Red Car is an incisive exploration of one woman's unusual route to self-discovery.
About the Author
---
Marcy Dermansky is the author of the novels The Red Car, Bad Marie, and Twins. Her writing has appeared in McSweeney's, Salon, the Indiana Review, and elsewhere. She lives in New Jersey with her daughter.
Praise For…
---
Sharp and fiery…The novel's furious action keeps the pages snapping by, but each incident, at times each sentence, is bubbling with equally furious ideas…There is, now, a literary term for a book you can't stop reading that makes you stop to think. It is The Red Car.

— Daniel Handler - The New York Times Book Review

A dry, delightful fairy tale for grown-ups.
— People

I've been waiting and waiting for a new book from Marcy Dermansky and finally that new book is here. The Red Car is taut and smart and strange and sweet and perfect. I want to eat this book or sew it to my skin or something.

— Roxane Gay, author of The Untamed State and Bad Feminist

Pitch-perfect novel…Sprinkled with dark humor and many literary references, Dermansky's novel is ultimately one of compassion, optimism, and fierce feminism, in which an unmoored young woman enmeshed in bad relationships with men resets her life path.
— Los Angeles Times

A swift and magical read . . . . Spare, funny and deftly observant of what happens when our repressed emotions reach a violent precipice.
— Maddie Crum - Huffington Post

The Red Car is melancholy and introspective, but sharply witty and transgressive too, and it's full of the intrepid gestures I so love in fiction, both by the characters and the writing itself. There's a particular intellectual and emotional gratification to be found in this smart novel that so wonderfully blurs boundaries of reality, of past and present, of time and space. The Red Car is a remarkable book.

— Natalie Bakopoulos - San Francisco Chronicle

If you want to fall in love with a book almost at first sight (i.e. paragraph four) . . . read Marcy Dermansky's The Red Car.

— Elle

Dermansky's writing is taut and smart. And it's a thrill to cheer on Leah, that admirable badass, wherever the red car takes her next.
— Amy Brady - Chicago Review of Books

Marcy Dermansky's The Red Car is a wonder. Moving, mysterious and filled with dark, sly humor, it rustles under your skin and stays there. By the time I reached its shimmering final pages, I wanted to go right back to the beginning and start again.

— Megan Abbott, author of You Will Know Me

There are few writers who can do what Marcy Dermansky does so effortlessly in The Red Car, the way she pushes this story in such surprising and thrilling directions, never losing control, taking your breath away line by beautiful line. Dermansky writes with such unnerving clarity about grief, not just for the loss of a loved one, but for our own unexpected lives. A strange, unflinching, utterly amazing novel.

— Kevin Wilson, author of The Family Fang

A new book by the inimitable Marcy Dermansky is worth cheering for. The Red Car is droll, unflinching, and mysterious, a feat of efficient storytelling. I could not put it down. This novel mesmerized me.

— Edan Lepucki, author of California

I've long admired the work of Marcy Dermansky, and her latest is an absolute stunner. The Red Car is the very rare kind of novel that—with its urgency and intrigue and deep intelligence—will pin you to your chair and transport you utterly. Stop what you're doing and read this book.

— Laura van den Berg, author of Find Me

Don't be fooled by The Red Car's brevity: it packs a serious punch. Dermansky's vision is sharp and clear, pushing her beautifully realized protagonist, Leah, into the rapids on a journey of self-discovery. And we're right there at her side, breathless, as she shakes herself awake. A tremendously moving story that feels true and important.

— Cari Luna, author of The Revolution of Every Day

In vivid, dreamlike prose. . . . Dermansky delivers a captivating novel about the pursuit of joy that combines dreamlike logic with dark humor, wry observation, and gritty feminism.
— Kirkus (Starred Review)

Sleek and polished . . . . Dermansky's short, punchy chapters keep the tightly written novel moving smoothly along, and flashbacks to her past add depth without slowing momentum.
— Publishers Weekly

[Dermansky's] latest explores the many unwise decisions of her heroine, offering no solutions but encouraging us to hope that things will get better. Readers won't be able to put this one down.
— Andrea Kempf - Library Journal

Dry, entertaining and crookedly insightful. . . . [The Red Car] is on one level, a fairy tale complete with fairy godmother, and on another, a whispered goad to the reader: Live the life you really want.
— Marion Winik - Newsday

With the release of her incandescent third novel The Red Car, she's poised to ride the current wave of fascination with these anti-heroines.

— Doree Shafrir - Buzzfeed