Operational Updates
Reopening for in-person browsing: JUNE 6
store hours: 12pm to 6pm everyday
We are still accepting online orders, as well as care package orders at this link.
New Customer Guidelines:
No Mask, No Entry. If you don't have a mask, knock on the door and a staff member will bring you one that you can keep.
Browse with intention. Don't touch every book in the store if you don't have to.
In order to ensure touchless checkout, we are not accepting cash at this time.
Only 7 customers are allowed in the store at one time.
No pets at this time.
Children need to be vigorously supervised; they cannot leave your side while you are browsing.
All seating areas are closed.
Our tea service is currently suspended, but you can still buy the tea leaves to make at home.
Women & Power: A Manifesto (Hardcover)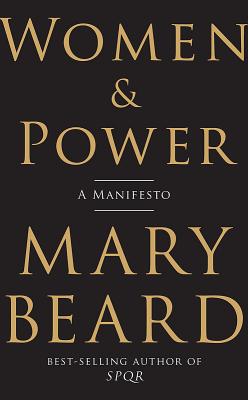 $15.95
Usually Ships in 1-5 Days
Description
---
New York Times Bestseller

One of the Guardian's "100 Best Books of the 21st Century" — "A modern feminist classic."

From the internationally acclaimed classicist and New York Times best-selling author comes this timely manifesto on women and power.
At long last, Mary Beard addresses in one brave book the misogynists and trolls who mercilessly attack and demean women the world over, including, very often, Mary herself. In
Women & Power
, she traces the origins of this misogyny to its ancient roots, examining the pitfalls of gender and the ways that history has mistreated strong women since time immemorial. As far back as Homer's
Odyssey
, Beard shows, women have been prohibited from leadership roles in civic life, public speech being defined as inherently male. From Medusa to Philomela (whose tongue was cut out), from Hillary Clinton to Elizabeth Warren (who was told to sit down), Beard draws illuminating parallels between our cultural assumptions about women's relationship to power—and how powerful women provide a necessary example for all women who must resist being vacuumed into a male template. With personal reflections on her own online experiences with sexism, Beard asks: If women aren't perceived to be within the structure of power, isn't it power itself we need to redefine? And how many more centuries should we be expected to wait?
About the Author
---
A professor of classics at Cambridge University, Mary Beard is the author of the best-selling SPQR and Women & Power and the National Book Critics Circle Award–nominated Confronting the Classics. A popular blogger and television personality, Beard is a regular contributor to the New York Review of Books.
Praise For…
---
Based on Beard's lectures on women's voices and how they have been silenced, Women & Power was an enormous publishing success in the "#MeToo"' year 2017. An exploration of misogyny, the origins of "gendered speech" in the classical era and the problems the male world has with strong women, this slim manifesto became an instant feminist classic.

— The Guardian, "The 100 Best Books of the 21st Century"

[A] sparkling and forceful manifesto…The book is a straight shot of adrenaline.
— Parul Sehgal

Beard's thrilling manifesto turns to ancient times to find the seeds of misogyny, beginning with Homer's Odyssey (the first instance of a woman told to shut up) and continuing through Elizabeth Warren's 2017 silencing in the Senate. An irresistible call for women to speak up, act and redefine their power.


Beard is our most famous classicist, with a gift for bringing ancient Greece and Rome alive on the page like no one else. She is a writer of exceptional erudition and biting wit, and reading her is always a pleasure. This latest manifesto...is no exception…Beard has written an indictment, perhaps her most uncompromising to date, of an ancient past that she is hardly asking us – has never unequivocally asked us – to celebrate. As far as women are concerned, in relation to this ancestral legacy, there is very little to be proud about…The question I finally take from this brilliant book is: what would such power – no rape, no guns, no shutting up of women – look like?

There's something about Women & Power that ensures it stands out from the rest though. Beard's is a manifesto firmly grounded in rigorous academic study made legible for the masses, and her proposal for change as radical as it is reasonable and – we can but hope – realistic.


A pithy exploration of misogyny's tangled cultural roots. Based on a series of lectures, this slim volume draws on Beard's deep knowledge of the classical world and her personal experience as a target of online sexist abuse. She reflects on the gendered structures of power, from voiceless women in Ovid's Metamorphoses to feminists "reclaiming" Medusa. With clearsightedness and wry humour, this self-described "gobby woman" proves public speech is no longer the preserve of maleness. More power to her.

An urgent feminist cri de coeur, spot-on in its utterly reasonable plea that a woman 'who dares to open her mouth in public' actually be given a hearing.'

Mary Beard is a fearless writer with the gift of writing the right book at the right moment, and I've been emboldened by her brilliant analysis of women's voice and role in society since antiquity, Women & Power.

— Diana Athill

At just a little over 100 pages, Women & Power: A Manifesto may seem slight, but don't let its size fool you. This book speaks volumes and will not be silenced by Telemachus or anyone else.

— Sarah E. Bond

A clear, rich, subversive and witty argument about what power has meant to Western civilization from ancient times, and how its meaning could be changed in the future.
— Anita Felicelli

Beard always fights back, with humor and the confidence of intellectual authority…It's fun to read Women & Power. Beard's slim, elegant, well-illustrated book would fit nicely into a Christmas stocking.

— Elaine Showalter