Under the Lights: A Daylight Falls Novel (Paperback)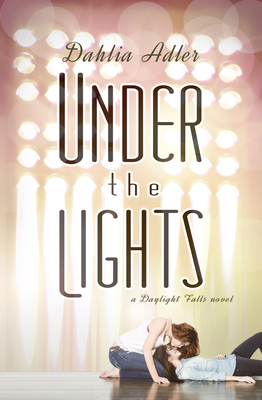 $9.95
Backordered or Out of Print
Other Books in Series
This is book number 2 in the Daylight Falls series.
Description
---
Young actor Josh Chester has never been sure that acting is for him--he's mostly interested in the parties and the hot Hollywood girls that come with the job. But he ends up taking a job on the hit TV series Daylight Falls, opposite Vanessa Park, a girl who is immune to his charms and also his polar opposite. Vanessa loves her job, despite her parents' disapproval. She's pretty certain about everything in her life, until she meets her new career handler, a gorgeous girl named Bri. Then things start to get a little confusing.   Under the Lights features an adorable romance between two young women, all set against the backdrop of Hollywood. As Vanessa confronts her emerging feelings for her handler, Bri, her co-star Josh confronts his realization that the Hollywood scene might not really be his cup of tea. Under the Lights is a story of self-discovery: learning that the person you always thought you were might not actually be the case anymore.
About the Author
---
Dahlia Adler is an Associate Editor of Mathematics by day, a blogger for the B&N Teen Blog by night, and writes at every spare moment in between. She is the author of Behind the Scenes, Under the Lights, Last Will and Testament, and Just Visiting. She lives in New York City with her husband and their overstuffed bookshelves.
Praise For…
---
"Josh Chester has a reputation in Hollywood for being the good looking, irresistibly charming bad boy. Vanessa Park is a Korean American actor trying to convince her parents that acting is a legitimate career while also proving to directors that Asian actors can play more than medical students. When Josh and Vanessa meet on the set of a tv show, sparks fly. But, in a welcomed twist, Adler's follow-up to Behind the Scenes (2014) isn't about a relationship between Josh and Vanessa; it's about the ever-more-steamy romance between Vanessa and her agent's assistant, Brianna. In a sharp narrative alternating between Josh and Vanessa's points-of-view, Adler tackles important issues, such as race, coming out, and bisexual erasure. This entertaining same-sex romance against the thrilling escapism of a Hollywood backdrop still manages to be thought-provoking, and will certainly please fans of the series opener. Though some characters from the first book make appearances here, this installment can easily stand on its own. Recommend to readers who like their romances a little more thoughtful." — Erin Linsenmeyer - Booklist