Operational Updates
Click HERE for the most updated hours, customer guidelines and updates to store policy.
A Tale of Two Omars: A Memoir of Family, Revolution, and Coming Out During the Arab Spring (Hardcover)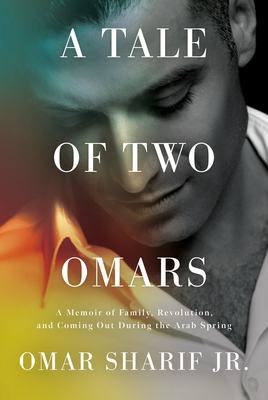 $26.00

NOT ON OUR SHELVES- available for order, usually ships in 1-5 days
Description
---
"A powerful and essential memoir of self-discovery . . . Brimming with beautiful remembrances of his grandfather and terrifying stories of abuse and homophobia, this is an essential book that shines a much-needed light on the intersection of Arab and queer identity." —Abdi Nazemian, Lambda Literary Award–winning author of Like a Love Story, a Stonewall Honor Book

The grandson of Hollywood royalty on his father's side and Holocaust survivors on his mother's, Omar Sharif Jr. learned early on how to move between worlds, from the Montreal suburbs to the glamorous orbit of his grandparents' Cairo. His famous name always protected him wherever he went. When, in the wake of the Arab Spring, he made the difficult decision to come out in the pages of The Advocate, he knew his life would forever change. What he didn't expect was the backlash that followed.
 
From bullying, to illness, attempted suicide, becoming a victim of sex trafficking, death threats by the thousands, revolution and never being able to return to a country he once called home, Omar Sharif Jr. has overcome more challenges than one might imagine. Drawing on the lessons he learned from both sides of his family, A Tale of Two Omars charts the course of an iconoclastic life, revealing in the process the struggles and successes that attend a public journey of self-acceptance and a life dedicated in service to others.
About the Author
---
OMAR SHARIF JR. is an Egyptian Canadian actor who currently lives in the United States. He is the grandson of Omar Sharif, the actor.
Praise For…
---
A Library Journal Title to Watch

"This book is the fascinating and inspiring odyssey of one man's quest to be his authentic self––a difficult enough task for anyone, but try adding gay, Muslim and Jewish into the mix!" ––Alan Cumming

"Meaningful." —David Oliver, USA Today

"A gripping personal saga and an urgent plea for the place he still very much calls home to embrace equal rights for everyone." —Michelle Hart, Oprah Daily

"[Sharif Jr.] writes in a manner that is like a good friend telling you a story—his narration sucks you in and makes you not want to put it down . . . A compelling story." —Emily Burack, Alma

"Heartfelt and heroic." —Caroline Taylor, Town & Country

"Not your normal coming-of-age tale, A Tale of Two Omars by Omar Sharif, Jr. is the story of the author's youth during the Arab Spring in 2010 . . . It's a thrilling book, salted with memoir and you'll love it." —Terri Schlichenmeyer, Los Angeles Blade

"Omar Sharif Jr.'s A Tale of Two Omars shimmers with his honest portrayal of life in the Montreal suburbs and in Cairo, memories of his grandfather's Hollywood legacy, and how he daringly came out as a queer man despite a history of abuse, homophobia, death threats, and violent backlash from the Arab world." —Jim Piechota, Bay Area Reporter

"Sharif Jr., an actor and model, discusses coming to grips with the advantages and disadvantages of his famous name and discovering a balance between two different worlds . . . Will be of interest to LGBTQ readers, celebrity watchers, and memoirs about coming into one's own." —Library Journal

"Sharif survives many trials and tribulations on the way to revelation." —Booklist

"Moving . . . Exquisitely personal . . . An inspirational chronicle of courageous LGBTQ+ advocacy in the face of official repression." —Kirkus Reviews

"Sharif, grandson of the legendary Egyptian actor by the same name, bares all with his stirring debut, an account of his extraordinary and turbulent life . . . This moving story will appeal to anyone looking for an account of inspiration in the face of oppression." —Publishers Weekly

"A Tale of Two Omars is a story of freedom. It's about taking all your challenges and privileges, owning them and using them to live a life in charge." —Diane von Furstenberg

"In a story made for the screen, Omar rips away the bandages and exposes the many scars of his past. Harrowing and haunting, but shared with hope and humility, A Tale of Two Omars reminds us how important it is to live our truths without shame. The message is clear: Don't let the past define your future, have it inform and illuminate a future path." ––Rosanna Arquette, BAFTA Winner, Emmy and Golden Globe Nominated Actress

"Omar Sharif Jr.'s book cannot come at a better time for humanity and the world. Glamorous, engrossing, and challenging, his edict for a better world is evident in every page." ––Irena Medavoy, actress, philanthropist, and entrepreneur

"In A Tale of Two Omars, Omar Sharif Jr. puts his heart on the page, gifting us with a powerful and essential memoir of self-discovery. Brimming with beautiful remembrances of his grandfather and terrifying stories of abuse and homophobia, this is an essential book that shines a much-needed light on the intersection of Arab and queer identity." —Abdi Nazemian, Lambda Award winning author of Like a Love Story, a Stonewall Honor book

"Omar Sharif Jr.'s book cannot come at a better time for humanity and the world. Glamorous, engrossing, and challenging, his edict for a better world is evident in every page." —Irena Medavoy, actress, philanthropist, and entrepreneur