Wanderlost: Falling from Grace and Finding Mercy in All the Wrong Places (Paperback)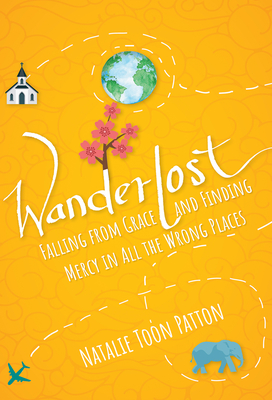 $18.99

NOT ON OUR SHELVES- available for order, usually ships in 1-5 days
Description
---
A coming-of-age travel memoir that probes thorny spiritual questions while taking the reader on a wild ride from the deep American South to the Middle East, Europe, and the Far East.
Once the golden girl of her Arkansas town, Natalie finds herself squeezed under small town shame and rejection after being kicked out of church for getting a divorce. It's a hard fall off of a sanctimonious high horse, and religious fundamentalism has left her feeling broken and stuck. But she can't shake the 'wanderlust woes' that have plagued her since childhood, so she runs away to the Middle East. As a mostly-sheltered Southerner, she struggles to adapt but is determined to be 'at home' in the world. 
Her journey is more than a pilgrimage, it's a peregrination: a one-way ticket to elsewhere in search of the place of her own resurrection. Within these pages is a suspenseful adventure filled with love, loss, laughter, tears, and a little bit of scandalous behavior, but at the heart of it, Natalie walks squarely into the unknown to confront the secret matters of the soul that we wrestle with at night.
About the Author
---
Natalie Toon Patton was born and raised in Arkansas, where she learned all the correct answers until she lived abroad for ten years and became very confused. She writes on the intersection of travel and spirituality, as well as refugee causes. She currently lives in rural Virginia with her husband, three children, and Burmese cat named Genghis Khan, but she'll soon be moving to Botswana. Her work can be seen in Sojourners, Relevant, and SheLoves.
Praise For…
---
"With irresistible wit, humor, and literary artistry, Wanderlost takes the reader on a journey across continents and cultures. But it's far more than a captivating memoir. Every line of this book is imbued with an invitation, not to an epic adventure to exotic locales, but to exploration of the interior landscape. Wanderlost is a summons to embark on a pilgrimage to a place many of us have long forgotten: the spiritual home within." —Ryan Kuja, therapist, spiritual director, and author of From the Inside Out

"Natalie Toon Patton writes for explorers who enjoy detours and eschew anything well worn. Her prose is elegant and easy, like falling into a conversation you don't want to end. Wanderlost will serve as a trusted guide for anyone willing to take the long way home." —Steve Wiens, pastor and author of Beginnings, Whole, and Shining Like the Sun 

"I'm grateful to Natalie Toon Patton for showing us how richly God's mercy dwells in all the corners of this big earth. This memoir is a moving account of a life on the run and a faith on the mend, but it is also much more. Watching Patton find pieces of herself through her travels, we learn an enduring truth: wandering is a deeply formative part of the Christian life, one that can bring us home again." —Lisa Deam, author of 3,000 Miles to Jesus: Pilgrimage as a Way of Life for Spiritual Seekers
 
"Natalie's beautifully-written Wanderlost shares her gleanings from various cultural landscapes of which we can all learn. But more deeply, this book honors and exemplifies the movement away from perfection — the movement away from what we once thought was the only home we were allowed to abide in and strive for — and shows us how to bravely build a new home honoring our former foundations yet deciphering what we were enculturated to think of as normal and right in order to more clearly see all the wonders that are good and holy, human and divine, in the thin and the thick places we occupy." —Gena Ruocco Thomas, author of Separated by the Border