True Storm (True Born #3) (Hardcover)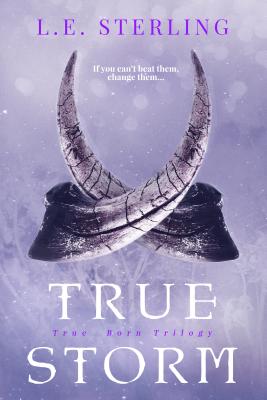 $17.99
Backordered or Out of Print
Other Books in Series
This is book number 3 in the True Born series.
Description
---
Lucy's twin sister, Margot, may be safely back with her—but all is not well in Plague-ravaged Dominion City. The Watchers have come out of hiding, spreading chaos and death throughout the city, and suddenly Lucy finds herself torn between three men with secrets of their own.

Betrayal is a cruel lesson, and the Fox sisters can hardly believe who is behind the plot against them. To survive this deadly game of politics, Lucy is forced to agree to a marriage of convenience. But DNA isn't the only thing they want from Lucy...or her sister.

As they say in Dominion, rogue genes can never have a happy ending...

The True Born series is best enjoyed in order.
Reading Order:
Book #1 True Born
Book #2 True North
Book #3 True Storm
About the Author
---
L.E. Sterling had an early obsession with sci-fi, fantasy and romance to which she remained faithful even through an M.A. in Creative Writing and a PhD in English Literature - where she completed a thesis on magical representation. She is the author of cult hit Y/A novel The Originals (under pen name L.E. Vollick) and the urban fantasy Pluto's Gate. Originally hailing from Parry Sound, Ontario, L.E. spent most of her summers roaming across Canada in a van - inspiring her writing career. She currently lives in Toronto, Ontario.
Praise For…
---
"The ending is all action packed and keeps you on the edge of your seat to the end. I was sad the series had to end, but as the saying goes 'All good things come to an end.'" —Sandra, Jeanz Read n Review

"True Storm was absolutely amazing. It was the perfect ending to a perfect sci-fi trilogy. L. E. Sterling did not disappoint and I certainly hope to see more similar titles from her in the near future. I highly recommend the entire trilogy to younger readers with a craving for a fierce heroine in a devastating, science fiction setting." —Wendy, A Cupcake and a Latte

"This gripping conclusion is full of plot twists and surprises for Lucy and for readers. Though it seems Lucy has gained the attention of at least three suitors, the label 'love-triangle' doesn't quite fit. She's clearly head-over-heels for only one of them and her feelings never waver from him." —Jessica, Dreamer J Book Reviews

"So much happens and once you settle back into the rhythm of this twisted rhyme, it all pours out at a thrilling rush of twists and maddening possibilities. If you've enjoyed the True Born series thus far, then you'll enjoy its epic finale." —Angela, Pooled Ink Reviews

"[W]e get answers about what exactly Margot and Lucy are, and how they tie into the prophecy/plague cure. If you enjoyed the back-and-forth between Lucy and her instalove Jared, you are in luck because it continues in this book. I loved their romance and the idea of the two of them together. (Plus they had so many steamy kisses!)" —Olivia Farr, Goodreads Reviewer

"Awesome read. Well written with a great plot and characters. I was engrossed from start to finish." —Jessica Cashen, Goodreads Reviewer

"The author does have great writing skills, and the way she writes made me want to keep reading even when I got annoyed with the characters, which is saying something. I was always impressed with the way scenes and atmosphere were detailed and those moments were some of the best parts of the book and would draw me in better than anything else." —Taylor, Babbling Books

"True Storm is the explosive final chapter in the True Born series. You will not be disappointed. It's gritty and holds the dystopian theme right to the end." —Danielle, Chapters Through Life

"I'm not sure if this is the last book in the series, since I have so many questions, but it's okay if it is the last book in the series -- I'll read anything by L.E. Sterling." —Roxi Net, Goodreads Reviewer

"I enjoyed the authors writing style and the authors creativity. Good ending to a good series." —Kathy, author of Vacation from Hell

"This series has been a whirlwind right from the start. Highly recommended. " —D.M. Duncan's Blog