Venomous Lumpsucker (Paperback)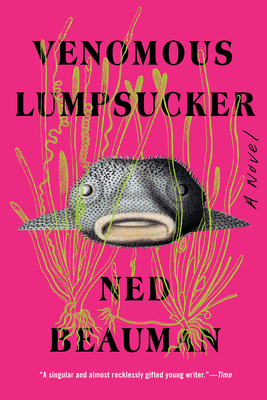 $17.00

NOT ON OUR SHELVES- available for order, usually ships in 1-5 days
Description
---
A dark and witty story of environmental collapse and runaway capitalism from the Booker-listed author of The Teleportation Accident.

The near future. Tens of thousands of species are going extinct every year. And a whole industry has sprung up around their extinctions, to help us preserve the remnants, or perhaps just assuage our guilt. For instance, the biobanks: secure archives of DNA samples, from which lost organisms might someday be resurrected . . . But then, one day, it's all gone. A mysterious cyber-attack hits every biobank simultaneously, wiping out the last traces of the perished species. Now we're never getting them back.
 
Karin Resaint and Mark Halyard are concerned with one species in particular: the venomous lumpsucker, a small, ugly bottom-feeder that happens to be the most intelligent fish on the planet. Resaint is an animal cognition scientist consumed with existential grief over what humans have done to nature. Halyard is an exec from the extinction industry, complicit in the mining operation that destroyed the lumpsucker's last-known habitat.
 
Across the dystopian landscapes of the 2030s—a nature reserve full of toxic waste; a floating city on the ocean; the hinterlands of a totalitarian state—Resaint and Halyard hunt for a surviving lumpsucker. And the further they go, the deeper they're drawn into the mystery of the attack on the biobanks. Who was really behind it? And why would anyone do such a thing?
 
Virtuosic and profound, witty and despairing, Venomous Lumpsucker is Ned Beauman at his very best.
About the Author
---
Ned Beauman, who was named one of Granta's Best of Young British Novelists in 2013, is the author of Boxer, Beetle (shortlisted for the Desmond Elliott Prize and winner of the Goldberg Prize for Outstanding Debut Fiction); The Teleportation Accident (longlisted for the Man Booker Prize and winner of the Somerset Maugham Award); Glow; and Madness Is Better than Defeat. Beauman has written for The New York Times, The Guardian, the London Review of Books, Esquire, and various other publications. He lives in London.
Praise For…
---
Praise for Venomous Lumpsucker

Winner of the 2023 Arthur C. Clarke Award
A Last Word with Matt Cooper Best Book of 2022

"Venomous Lumpsucker has a utopian future of sorts, but we hardly notice it. In this novel by Ned Beauman, the human species is on trial; the prosecution is at once clinically precise and distractingly funny . . ."
—The New York Times

"A madcap adventure story set in a dystopian world ravaged by climate change." 
—Variety

"Beauman is a lively writer with a knack for sharp descriptive language . . . But it's passing observations that futurists will really enjoy, like drugs to kill one's pleasure in food, or facial recognition software for tracking the spread of a cattle plague . . . it's these little things that make Venomous Lumpsucker a special pleasure."
—The Toronto Star

"Beaumann's dark comedic writing tears apart the carbon offset industry, while using sharp storytelling to make big climate ideas easy to digest."
—Wired Magazine

"Screamingly, bleakly funny . . . Beauman has a superlative knack for quotable, witty, and wince-inducing lines, stuffing every page with the kind of exhilarating humor borne of both despair and empathy. A thriller motivated by deep-sea mining destruction and mass extinction, a gut-punching satire of the failure of the carbon offset project: unfortunately, it's the beach read we deserve. Fortunately, it's a savagely entertaining one." 
—Chicago Review of Books

"A sharp-edged, high-tech, globe-spanning, deeply speculative tale of the near future, which by necessity is a novel all about extinction, cultural and physical shock waves, and the near-collapse of civilization, filled with brilliant characters ranging from the most venal to the most noble. The book is exciting, unpredictable, and thick with ideas; yet at the same time meditative, fated, and simple as a Zen koan."
—Locus Magazine

"An incredible piece of science fiction . . . it hurts because it feels real."
—LARB Radio Hour

"A novel that is both funny and profound, full of extraordinary ideas and brilliant set pieces, but also generous and poignant."
—The Financial Times

"Ned Beauman's heady fiction blends high concepts with wry humor and jarring transitions."
—Vol. 1 Brooklyn

"Beauman masterfully paints a grim picture with wit and satire. This is a dystopian story for anyone who loves wildlife, from giant adorable mammals to an ugly and intelligent little fish." 
—Manhattan Book Review

"This is one for the science fiction nerds . . . a serious book about how we related to animals in the age of extinction." 
—The Last Word

"Beauman's acerbic outlook breezes through what could otherwise be a portentous plot; think Smilla's Sense of Snow as percolated through an Andy Borowitz filter, a mid-apocalyptic comic thriller ideally suited for a post-pandemic audience."
—BookPage, Starred Review

"Beauman is a deft plotter, and his characters are well drawn, with Halyard's panicked self-interest and Resaint's icy resolve striking comedic sparks as the pair desperately endeavor to preserve an unlovable marine species . . . The book's real strength is its ability to evocatively raise profound questions about humanity's relationship with and responsibility to animals and the larger environment in the course of its often (darkly) comic action. The worldbuilding is dazzling . . . It's funny—and chilling and terribly sad—because it's true."
—Kirkus Reviews

"An ambitious techno-thriller set in a dystopian near future in which evil corporations vie for profits drawn from the digital storage of extinct species . . . the author lays out a blisteringly scathing indictment of capitalism and climate change, and by the end, the implications about the future of AI boggle the mind. Beauman has an impressive intellectual bandwidth."
—Publishers Weekly

"This grief-stricken yet very funny tale about the search for an endangered fish speaks to our age of mass extinctions . . . a near-faultless technical performance."
—The Guardian (UK)
 
"[A] brutally satirical and grimily hilarious eco-thriller."
—Daily Mail (UK)
 
"Venomous Lumpsucker confirms [Beauman's] reputation as one of the foremost satirists of his generation."
—The Times (UK)
 
"Beauman writes beautifully on the level of the sentence . . . Beauman's world-building is impeccable."
—Literary Review (UK)
 
"This is a novel that is both funny and profound, full of extraordinary ideas and brilliant set pieces, but also generous and poignant . . . It's a book that has lost none of the postmodern verve of its predecessors, but there's so much more here to love. Venomous Lumpsucker was worth waiting for: a novel that delights, dazzles and moves in equal measure."  
—The Financial Times (UK)
 
"You might be forgiven for thinking that a novel about impending ecological disaster and mass extinction won't be a barrel of laughs. Yet that combination is exactly what Ned Beauman serves up in Venomous Lumpsucker."            
—Sunday Times (UK)

Praise for Ned Beauman

"A premise as wonderfully outlandish as any we've seen in a long while . . . oddball and rambunctious . . . funny, raw and stylish."
—The New York Times
 
"Amusing and rampageous."
—NPR                                           
 
"A singular novel—singularly clever, singularly audacious, singularly strange—from a singular, and almost recklessly gifted, young writer. This is not fiction for everyone. But for those who stick with it, it's a wild and wonderful ride."
—Time

"Wildly inventive . . . This fizzy novel is a great time machine all its own . . . Every generation gets the hipster satire it deserves. But this one's for every generation."
—Entertainment Weekly

"Gobsmackingly clever."
—Vanity Fair

"Uproarious."
—The New Yorker
 
"Endlessly witty and furiously inventive . . . Consolidates the 27-year-old Beauman's stature as a formidably accomplished writer . . . Beauman flaunts an almost indecently pleasurable way with words . . . Dazzling entertainment."
—The Washington Post