The C.A.S.T.L.E. Method (Hardcover)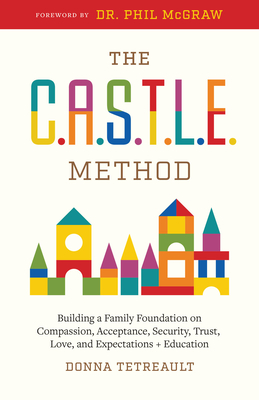 $24.99
Backordered or Out of Print
Description
---
While many parenting strategies focus solely on what affects children, the CASTLE Method approaches both parents and children as unique individuals in need of active learning, growth, love, and care—because the heart of any castle is the entire family.

In The C.A.S.T.L.E. Method, Dr. Phil's resident parenting expert Donna Tetreault provides her professional and personal experience in raising children, along with the seven foundational, evidence-based principles that form the CASTLE Method: compassion, acceptance, security, trust, love, expectations plus education. This gentle guide simplifies the parent-education dilemma by organizing professional research that can be adapted to any circumstance. As you learn the tools you'll need to build a strong foundation, you will be empowered to create the best version of yourself, your children, and your family. Your castle will be a place for your children to thrive and feel safe and loved. The journey to build your strong family foundation begins now.
About the Author
---
Donna Tetreault is a national parenting journalist, an award-winning children's book author, a speaker, an educator, and a nonprofit founder. She teaches compassion, emotional health, and positive parenting strategies to kids and families nationwide. Her parenting book, The C.A.S.T.L.E. Method: Building a Family Foundation on Compassion, Acceptance, Security, Trust, Love, and Expectations + Education, is endorsed by Dr. Phil and collects research, experience, and instruction into seven core building blocks that will guide parents in building a strong family foundation.
Praise For…
---
"The CASTLE Method is positive and supportive and addresses every aspect of having—not a perfect—but an excellent family." —Dr. Phil McGraw
"The CASTLE Method is a direct, practical, actionable guide for parents on how to build a safe, understanding, compassionate, but firm environment for children that accept each child for who they are and helps parents navigate the extraordinary stress of today's reality. An absolute must-read. I wish I had had this book to guide me as a young parent." —William Haseltine, PhD, former professor at Harvard Medical School and Harvard School of Public Health, businessperson, author, and philanthropist
"Donna Tetreault's strengths—as a mom, as a journalist, and as a parenting expert—all shine in this outstanding guide to parenting that is destined to be a classic. The CASTLE Method is packed with relatable humor, concise research, and actionable tips that will be an asset in any parent's tool belt, be they on their sixth child or just starting out." —Michele Borba, EdD, educational psychologist, TODAY contributor, author of Thrivers: The Surprising Reasons Why Some Kids Struggle and Others Shine
"Raising children today is tougher than ever. With research, wisdom, and the heart of a mother, The CASTLE Method focuses on what matters most: love, compassion, and acceptance. Tetreault's meaningful book overflows with practical tools to help positively impact the trajectory of your parenting." —Robin Berman, MD, associate professor of psychiatry at the David Geffen School of Medicine at UCLA, author of Permission to Parent: How to Raise Your Child with Love and Limits
"This book is a game-changing approach to parenting that leads with love, compassion, and empathy. What I love most about The CASTLE Method is that, despite its regal title, it is not written from on high but in the practical, hands-on, been-there, "I get it" voice of Donna Tetreault. Her lived experiences in the trenches of parenthood add such honesty, humor, and heart to this brilliant must-have parenting resource. In its pages we learn not only to teach our children about kindness but to be kinder to ourselves in the perfectly imperfect journey of parenthood." —Brad Bessey, former executive producer of Entertainment Tonight and The Talk
"In our Pinterest-perfect parenting world, it can seem impossible to meet the expectations put on us as parents. Donna Tetreault breaks down these overzealous expectations and helps us to focus on what is truly important by giving us the groundwork to build a strong foundation with our kids that isn't overwhelming or impossible." —Eve Rodsky, author of the New York Times best-selling book Fair Play
"The CASTLE Method comes at a time when the need for caring leaders is more important than ever. Packed with an abundance of tools, strategies, and solutions, this book provides parents with a powerful framework in which to raise the next generation of children to become the caring, empathetic, and compassionate leaders that we so desperately need." —Kristi Rible, founder, and CEO of The Huuman Group™ and Stanford Instructor on "Motherhood and Work" 
"With wisdom and warmth, Donna Tetreault has written the parenting guidebook we've all been looking for. The CASTLE Method draws on the author's wealth of knowledge and experience to provide a welcome structure to the daunting task of raising a happy, cohesive family amidst today's unique challenges. Follow her sound strategies, and you'll have constructed an impenetrable castle." —Jenn Curtis, MSW, educational consultant and Bestselling Co-Author of The Parent Compass: Navigating Your Teen's Wellness and Academic Journey in Today's Competitive World
"I am beyond thrilled about The CASTLE Method. This is a timely book that so needed, and it is unique because it covers every challenge you may encounter as a parent today. Not only does Donna illustrate through her own personal stories, but she also offers groundbreaking solutions. The CASTLE Method shows how important it is for parents and young people to understand their unique attributes and life purpose as individuals. In a world taken by a pandemic, technology, and disconnection, The CASTLE Method is an all-encompassing story mixed with real-life parenting challenges and solutions. Donna is not only a parent but also has years of expertise interviewing professionals and hearing daily about the most trending parenting concerns. This book will give you solutions and details on how to parent with a heart. Donna beautifully demonstrates the needs of our youth today. Teaching our children compassion, empathy, understanding, kindness, and—most importantly—how to express their emotions is key in today's world. The CASTLE Method is a breath of fresh air. If you are seeking solutions on how to best parent, communicate with, and bond with your child, this book is for you." —Dr. Regine Muradian, author, family psychologist, parenting expert
"Donna Tetreault's The CASTLE Method will help parents feel seen and supported. Her collaborative approach—combining personal parenting anecdotes with complimentary content from psychologists, parenting experts, and thought leaders that she has personally interviewed or researched—makes her book timely, accessible, and full of helpful strategies that parents can apply immediately. I wish I had had access to these insights when my own kids were younger!" —Cynthia C. Muchnick, MA, professional speaker, educational consultant, and author of The Everything Guide to Study Skills, The Parent Compass: Navigating Your Teen's Wellness and Academic Journey in Today's Competitive World, and Writing Successful College Applications, among others. 
"If you are a new parent (or even a seasoned one), and you're looking for the essential tools you need to help you raise happy, well-adjusted kids who understand compassion, acceptance, security, trust, love, and the value of expectations, The CASTLE Method is the book for you. That's because Donna injects a lifetime of experience as an educator, a mom, and a nationally recognized parenting expert into every page."—Lisa Sugarman, mom, nationally syndicated columnist, radio show host, and author of How To Raise Perfectly Imperfect Kids and Be Ok with It, Untying Parent Anxiety, and LIFE: It Is What It Is
"As a mom of three, I know firsthand just how difficult being a parent can be. The CASTLE Method is a must-read! It helps navigate the sometimes-uncertain waters of parenting with easy-to-understand and practical advice. Donna nails it with this book!" —Susan Koeppen, Emmy Award-winning journalist, president of Susan Koeppen Media, 4 pm news anchor at WPXI-TV, Pittsburgh 
"These days it's easy for kids and teens to get off track, but Donna's gentle yet effective parenting approach via The CASTLE Method is perfect for navigating parenting pitfalls in today's social-media-and-tech-driven world. As a journalist, educator, and mom, Donna injects real-world experience and research into her book that produces tangible results in her own family and will also help you raise happy, healthy well-adjusted kids." —Stephanie Stanton, national TV host/correspondent and parent of two young children