Apples of North America: A Celebration of Exceptional Varieties (Paperback)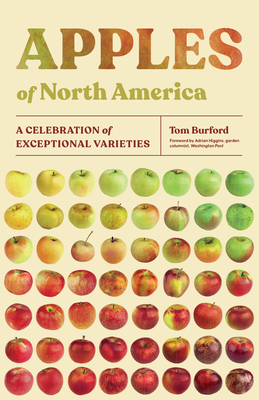 $19.95
Backordered or Out of Print
Description
---
"For all of us who cherish the apple, its utility, its flavors, and its powers of revelation and connection." —Adrian Higgins, garden columnist, The Washington Post

The apple is one of the most iconic fruits, traditionally picked on cool fall days and used in pies, crisps, ciders, and more. And there is a vast world of varieties that goes well beyond the common grocery store offerings. With names like American Beauty, Carter's Blue, and Fallawater, and flavors ranging from sweet to tart, this treasure trove of unique apples is ripe for discovery.
 
There is no better guide through this tasty world than Tom Burford, whose family has grown apples in the Blue Ridge Mountains since 1715. His celebratory book Apples of North America is brimming with beautiful portraits of heirloom and modern apples of merit, each accompanied by distinguishing characteristics and common uses. You will also find information on growing apples at home—with specifics on planting, pruning, grafting, and more—and instructions on how to preserve apples through pressing, fermenting, cooking, and drying.
 
About the Author
---
Tom Burford was a horticulturist, orchardist, nurseryman and consultant specializing in restoration, re-creation, and design at historic sites (including Monticello) as well as, backyard and commercial orchards and private estates. He was the author of Apples: A Catalog of International Varieties (1991, 1998) and co-author of The Fruit Grafters Handbook (2001). He co-authored the Brooklyn Botanic Garden book The Best Apples to Buy and Grow (2005).
Praise For…
---
"For all of us who cherish the apple, its utility, its flavors, and its powers of revelation and connection." —Adrian Higgins, garden columnist, The Washington Post
 
"The definitive work on our national fruit." —Peter J. Hatch, gardener, historian, and author of The Fruits and Trees of Monticello
 
"A great harvest of wisdom." —Roger B. Swain, author and former host of PBS's The Victory Garden

"A valuable resource for readers wanting to learn more about the fascinating heritage of this most "American" of all fruits." —Library Journal

"In Apples of North America, Burford specifies what has always been a mystery to me: which varieties are best for baking, cider, applesauce or apple butter. To enjoy the fruit year-round, there are instructions on pressing, fermenting and drying apples." —The Oregonian

"An essential book on how wild apples make a sweet treat for all." —The Monadnock Ledger

"This book is sure to convert you to appreciate their beauty and utility in a whole new way." ​—The Seattle Book Review