The Homestead Brides Collection: 9 Pioneering Couples Risk All for Love and Land (Paperback)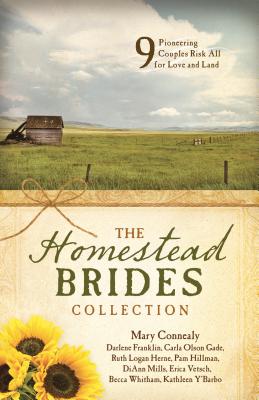 $9.99
Backordered or Out of Print
Description
---
Love Stakes a Claim on the Great Plains

Through nine historical romance adventures, readers will journey along with individuals who are ready to stake a claim and plant their dreams on a piece of the great American plains. While fighting land disputes, helping neighbors, and tackling the challenges of nature the homesteaders are placed in the path of other dreamers with whom romance sparks. And God has His hand in orchestrating each unique meeting.

Homestead on the Range by Mary Conneally
Widower Elle Winter meets new homesteader Colin Samuelson on the Nebraska prairie, but the attraction between them is soon dampened by the discovery that they have seven children between them. Soon their children are working against them to bring the two families together.
 
Priceless Pearl by Darlene Franklin
Rick Eady grew up knowing how to make do with little, while America Barton grew up having plenty. When they secure claims near each other in the Oklahoma Land Rush, Rick often comes to the aide of the inept Barton family and their pretty daughter.
 
Proving Up by Carla Olson Gade
Elsa Lindquist applies her scientific theories to growing trees on the Nebraska plains, intruding on a handsome homesteader's hard work and experience. Will their dreams come to ruin, or will love prove their success?
 
Prairie Promises by Ruth Logan Herne
Jack O'Donnell storms onto the Nebraska homestead determined to take his widowed mother back East with him. But he finds her fit and determined to stay; plus she has taken a pregnant widow—rumored to be crazy—under her wing who wouldn't survive without his mother's help.
 
This Land Is Our Land by Pam Hillman
Caught in an early blizzard, orphan Mollie Jameson is frantic to make it to Lincoln, Nebraska, to claim land her father homesteaded six months ago. If she can't get there in time, her family will be homeless. Then in steps a foot-loose and fancy-free cowboy willing to help them along the trail, but can they trust him to race for the land office with their deed?
 
Flaming Starr by DiAnn Mills
Starr Matthews arrives at her Texas homestead only to find it already claimed by a widower and his children, who have been praying for a mother. Starr has money, but she has no skills; while Aaron Conrad has the homesteading skills, but no money for supplies. Can they work as a team?
 
A Palace on the Plains by Erica Vetsch
Julie Farrington arrives at a Nebraska homestead as hired seamstress for an upcoming wedding. Cyrus Haskell is content being a widowed father and doesn't need to be distracted by who he considers a high-falutin' city girl—until a natural disaster puts her worth to the test.
 
Waiting on a Promise by Becca Whitham
Marta Vogel's fiancé left over a year ago to claim land in Oklahoma, and she is tired of his excuses that keep her from joining him. Karl Reinhart is locked in a bitter land dispute. When Marta arrives uninvited and unannounced, her presence is more than a trifling distraction. She just may cause him to lose everything.
 
The Bogus Bride of Creed Creek by Kathleen Y'Barbo
The last thing Iz McBride expects to find when he returns home to his Texas ranch is a pregnant wife. Apparently, his pregnant wife. Yet everyone in Creed Creek seems to love Cora McBride. The only trouble is, she's an imposter. Now Iz must decide whether to evict the woman or marry her.
About the Author
---
Mary Connealy writes romantic comedy with cowboys. She is a Carol Award winner, and a RITA®, Christy, and Inspirational Reader's Choice finalist. She is the bestselling author of the
Wild at Heart
series,
Trouble in Texas
series,
Kincaid Bride
series,
Lassoed in Texas
trilogy,
Montana Marriages
trilogy,
Sophie's Daughters
trilogy, and many other books. Mary is married to a Nebraska cattleman and has four grown daughters and a little bevy of spectacular grandchildren. Find Mary online at www.maryconnealy.com.
Bestselling author Darlene Franklin's greatest claim to fame is that she writes full-time from a nursing home. She lives in Oklahoma, near her son and his family, and continues her interests in playing the piano and singing, books, good fellowship, and reality TV in addition to writing. She is an active member of Oklahoma City Christian Fiction Writers, American Christian Fiction Writers, and the Christian Authors Network. She has written over fifty books and more than 250 devotionals. Her historical fiction ranges from the Revolutionary War to World War II, from Texas to Vermont. You can find Darlene online at www.darlenefranklinwrites.com
 
Award-winning and bestselling author, Ruth Logan Herne likes to be called Ruthy, loves God, her family, dogs, coffee and chocolate, and thinks possums should leave the cat food alone and snakes should always live outside. She lives on a farm in upstate New York and loves to connect with her readers via her website http://ruthloganherne.com, e-mail at loganherne@gmail.com, or Facebook.
New Englander Carla Gade writes from her home amidst the rustic landscapes of Maine. With eight books in print she enjoys bringing her tales to life with historically authentic settings and characters. An avid reader, amateur genealogist, photographer, and house plan hobbyist, Carla's great love (next to her family) is historical research. Though you might find her tromping around an abandoned homestead, an old fort, or interviewing a docent at an historical museum, it's easier to connect with her online at carlaolsongade.com.
CBA Bestselling author Pam Hillman was born and raised on a dairy farm in Mississippi and spent her teenage years perched on the seat of a tractor raking hay. In those days, her daddy couldn't afford two cab tractors with air conditioning and a radio, so Pam drove an Allis Chalmers 110. Even when her daddy asked her if she wanted to bale hay, she told him she didn't mind raking. Raking hay doesn't take much thought so Pam spent her time working on her tan and making up stories in her head. Now, that's the kind of life every girl should dream of. 
www.pamhillman.com
DiAnn Mills is a bestselling author who believes her readers should expect an adventure. She creates action-packed, suspense-filled novels to thrill readers. Her titles have appeared on the CBA and ECPA bestseller lists; won two Christy Awards; and been finalists for the RITA, Daphne Du Maurier, Inspirational Readers' Choice, and Carol award contests. She is the director of the Blue Ridge Mountain Christian Writers Conference, Mountainside Marketing Retreat, and Mountainside Novelist Retreat with social media specialist Edie Melson. Connect with DiAnn here: DiAnnMills.com.    
Erica Vetsch is a transplanted Kansan now residing in Minnesota. She loves books and history, and is blessed to be able to combine the two by writing historical romances. Whenever she's not following flights of fancy in her fictional world, she's the company bookkeeper for the family lumber business, mother of two, an avid museum patron, and wife to a man who is her total opposite and soul mate. Erica loves to hear from readers. You can sign up for her quarterly newsletter at www.ericavetsch.com

You can email her at ericavetsch@gmail.com or contact her on her author Facebook page.
 
Becca Whitham (WIT-um) is a multi-published author who has always loved reading and writing stories. After raising two children, she and her husband faced the empty nest years by following their dreams: he joined the army as a chaplain, and she began her journey toward publication. Becca loves to tell stories marrying real historical events with modern-day applications to inspire readers to live Christ-reflecting lives. She's traveled to almost every state in the U.S. for speaking and singing engagements and has lived in Washington, Oregon, Colorado, Oklahoma, and Alaska.  She can be reached through her website at www.beccawhitham.com
Bestselling author
Kathleen Y'Barbo
is a multiple Carol Award and RITA nominee of more than eighty novels with almost two million copies in print in the US and abroad. She has been nominated for a Career Achievement Award as well a Reader's Choice Award and is the winner of the 2014 Inspirational Romance of the Year by
Romantic Times
magazine. Kathleen is a paralegal, a proud military wife, and a tenth-generation Texan, who recently moved back to cheer on her beloved Texas Aggies. Connect with her through social media at www.kathleenybarbo.com.