Sign of the Slayer (Hardcover)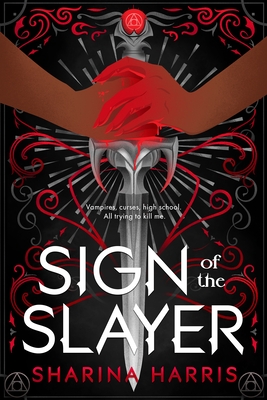 $18.99

NOT ON OUR SHELVES- available for order, usually ships in 1-5 days
Description
---
Full Metal Alchemist meets Vampire Diaries in this fun and clever dark academia series…

High school is supposed to be about studying, socializing, and marching-band practice. Not fighting vampires. Then one night flipped my world inside out—now, my life sucks. But it isn't all bad. I'm at a slayer academy, learning things like the real origin of vamps and how to make serious weapons out of thin air.

Every last one of them will pay for what they did. I'm doing great.

Until I come face-to-face with the actual vampire prince…and I'm not sure of anything anymore. Vampires are supposed to be soul-sucking demons. But Khamari is…something else. He's intelligent and reasonable—and he seems to know things about me that could change everything.

He's also hiding something big, even from his own kind. And when a threat from an ancient evil is so extreme that a vampire will team up with a slayer to take it down, it isn't just my need for revenge that's at stake anymore.

It's the whole damn world.
About the Author
---
Sharina Harris wrote her first book at twelve years old, and it only took twenty years to get a book published! Sharina writes women's fiction, contemporary romance, and young adult paranormal romance. Her contemporary romance series under the pen name Rina Gray was named one of Book Riot's 100 Must‑Read Romantic Comedies. When Sharina's not writing, she can be found with her head stuck in a book, rooting for her favorite NBA teams, and bingeing on K-Dramas and anime.

Sharina resides in Atlanta with her husband and son. You can learn more about Sharina by visiting her website.
Praise For…
---
"Sign of the Slayer was so good. It was packed with action, adventure, suspense, great world building and so much more. I loved the way history, mythology and pop culture were incorporated into it." -Timitra, NetGalley

"I love all the movie references, the sarcasm and the geeky humor throughout. This actually gave me mild Underworld vibes which made this all the more enjoyable for me. Highly recommend this one for dark academia, vampire and supernatural fans." -Bookn All Night

"I had a blast with this book and was hooked to the story and the characters we got to meet throughout it." -Crystal C, NetGalley

"I felt like a teenage girl again reading this book and got all the feels. Awesome book!!!" -Karla R, NetGalley

"I really enjoyed this book, it was nice and refreshing to read, I really liked the plot and the characters were easy to read." -Emma B, NetGalley

"The book is advertised as Full Metal Alchemist meets Vampire Diaries which I felt was a fair description. You have academia, vampires, vampire slayers, witches, and other worldly being. The plot had a good pace and the world building was fairly easy to understand. Raven and Khamari are the perfect main characters. I loved their dynamic and the fact that we got dual POV was an added bonus." -Dom's Daily Reads

"If you loved watched Buffy the Vampire Slayer and if you love a bada*s FMC, you will love this book! For me it had a different view on the world of vampires and a whole new whole of vampire slayers." -Mama_Meggles210

"This was an interesting and engaging book. I thought it was good at sucking me in wanting to read more. Anything with vampires is a must read for me. Give it a try!" -Brittany H, NetGalley

"The overall story was so fun. It gave off Twilight/Vampire Academy/Vampire Diaries vibes in all the best ways." -Books and Bedtime

"The story was perfectly crafted with fantastic complex characters." -Miss W Book Reviews
"This book was laugh out loud funny at times and had everything I was looking for." -Crossroads Reviews

"As soon as I started reading this story- I WAS HOOKED!!! Y'all, let me tell you- I LOVED this story." -Natashia C, NetGalley

"I don't usually read vampire themed books but I really enjoyed reading this book from the beginning! Raven was easy to relate too as I was also a band-geek in high school. Her internal dialogue was witty and kept me entertained." -Amy L, NetGalley

"This book kept me on the edge of my seat the entire time." Tianna B, NetGalley

"it was such a great experience. I will be waiting for the second book, because I love the way the author brings slayers back to life." -Anna N, NetGalley

"I am so happy this turned out to be just as great as I hoped! I absolutely loved this fastpaced, Supernatural romance." -Bet Weave

"It was a perfect read for Buffy fans and those who enjoyed fast-pacing adventure like Maximum Ride series. I enjoyed it a lot!" -Maria Marcel W

"Sharina's story is very immersive and you WILL be drawn into the world she has created." -Audrey B, NetGalley

"I loved it! A lot of twist and turns but in a good way. This took me back in high school I would look high and low for books like this and this author delivered! I cannot wait for book 2" -Taurus Libraryy

"This is a series that I'm excited to see where it goes. Honestly it's about time we had another good ole vampire / human love story. This was a fun and witty book, and I found myself snickering at times from the sarcastic but blunt nature of the Mc, Raven." -Catherine S, NetGalley