Operational Updates
Click HERE for the most updated hours, customer guidelines and updates to store policy.
Las Biuty Queens: Stories (Hardcover)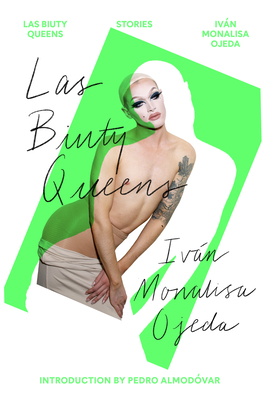 $21.00
Coming Soon - Available for Pre-Order Now
Description
---
In this acclaimed story collection, Chilean transgender performer and author Iván Monalisa Ojeda delivers an irreverent, honest and full-throated love song to New York City from the perspective of a group of trans Latinx immigrant friends who walk the streets, smoke crystal meth, compete in beauty contests, look for clients on their impossibly high heels, and fall prey to increasingly cruel immigration policies.

Drawing from his/her own experience as a trans performer, sex worker, and undocumented immigrant, Iván Monalisa Ojeda chronicles the lives of Latinx queer and trans immigrants in New York City. Whether she is struggling with addiction, clashing with law enforcement, or is being subjected to personal violence, each character choses her own path of defiance, often responding to her fate with with irreverent dark humor. What emerges is the portrait of a group of friends who express unquestioning solidarity and love for each other, and of an unfamiliar, glittering and violent, New York City that will draw readers in and swallow them whole.

On every page, Iván Monalisa's unique narrative talent is on display as he/she artfully transforms the language of the streets, making it his/her own -- rich with rhythm and debauchery. This bold new collection positions Ojeda as a fresh and necessary voice within the canon of world literature.
About the Author
---
Iván Monalisa Ojeda was born in the late sixties in southern Chile and grew up on the shores of Lake Llanquihue. He/she studied theater at the University of Chile, in Santiago, and when he/she got his/her degree, Iván Monalisa settled in New York, where he/she currently lives. He/she published an essay collection, La Misma Nota, Forever (Sangria Publishers, 2014) and has written articles for magazines and plays. In addition to being a writer, he/she is a performer and is at work on a novel. Iván Monalisa's pronouns are he/she, his/hers, him/her because he/she considers him/herself to be both genders.
Praise For…
---
"Iván Monalisa Ojeda brings to life a breathtaking world of camaraderie, beautiful messiness, pain, and resilience in Las Biuty Queens. He/she offers us captivating snapshots of Latinx trans sex workers living, working, and loving in New York City, telling a story close to my heart: that of keeping one another alive, fed, bailed out, and in deliciously deviant company amidst the harshness of criminalization. This book is like the money a friend slips in your pocket when they know you can't make rent: a fortifying whisper to carry on, and carry each other with us."
 —Tourmaline, filmmaker and activist

"This story collection marks the arrival of a singular personality with a unique and quintessential American voice. You can't just read this book; you bathe in its grit, the resilience of its characters and, most of all, its beauty. What a stunning book."
—Jose Antonio Vargas, founder of Define American and author of Dear America: Notes of an Undocumented Citizen

"These stories are about 'what it means to cross from one side to the other, what it means to get home in one piece…' A crystalline energy tears through these pages and insists we keep our eyes open. This is New York, full of beauty and pain—turn away at your own peril."
—Nick Flynn, author of Another Bullshit Night in Suck City

"No one in Chile writes like Iván Monalisa Ojeda. No one has his/her ease, his/her boldness, his/her tenderness. The stories we find in Las Biuty Queens fiercely depict the life of an undocumented immigrant in New York. Here the glamor and lights coexist with misery and solitude. The American dream doesn't exist. We're left with the fragile voices of this book as they tell, in rabid Spanglish, the story of a nightmare as gorgeous as it is infinite."
—Diego Zúñiga, award-winning author of Camanchaca