The Farmer's Bride Collection: 6 Romances Spring from Hearts, Home, and Harvest (Paperback)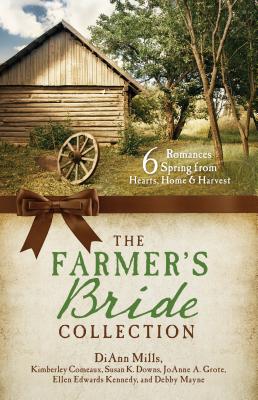 $9.99
Backordered or Out of Print
Description
---
A Season to Sow, a Season to Reap, a Season to Love

Love is in season as you journey into rural America's history and witness the harvest of romance through six delightful stories. From Minnesota to Florida, New York to Kansas, and Ohio to Louisiana, heroic men and women make sacrifices in order to create a home, nurture the crops, and secure a future for the next generation, but sometimes romance is almost an afterthought. Can love also grow down on the farm?
 
One Little Prayer by Kimberley Comeaux--Louanne Wise,a precocious nine-year-old girl, yearns for someone to call "Dad" since her own died in the War Between the States. Her mother has been running their Louisiana farm alone for too long. So when Louanne finds a man wounded in her woods, she feels her dreams could come true. But her mother may not be as easy to convince.
The Tie That Binds by Susan K. Downs--A band of fifteen orphans have arrived in Kansas on a train from New York City, including Anna and Andrew Clymer who are determined to stay together. Luck has it that each child is adopted by a single parent, but it will take a miracle to get the stubborn widowed seamstress and the arrogant wheat farmer together to form a family.
A Homesteader, a Bride, and a Baby by JoAnn A. Grote--Diphtheria has robbed Lorette Taber of her only sister and left her to care for her infant nephew. The Minnesota homestead the child inherited isn't profitable, even if Lorette could manage to run it alone. How can a single woman earn a living and raise a child? And, how can she avoid ugly rumors that plague her friendship with a helpful homesteader?
The Applesauce War by Ellen Edwards Kennedy--In a mischievous attempt to match their children together, Verity McCracken's and Pete Delorme's fathers have created a real rift between the families. The McCrackens need help to harvest their bountiful apple crop, but the Delormes won't lend one hand this year. Verity and Pete work together to try and decipher how the problem ever started between Christians, but that only makes the fathers madder. How can this rotten feud be mended?
Sunshine Harvest by Debby Mayne--What is a young woman to do when her father suddenly dies, her mother goes into depression, and a large crew of citrus harvesters are depending on her for their livelihood? Anna Drake is not a quitter and she won't accept charity. But Daniel Hopkins is not deterred from showing Christian kindness, and soon Anna is surrendering segments of her stubborn heart.
New Beginnings by DiAnn Mills--Betsy Malone is living a lie. Married to her childhood sweetheart, Nicholas, and moving to an Ohio farm, Betsy tries desperately to hide her horrible secret: She no longer loves him, if she ever did. Always perceptive, Nicholas can't be fooled for long, and Betsy fears what will happen when he discovers the truth.
About the Author
---
Kimberley gets her inspiration from all sorts of places: travel, history, dreams and once over hearing (okay...eavesdropping on)  a conversation between a couple arguing in the grocery store line.  She not only is the author of 13 Inspirational romance books, but also writes and produces church musicals. She has been married for 28 years to her best friend, Brian, and has one son, Tyler, and a brand new daughter-in-law, Kellie! Kimberley resides with her family near New Orleans.


As the wife of a minister, Susan Downs has lived in towns, big and small, all around the world—from her childhood village in Oklahoma to such eclectic states as Indiana, Missouri, Massachusetts, New York, Ohio, and Texas, and even in faraway lands like South Korea. And yet, no matter what her address, wherever her husband of forty-three years is, that's where she calls HOME. Currently, Susan resides in Texas and she is employed as a fiction editor for Guideposts Publications.
JoAnn lives on the Minnesota prairie which is a setting for many of her stories. Once a full-time CPA,  JoAnn now spends most of her time researching and writing. JoAnn has published historical nonfiction books for children and several novels with Barbour Publishing in the Heartsong Presents line as well as the American Adventure and Sisters in Time series for children. Several of her novellas are included in CBA bestselling anthologies by Barbour Publishing. JoAnn's love of history developed when she worked at an historical restoration in North Carolina for five years. She enjoys researching and weaving her fictional characters' lives into historical backgrounds and events. JoAnn believes that readers can receive a message of salvation and encouragement from well-crafted fiction. She captures and addresses the deeper meaning between life and faith.
Ellen grew up in the Adirondack region of New York State where
The Applesauce War
takes place. A former award-winning advertising copywriter, she is the author
Irregardless of Murder
and
Death Dangles a Participle
, the first two books in the Miss Prentice Cozy mystery series from Sheaf House Publishers. She and her husband live in North Carolina, where they are the happy grandparents of five
little answers to prayer.
Debby Mayne has published more than 50 books and novellas, 400 print short stories and articles, more than 1,000 web articles, and a bunch of devotions for women. She has been managing editor of a national health magazine, product information fashion writer for HSN, product writer for Zulily, creative writing instructor for the Long Ridge Writers Group, and etiquette expert for About.com. Most of her stories feature strong, southern women who overcome all sorts of obstacles. 
 
DiAnn Mills is a bestselling author who believes her readers should expect an adventure. She weaves memorable characters with unpredictable plots to create action-packed, suspense-filled novels. DiAnn believes every breath of life is someone's story, so why not capture those moments and create a thrilling adventure?
Her titles have appeared on the CBA and ECPA bestseller lists; won two Christy Awards; and been finalists for the RITA, Daphne Du Maurier, Inspirational Readers' Choice, and Carol award contests.
DiAnn is a founding board member of the American Christian Fiction Writers, a member of Advanced Writers and Speakers Association, Mystery Writers of America, Sisters in Crime, and International Thriller Writers. She is co-director of The Blue Ridge Mountain Christian Writers Conference, Mountainside Marketing Conference, and the Blue Ridge Novelist Retreat with social media specialist Edie Melson where she continues her passion of helping other writers be successful. She speaks to various groups and teaches writing workshops around the country.
DiAnn has been termed a coffee snob and roasts her own coffee beans. She's an avid reader, loves to cook, and believes her grandchildren are the smartest kids in the universe. She and her husband live in sunny Houston, Texas.
DiAnn is very active online and would love to connect with readers on: Facebook, Twitter, or any of the social media platforms listed at diannmills.com.