The Texas Brides Collection: 9 Romances from the Old West (Paperback)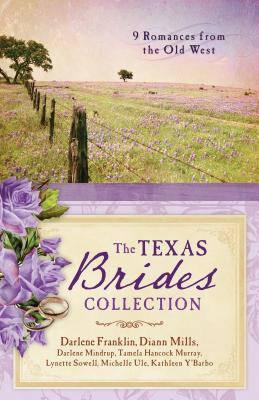 $9.99
Backordered or Out of Print
Description
---
It's a wild ride through Texas history, but can the lawful, the lawless—and the lonely—find love?
Enjoy the rich history of Texas penned by an exclusive selection of Christian fiction authors—including DiAnn Mills and Kathleen Y'Barbo. This collection of nine romances brings together the lawful, the lawless, and the lonely in the Lone Star State. Watch as three Texas Rangers turn from chasing outlaws to courting women who are determined to remain independent. Experience the trials six outlaws have as they turn into respectable citizens and seek to settle down with a spouse to love.
Includes:
Serena's Strength by DiAnn Mills
Serena Talbot seems small and frail. In fact, for the two years Ranger Chet Wilkinson has known her, he believed her to be a young teenager. Suddenly Serena has proved herself to be a woman of uncommon strength, and Chet has taken notice. But Serena's very protective father won't hear of a ranger courting his only child.
The Reluctant Fugitive by Darlene Mindrup
Caught up in a bank robbery, April Hansen finds herself the prisoner of Ranger Yellow Wolf Jackson and under suspicion for aiding a band of gangsters. How then can April feel peace in the midst of stormy weather and pending trial? And what is this undercurrent she experiences every time Wolf looks at her, a plain seamstress?
Saving Grace by Kathleen Y'Barbo
Captain Jedadiah Harte is ready to walk away from his old lifestyle as a Texas Ranger and serve only God. A stray bullet, though, has thwarted his trip to Galveston to start a ministry, and it seems to be the answer to Grace Delaney's prayers. Jed may be willing to help her keep her river supply landing running for a while, but can he make an even greater commitment when asked?
An Inconvenient Gamble by Michelle Ule
After yellow fever takes her parents and husband, Jenny Duncan is left to manage the family and horse ranch on her own. Civil War veteran Charles Moss has left many regrets behind and become both a surveyor and teacher. His newfound religious convictions falter, however, when he meets the pretty Jenny and is drawn into advising her in business matters.
Angel in Disguise by Darlene Franklin
Owen Cooper investigates a series of bizarre burglaries among San Antonio's wealthiest citizens. When charming newcomer Rosie Carson crosses his path, will his search end in jail—or love?
Reuben's Atonement
by Lynette Sowell
Reuben Wilson returns home with a load of regrets. As a young man, he led his brothers down a path of crime and broke the heart of Charlotte Jeffers. Now with his debt to society paid, he tries to atone for the past and reclaim what he has lost. Charlotte wants to believe Reuben has changed, but an accusation threatens to destroy his plans for their future.
The Peacemaker by DiAnn Mills
The day Huntsville Prison cut loose Colt Wilson he thought the answer to his problems was money—until he met his ex-partner's widow and her spunky daughters. It doesn't take long for Colt to see he's met his match with Anne Langley. But a murderer stalks the Langley ranch, and Colt and Anne fear for her daughters' safety. 
Outlaw Sheriff by Kathleen Y'Barbo
When former outlaw turned law-abiding Christian Caleb Wilson wanders into town, the townsfolk think he's the new sheriff. Caleb is happy to accept the honor, until Lydia Bertrand arrives with the news that she is the sheriff's mail-order bride. Will the new sheriff admit his true identity to the citizens and his reluctant bride-to-be, or will he keep the job and gain a wife in the process?
A Gamble on Loveby Tamela Hancock Murray
Benjamin Wilson and Pearl Hubert team up to swindle gamblers—until she leaves to tend her dying ma. Moral Mama will have no sinning in her house. Will they hit the road again together, or will they find more reward in love, prayer, and a miracle from God?
About the Author
---
Bestselling author Darlene Franklin's greatest claim to fame is that she writes full-time from a nursing home. She lives in Oklahoma, near her son and his family, and continues her interests in playing the piano and singing, books, good fellowship, and reality TV in addition to writing. She is an active member of Oklahoma City Christian Fiction Writers, American Christian Fiction Writers, and the Christian Authors Network. She has written over fifty books and more than 250 devotionals. Her historical fiction ranges from the Revolutionary War to World War II, from Texas to Vermont. You can find Darlene online at www.darlenefranklinwrites.com
 
DiAnn Mills is a bestselling author who believes her readers should expect an adventure. She weaves memorable characters with unpredictable plots to create action-packed, suspense-filled novels. DiAnn believes every breath of life is someone's story, so why not capture those moments and create a thrilling adventure?
Her titles have appeared on the CBA and ECPA bestseller lists; won two Christy Awards; and been finalists for the RITA, Daphne Du Maurier, Inspirational Readers' Choice, and Carol award contests.
DiAnn is a founding board member of the American Christian Fiction Writers, a member of Advanced Writers and Speakers Association, Mystery Writers of America, Sisters in Crime, and International Thriller Writers. She is co-director of The Blue Ridge Mountain Christian Writers Conference, Mountainside Marketing Conference, and the Blue Ridge Novelist Retreat with social media specialist Edie Melson where she continues her passion of helping other writers be successful. She speaks to various groups and teaches writing workshops around the country.
DiAnn has been termed a coffee snob and roasts her own coffee beans. She's an avid reader, loves to cook, and believes her grandchildren are the smartest kids in the universe. She and her husband live in sunny Houston, Texas.
DiAnn is very active online and would love to connect with readers on: Facebook, Twitter, or any of the social media platforms listed at diannmills.com.    
DARLENE MINDRUP is a full-time homemaker and home-school teacher. Once a 'radical feminist,' she fanned her independent streak in the army, then turned into a 'radical Christian' after a heart changing encounter with the Lord. Darlene lives in Arizona with her husband and two children. She believes 'romance is for everyone, not just the young and beautiful.' She has a passion for historical research, which is obvious in her detailed historical novels about places time seems to have forgotten.
Tamela Hancock Murray is the author of over thirty novels and nonfiction works. She feels honored and humbled that her books have placed her on bestseller lists and that one of her Barbour titles, Destinations, won an RWA Inspirational Readers Choice Award. Tamela has been a literary agent since 2001 and is with The Steve Laube Agency.   
Tamela lives in Virginia with her husband of over thirty years. They are the parents of two lovely daughters. Tamela enjoys church, reading, and spending time with her immediate and extended family and friends.  
Tamela is passionate about edifying and encouraging other Christians through her work. She always enjoys hearing from readers. Please visit her on Facebook and Twitter.
Lynette Sowell is an award-winning author with New England roots, but she makes her home in Central Texas with her husband and a herd of five cats. When she's not writing, she edits medical reports and chases down stories for the local newspaper.


Michelle Ule is a musician, historian and Bible study leader who graduated from UCLA. She's the author of five historical novellas and a Navy SEAL novel. Married to a now retired submarine officer whom she followed all over the world, she lives with her family in northern California. You can learn more about her at www.michelleule.com
 
Bestselling author
Kathleen Y'Barbo
is a multiple Carol Award and RITA nominee of more than eighty novels with almost two million copies in print in the US and abroad. She has been nominated for a Career Achievement Award as well a Reader's Choice Award and is the winner of the 2014 Inspirational Romance of the Year by
Romantic Times
magazine. Kathleen is a paralegal, a proud military wife, and a tenth-generation Texan, who recently moved back to cheer on her beloved Texas Aggies. Connect with her through social media at www.kathleenybarbo.com.