Elementary, She Read (A Sherlock Holmes Bookshop Mystery #1) (Hardcover)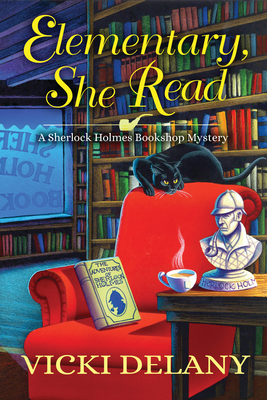 $25.99
Backordered or Out of Print
Other Books in Series
This is book number 1 in the A Sherlock Holmes Bookshop Mystery series.
Description
---
Murder pays a visit to Gemma Doyle's Sherlock Holmes-themed bookshop in this clever first installment in a captivating cozy mystery series from the bestselling author of the Year-Round Christmas Mysteries
 
Gemma Doyle, a transplanted Englishwoman, has returned to the quaint town of West London on Cape Cod to manage her Great Uncle Arthur's Sherlock Holmes Bookshop and Emporium. The shop—located at 222 Baker Street—specializes in the Holmes canon and pastiche, and is also home to Moriarty the cat. When Gemma finds a rare and potentially valuable magazine containing the first Sherlock Homes story hidden in the bookshop, she and her friend Jayne (who runs the adjoining Mrs. Hudson's Tea Room) set off to find the owner, only to stumble upon a dead body.
 
Gemma is the police's first suspect, so she puts her consummate powers of deduction to work to clear her name, investigating a handsome rare books expert, the dead woman's suspiciously unmoved son, and a whole family of greedy characters desperate to cash in on their inheritance. But when Gemma and Jayne accidentally place themselves at a second murder scene, it's a race to uncover the truth before the detectives lock them up for good.
 
"A delight—fast, fun, and full of Sherlockian lore. Cheers for a charming, intelligent heroine as observant as The Great Detective himself." —Carolyn Hart, New York Times–bestselling author of Walking on My Grave
About the Author
---
Vicki Delany is one of Canada's most varied and prolific crime writers and a national bestseller in the U.S. Most recently, she is the author of The Year Round Christmas cozy mysteries from Berkley, The Sherlock Holmes Bookshop series from Crooked Lane and (writing under the pen name of Eva Gates) The Lighthouse Library mysteries also from Crooked Lane.

Although she's loving writing cozy mysteries these days, in the past she's written standalone novels of suspense (More Than Sorrow, Burden of Memory), a traditional village police procedural series (The Constable Molly Smith novels) and the lighthearted Klondike Gold Rush Series.
Praise For…
---
Praise for Elementary, She Read:
"This charming series launch will please Sherlock Holmes and cozy fans."
—Publishers Weekly

"A series debut that puts 'Sherlock' and 'Watson' in a whole new, fun light...this should be a humorous, captivating series that readers will absolutely love for years to come."
—Suspense Magazine

"A great read for mystery fans and a must read for Sherlockians."
—Night Owl Reviews, Top Pick

"[Gemma Doyle] instantly became one of my favorite sleuths...Elementary, She Read is cozy in the best possible way...Holmes enthusiasts will enjoy Gemma's almost Sherlockian attention to detail as well as the many nods to those who have created pastiches of the world created by Arthur Conan Doyle."
—Fresh Fiction

"An entertaining, light-hearted, and genuinely mystifying adventure...excellent summer reading."
—Popular Culture Association

"The protagonist, Gemma Doyle, a witty English woman...will delight all but the dourest readers."
—Smoky Mountain News

"Vicki Delany's Elementary, She Read is an absolute delight. A perplexing mystery with a refreshingly intelligent and witty amateur sleuth, I enjoyed every well-crafted word of this Sherlock Holmes infused tale. A must read for lovers of all things Sherlock Holmes."
—Jenn McKinlay, New York Times and USA Today–bestselling author of Better Late Than Never

"Vicki Delany is one of my favorite mystery authors and with Elementary, She Read, she has outdone herself. This first book in her intriguing new series features Gemma Doyle, a wonderfully appealing protagonist who runs the Sherlock Holmes Bookshop and Emporium, where delightfully quirky characters and fascinating old books flourish. I loved everything about this story! The Cape Cod setting was enchanting and the intricate mystery kept me turning pages late into the night. Easily one of the best new mystery series on the market."
—Kate Carlisle, New York Times–bestselling author of the Fixer-Upper mysteries

"Elementary, She Read is a delight, fast, fun, and full of Sherlockian lore. Cheers for a charming, intelligent heroine as observant as The Great Detective himself."
—Carolyn Hart, New York Times–bestselling author of Walking on My Grave

"Thoroughly delightful. I defy anyone to read this book and not fall in love with the uber-observant Gemma Doyle. She may or may not be related to Sherlock Holmes' creator, but she's certainly kin to his most famous detective. The best new cozy series of the year."
—Laura DiSilverio, bestselling author of the Readaholics Book Club mysteries

Praise for Vicki Delany:
"A fun Yuletide-themed cozy with an appealing amateur sleuth."
—Library Journal on Rest Ye Murdered Gentlemen

"Delightful...a humorous tinsel-covered tale that made me laugh out loud even while keeping me guessing."
—New York Times–bestselling author Jenn McKinlay on Rest Ye Murdered Gentlemen

"A charming new series...a book lover's dream."
—New York Times–bestselling author Krista Davis on Booked for Trouble