Attack on Titan: Garrison Girl: A Novel (Paperback)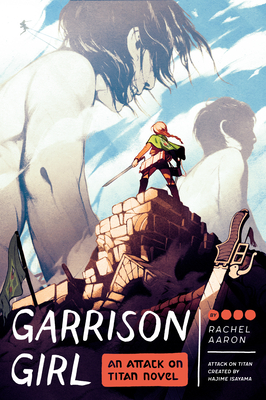 $12.99
Backordered or Out of Print
Description
---
"An engaging, thrilling, and deeply personal story . . . if you are a fan of either Attack on Titan or Rachel Aaron . . . you need to read this book."—Geeks of Doom

Get ready for the final season of Attack on Titan!

Battle titans, defend Wall Rose, and fall in love in this original YA novel set in the world of the hit anime and manga series, Attack on Titan!

When the last vestige of the human race is threatened by unstoppable carnivorous giants, a brave young woman decides to defy her wealthy family and join the military garrison to battle humanity's enemies. But Rosalie Dumarque soon finds that her dream of escaping the protection of Wall Rose not only leads to bloody sword fights with monsters, but exposes her to other dangers. Can she earn the trust of her fellow soldiers, stand up to a corrupt authority, navigate a forbidden romance . . . and cut her way out of a titan's throat?
About the Author
---
Rachel Aaron is the author of fourteen fantasy and science-fiction novels, including The Legend of Eli Monpress, Nice Dragons Finish Last and the rest of the Heartstrikers series, and the Paradox trilogy (Fortune's Pawn, Honor's Knight, and Heaven's Queen).
Praise For…
---
"An engaging, thrilling, and deeply personal story . . . if you are a fan of either Attack on Titan or Rachel Aaron . . . you need to read this book."—Geeks of Doom

"Set in the world of Hajime Isayama's popular manga series Attack on Titan, this action-packed fantasy will appeal to existing fans and newcomers alike."—Booklist 

"Exciting and sometimes gruesome . . . A great page-turner for fans of the Attack on Titan series, as well as any readers who enjoy fantasy, suspense, horror, and kick-ass heroines."—School Library Journal

"A good introduction to Attack on Titan for those new to this dark, terrifying, yet utterly fascinating saga."—Midwest Book Review

"It's a really enjoyable book. The writing is crisp, and...often vivid. The action scenes only improve as the book goes on...with moments that Isayama himself might envy."—All the Anime

"For teens who want the female protagonist to kick ass more than kiss."—Kirkus Reviews