Are We There Yet?: My Journey from a Messed Up to Meaningful Life (Hardcover)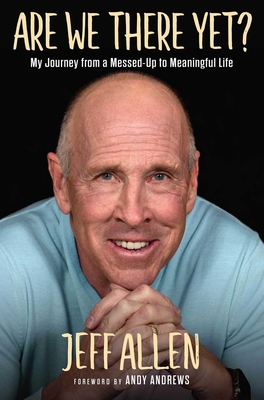 $24.99

NOT ON OUR SHELVES- available for order, usually ships in 1-5 days
Description
---
Comedic and Inspirational memoir from the stand-up comic who coined the phrase "Happy Wife, Happy Life".

Leave it to a comedian to find God through the Bible's most depressing book.

For years, one of the funniest men in America was crying on the inside. Jeff Allen was a comedian with the lead role in a tragedy.

Born into a tough working-class Chicago family, Allen fell into substance abuse at an early age, and his problems didn't magically go away when he got married. In fact, with the arrival of two children, they intensified. The sense that his life was meaningless made his family life as dark and biting as his comedy.

But in his darkest moment, an unlikely encounter with the gloomiest book of the Bible set him on the path to salvation. The opening line of Ecclesiastes— "Meaningless, meaningless, all in life is meaningless"—resonated with him.

So he kept reading, and soon he discovered the Source of meaning. Eventually, Allen found himself with a revitalized marriage and a repurposed career.

If you have struggled to find meaning in your life, this book is for you.

With his trademark humor and unflinching honesty, Allen will point you to the only One who can answer the question, "Are we there yet?" You'll know when you've arrived.
About the Author
---
Jeff Allen is in his fifth decade as a working comedian. You may have seen him on America's Got Talent, Dry Bar Comedy, HBO, Amazon Prime, Huckabee, Pureflix, Comedy Central, VH-1, Showtime, TBN, CBN, Family Net or numerous other television networks and podcasts. He can be heard regularly on SiriusXM's comedy channels, as well as Pandora and Spotify. He has performed for our troops on aircraft carriers and ships in the Indian Ocean. Jeff's videos have surpassed 300 million views on Facebook, YouTube, and other channels. Jeff has also produced and starred in his own sitcom pilot for Castlerock Television and in the critically acclaimed films, Apostles of Comedy. On his new tour, Jeff Allen 2.0, Jeff's sidesplitting comedy drives home the humor in everyday family life, the ups and downs of marriage, the challenge of raising children, the bliss of the empty nest (followed by the unexpected returns to said nest) and the joys of being a grandparent.
Praise For…
---
"I was complaining about all my problems and addictions one day. My therapist looked me dead in the eye and said, 'You should meet Jeff Allen.' This book will give you a glimpse into the life of one of the best men I know, whether he's crushing it at the comedy club or lipping out a birdie putt." —JOHN CRIST, American and world-class comedian

"Superb! Enjoyable! Illuminating! Doxological! ... This book will bless, encourage, comfort, and be an exhortation to any who read it." —TOMMY NELSON, senior pastor of Denton Bible Church, Denton, Texas

"Jeff's story is a fascinating and poignant account of triumphing over obstacles that seem insurmountable. It serves as a testament that when one prioritizes God, blessings are sure to follow." —JORDAN HARMON, president and cofounder of Angel Studios

"This is Jeff's story—it's a great one, and it's a story for all of us.... It's funny yet profound; inspiring and uplifting but deeply thought-provoking. It gives hope and answers questions many of us didn't know we needed to ask." —DAVID BARTON, author and founder of WallBuilders

"Jeff Allen is the best at what he does. His humor and his testimony combine to make Are We There Yet? both entertaining and powerful. I'm so pleased to recommend this book—you'll enjoy it!" —MICHAEL W. SMITH, three-time Grammy Award winner and American Music Award recipient

"This is a book for the cynical, the raging, and the disillusioned. Be persistent; there is hope!" —BILL AND GLORIA GAITHER, founders of Gaither Music Group

"Jeff has a unique way of communicating the one thing God pretty much insists on: humility." —GARY CHAPMAN, Grammy Award winner and TV and radio host