They're Strictly Friends (Paperback)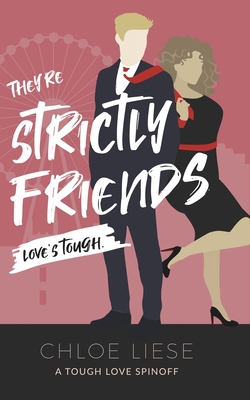 $15.99
Backordered or Out of Print
Description
---
Outright enmity between France and England might be long past, but merry war betwixt two people from bookends of the English Channel comes easily to Lucas and Elodie. Verbal sparring, witty jabs, and a feverish dance of mutual interest, their friendship is a model uneasy d tente.

Lucas Edwards is the consummate English gentleman...most of the time. He might get a bit tetchy when his office is a mess, and he's rather particular about his ties, but otherwise he's as affable as afternoon tea. That is, until a grim diagnosis sets his future on a downward slope. And while Elodie Bertrand might be the only woman he wants-brilliant math-mind, decadent curves, a Parisian flair for butchering British idioms as well as turning Scrabble into a war of words-she's the last person he's willing to make a variable in his negative trajectory.

As far as Elodie can project, she and Lucas Edwards will forever exist torturously tangential. No matter that Lucas' keen intellect, dry wit, his penchant for Shakespeare and innuendo equally infuriate and enamor her. Because, while he might be deliciously tall and dashing, not to mention the most chivalrous man she knows, Lucas has made it quite clear they must remain "strictly friends". But when circumstances throw them together, Elodie quickly deduces Lucas isn't putting her off out of disinterest. In fact, after plotting the points of their every intersection, only one solution remains: he actually feels quite the opposite...

The first Tough Love Spinoff, a standalone friends to lovers, forced-proximity romance. Full of lost in translation laughs, Harry Potter Easter Eggs, a cast of international characters, and an oh-so-satisfying happily ever after.