Lady Maggie's Secret Scandal (The Windhams: The Duke's Daughters) (Mass Market)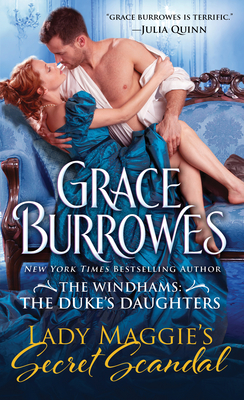 Description
---
Lady Maggie Windham has secrets…
And she's kept them...until now. When a blackmailer threatens to expose Maggie's secret letters, she turns to investigator Benjamin Hazlit to keep catastrophe at bay.
Benjamin Hazlit has secrets of his own, including an earldom he never talks about. However, when Maggie comes to him with innocent eyes and a puzzling conundrum, he can't help but offer his assistance. With each day that passes, Maggie intrigues Benjamin more than the riddle she's set him to solve.
As Benjamin uncovers more and more of her past, Maggie struggles to keep him at a distance, until they both must decide whether it's worth the risk to reveal the truth in their hearts...
"Scandalously good... Stunningly perfect in every way… A rare and special treat for historical romance fans."—The Romance Reviews
"Intriguing, sensual historical romance that I could not put down."—Romance Junkies
"Burrowes' exquisite writing style and ability to plumb the depths of the characters' emotions…make phenomenal reading."—Long and Short Reviews
"The characters are spot on… You'll be transported back to Regency England in grand style."—Night Owl Reviews
About the Author
---
New York Times and USA Today bestselling author Grace Burrowes' bestsellers include The Heir, The Soldier, Lady Maggie's Secret Scandal, Lady Sophie's Christmas Wish and Lady Eve's Indiscretion. Her Regency romances and Scotland-set Victorian romances have received extensive praise, including starred reviews from Publishers Weekly and Booklist. The Heir was a Publishers Weekly Best Book of 2010, The Best Spring Romance of 2011, Lady Sophie's Christmas Wish and Once Upon a Tartan have both won RT Reviewers' Choice Awards, Lady Louisa's Christmas Knight was a Library Journal Best Book of 2012, The Bridegroom Wore Plaid was a PW Best Book of 2012. Two of her MacGregor heroes have won KISS awards. Grace is a practicing family law attorney and lives in rural Maryland.