The Stand-In (Paperback)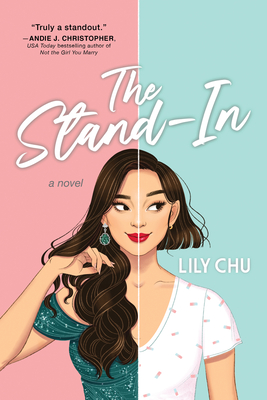 Description
---
Featured in USA Today's "Best Rom-Coms" of May 2023 and one of the Washington Post's best romances of the year!
"The Stand-In is a charming, engaging rom com that drips in glamour and sparkles with banter. Chu's exploration of multi-racial identity was resonant and nuanced. The Stand-In is truly a stand out romance." — USA Today bestselling author Andie J. Christopher
Gracie Reed was just fired by her overly "handsy" boss at the worst possible moment. She's been scraping together every extra dollar to get her mother into a top-notch memory care center. To make matters worse, a paparazzo has mistaken her for a famous Chinese actress in town for a new project and the resulting snapshot's gone viral. Gracie's barely holding it all together…until a mysterious SUV rolls up beside her on the street, and she's offered the opportunity of a lifetime.
Gracie can't believe what she's hearing: due to their uncanny resemblance, gorgeous actress Wei Fangli wants Gracie to be her stand-in. The catch? Gracie will have to be escorted by Sam Yao, the other half of Chinese cinema's infamous golden couple. Problem is, Sam is the most attractive—and infuriating—man Gracie's ever met.
But if it means getting the money she needs for her mother, Gracie's in. Soon Gracie moves into a world of luxury she never knew existed. But resisting her attraction to Sam, and playing the role of an elegant movie star, proves more difficult than she ever imagined—especially when she learns the real reason Fangli so desperately needs to step out of the spotlight. In the end all the effort in the world won't be able to help Gracie keep up this elaborate ruse without losing herself...and her heart.
Readers will delight in this glamourous, swoon worthy enemies-to-lovers romance that is as hilarious as it is heart-wrenching.
About the Author
---
Lily Chu loves ordering the second-cheapest wine, wearing perfume all the time, and staying up far too late reading a good book. She writes romantic comedies set in Toronto with strong Asian characters.
Praise For…
---
With quick wit, beautifully developed characters, and a charming love story, this rom-com debut is a winner! —Farah Heron, author of Accidentally Engaged

"Wry, moving, and utterly romantic. —Ruby Lang, author of The Uptown Collection" —Ruby Lang, author of The Uptown Collection

"A highly entertaining story full of heart." —Jackie Lau, author of Donut Fall in Love

"Lily Chu's deft prose ... had a way of taking unexpected turns, startling me into laughing out loud—or punching me right in the feelings." —Rose Lerner, author of The Wife in the Attic

""The Stand-In is a charming, engaging rom com that drips in glamour and sparkles with banter. Chu's exploration of multi-racial identity was resonant and nuanced. The Stand-In is truly a stand out romance." —Andie J. Christopher USA Today bestselling author of Not the Girl You Marry" — Andie J. Christopher, USA Today bestselling author of Not the Girl You Marry

"The Stand-In is a sparkly, cinematic adventure that combines emotional drama with hilarious and relatable moments. Lily Chu handles swoonworthy scenes and down-to-earth concerns with equal skill." —Talia Hibbert, USA Today bestselling author of Get a Life, Chloe Brown