A Promise of Fire (The Kingmaker Chronicles) (Paperback)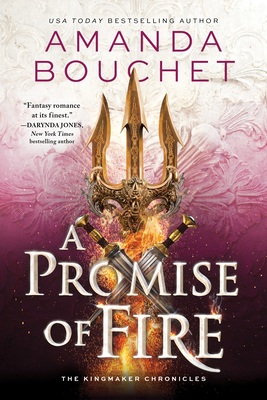 Other Books in Series
This is book number 1 in the The Kingmaker Chronicles series.
Description
---
KINGDOMS WILL RISE AND FALL FOR HER
Cat Fisa isn't who she pretends to be. She's perfectly content living disguised as a soothsayer in a traveling circus, avoiding the destiny the Gods—and her dangerous family—have saddled her with. As far as she's concerned, the magic humming within her blood can live and die with her. She won't be a pawn in anyone's game.
But then she locks eyes with an ambitious warlord from the magic-deprived south and her illusion of safety is shattered forever.
Griffin knows Cat is the Kingmaker—the woman who divines truth through lies—and he wants her to be a powerful weapon for his newly conquered realm. Kidnapping her off the street is simple enough, but keeping her by his side is infuriatingly tough. Cat fights him at every turn, showing a ferocity of spirit that burns hot...and leaves him desperate for more. But can he ever hope to prove to his once-captive that he wants her there by his side as his equal, his companion...and maybe someday, his Queen?
Discover exciting bonus material, including maps, illustrations, and an expanded look at the world of Thalyria. Fans of Jennifer Armentrout, Scarlett St. Clair and Sarah J. Maas will burn for this spicy romantic fantasy.
The Kingmaker Chronicles:
A Promise of Fire (Book 1)
Breath of Fire (Book 2)
Heart on Fire (Book 3)
A Curse of Queens (A Kingmaker Chronicles novel, Book 1)
Readers are raving about the Kingmaker Chronicles:
"Give this to your Game of Thrones fans." —Booklist STARRED Review
"Loved it!" —ELOISA JAMES, New York Times bestselling author
"Utterly breathtaking!" —DARYNDA JONES, New York Times bestselling author
"Masterful worldbuilding." —Kirkus STARRED Review
"Absolutely fabulous." —C.L. WILSON, New York Times bestselling author
"Magic, action, romance—everything I love in a series." —JENNIFER ESTEP, New York Times and USA Today bestselling author
"Sweeping in its world building and poignant in its emotion. A Homeric trilogy not to be missed." —GRACE DRAVEN, USA Today bestselling author
"Easily my favorite book of 2016!" —Bookriot
"Delivers with both heat and heart—loved it!" —JEFFE KENNEDY, award-winning author
About the Author
---
Amanda Bouchet is a USA Today bestselling author of Fantasy Romance and Sci-fi Romance. She was a Goodreads Choice Awards top 10 finalist for Best Debut in 2016. For more about Amanda's books with equal parts adventure and kissing, connect with her at www.amandabouchet.com.
Praise For…
---
"A Promise of Fire made me laugh out loud more than once." — Thea Harrison, New York Times bestselling author of the Elder Races series

"Soooo good!! The characters are wonderfully likeable, the world is unique and full of intrigue, and there's just this deep sense of warmth to the book that I loved and that kept me inhaling the story. I CANNOT WAIT to read the next book!!!" — Nalini Singh, New York Times bestselling author

"Fantasy romance at its finest! This book has it all: A heroine full of spunk and spark, a hero full of mystery and masculinity, and an epic story full of intrigue and action. You will fall in love with these delicious characters. This book is utterly breathtaking!" — Darynda Jones, New York Times bestselling author of the Charley Davidson series

"A Promise of Fire is terrific . . . one of the best debuts I've read in years." — Kirkus STARRED Review

"Give this to your Game of Thrones fans. They will love the political plays, the dragons, and the adventure. Bouchet is a debut author to watch." — Booklist STARRED Review

"If you're looking for a magical book with heart, romance, adventure, and characters who stay with you long after the book ends, try A Promise of Fire. You won't be disappointed! The Kingmaker Chronicles is sure to be a huge hit and well-worth the praise-worthy buzz it's already getting far and wide. Amanda Bouchet has made me a desperate fan. 5 Stars, Recommended Read." — Romance Junkies

"High fantasy is a rare find in romance — complex world-building and political machinations can get in the way of a central, essential love story — but Bouchet skillfully melds the genres while crafting a sexy, emotional romance. Griffin and Cat are beautifully matched — together, her magic and his might make for a sparkling read. A Best Romance of the Month." — The Washington Post

"I can say, without a doubt, that A Promise of Fire is going on my keeper shelf. I want more of these characters and I want more of this world. I cannot remember the last time I wanted to both savor and devour a book, and Bouchet's writing is so engaging and magical that I wish she had some sort of backlist I could dive into for the next few months. If you're even slightly tempted by this review or from the chapter one excerpt, buy this book." — Smart Bitches, Trashy Books

"I don't think I can recommend A Promise of Fire highly enough. If you like fantasy at all, go read it. If you like mythology at all, go read it. If you like alpha heroes, or chosen-one stories, or strong and independent heroines, go read it. Just… just go read it." — All About Romance

"This book is utter catnip for me. Fantasy with romance and witty dialogue rolled together make a sumptuous feast of entertainment. This one's a winner!" — Fresh Fiction, Fresh Pick!

"Easily my favorite book of 2016! It's gritty, full of action, and Bouchet does such a beautiful job of building the setting. I was hooked from the first page." — Bookriot

"An absolute joy to read . . . one of the best romances I've read all year." — Seattle Book Review

"Looking for sci-fi/fantasy novel with a heavy dose of steamy romance? Look no further than Amanda Bouchet's The Kingmaker Chronicles." — EW.com