Frederica (Paperback)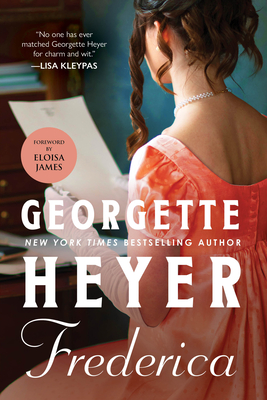 $16.99

Coming Soon - Available for Pre-Order Now
Description
---
New York Times bestselling author Georgette Heyer's beloved tale of a forthright, independent young woman stumbling on happiness for herself even as she seeks a brilliant match for her beautiful sister.
The Marquis of Alverstoke is bored. Family and friends are always making demands, so when a distant cousin shows up seeking his patronage, he is not inclined to agree.
Frederica Merriville, head of her young family since the death of their parents, has brought her brood to London in an attempt to find a brilliant match for her stunningly beautiful younger sister. Unfortunately their guardian, the Marquis of Alverstoke, appears to be too bored and cynical to bother. But the Merriville family is lively and likeable and as Alverstoke finds himself rescuing them from one scrape after another, he has to admit he's getting attached. Particularly to Frederica herself, who is so busy trying to keep her younger brothers in line and get her sister married off, she is slow to notice. But as their partnership blossoms, it suddenly becomes clear that Alverstoke is no longer bored...he's in love.
About the Author
---
Georgette Heyer's novels have charmed and delighted millions of readers for decades. English Heritage has awarded Georgette Heyer one of their prestigious Blue Plaques, designating her Wimbledon home as the residence of an important figure in British history. She was born in Wimbledon in August 1902. She wrote her first novel, The Black Moth, at the age of seventeen to amuse her convalescent brother; it was published in 1921 and became an instant success.
Heyer published 56 books over the next 53 years, until her death from lung cancer in 1974. Her last book, My Lord John, was published posthumously in 1975. A very private woman, she rarely reached out to the public to discuss her works or personal life. Her work included Regency romances, mysteries and historical fiction. Known as the Queen of Regency romance, Heyer was legendary for her research, historical accuracy and her extraordinary plots and characterizations. She was married to George Ronald Rougier, a barrister, and they had one son, Richard.