Tsunami Dolphins: A Horror of Nature, Through Animal Eyes (Paperback)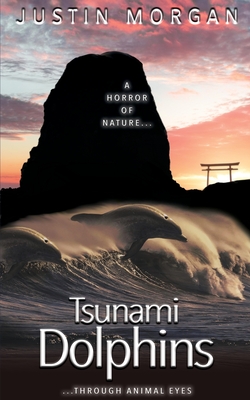 $12.99

NOT ON OUR SHELVES- available for order, usually ships in 1-5 days
Description
---
Rattled by a quake. Hammered by a wave. Dolphins love to play, but in the radioactive waters off Japan, is survival one game they're destined to lose?
An epic natural disaster sees strangers Mako and Fusa swept onto the shores of Fukushima. Adrift from their pods, and with the nearby power plant spewing toxic poison, they strive to understand why the god of the oceans is so angry. Could it be because Mako so rudely insulted him? And if so, do they stand any chance of evading his next strike?
Longing for calmer seas, and desperate to be reunited with their pods, the pair journey to find the mighty God and offer an apology. But on an adventure beset by orca clans, radioactive pollution and militarised dolphins, it's an encounter with humans that will change everything.
After all, why should they fear a myth, when real danger hunts them from above the waves?
This inspirational coming of age story, like Watership Down and many other beloved YA animal stories, is a work of realistic animal fiction that takes teen and adult readers on an emotional journey.
As the animal characters struggle to make sense of an ocean thrown into chaos, they are forced on a journey of self-discovery that reveals the true meaning of friendship. But, even if they're willing to risk everything to save each other, will they be able to find a happy ending in a world that is falling apart?
With this book's adventure rooted in the true story of the 2011 earthquake, tsunami and nuclear disaster in Fukushima, Japan, Morgan utilises a tragic episode in Japanese history to deliver a compelling environmental narrative as we witness the impact of ecological devastation and the power of resilience and friendship through the eyes of dolphins.
A touching work of animal realism and literary fiction, this book is also a must-read for anyone with an interest in contemporary history, eco-fiction, marine ecology and the creation myths of the indigenous Ainu people.