The Red Ear Blows Its Nose: Poems for Children and Others (Hardcover)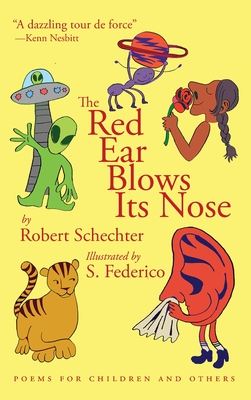 $29.95

NOT ON OUR SHELVES- available for order, usually ships in 1-5 days
Description
---
The Red Ear Blows Its Nose is "a dazzling tour de force" (Kenn Nesbitt). Often hilarious, always thoughtful, this debut collection from award-winning poet Robert Schechter proves that he is "clearly one of the most accomplished poets writing for children today" (Valerie Bloom MBE). Complemented by S. Federico's charming illustrations, The Red Ear Blows Its Nose will delight both children and adults alike, and is destined to become a classic, standing alongside A Child's Garden of Verses, Now We Are Six, and Where the Sidewalk Ends on children's and library bookshelves for years to come.
PRAISE FOR THE RED EAR BLOWS ITS NOSE:
Short, punchy, and clever poems, as if Shel Silverstein and Ogden Nash had a baby. Some are only two lines long. My favorite: "When livestock salesmen cannot sleep, / do they lie in bed discounting sheep?" Wow
-Jane Yolen, author of the How Do Dinosaurs books
What a splendid collection of poetry. Here are poems that fizz with imagination, wisdom, and an infectious exuberance at the sheer wonder of words. Beautifully crafted and terrifically funny, this is a book for children (and grown-ups) to return to again and again.
-Kate Wakeling, winner, 2017 CLiPPA (UK)
You'll feel like a "cool in-the-know one" when you read Robert Schechter's clever collection of poems. This book will open your mind up to a world where foxes cartwheel through trombones, a horse might choose to moo, and you can dive into a lake filled with yellow puffs of popcorn. Children who are reading (and thinking) beyond their age level will love it; you will, too. If you're a fan of John Ciardi and Richard Wilbur and X. J. Kennedy, or Jack Prelutsky and J. Patrick Lewis and Kenn Nesbitt, you'll want to add Robert Schechter to your list of favorite poets
-Janet Wong, winner of the 2021 NCTE Award for Excellence in Poetry for Children
The Red Ear Blows Its Nose is a dazzling tour de force of ingenious poems that sparkle with Schechter's witty, wonderful wordplay. Read this book. Your brain will thank you. Mine did.
-Kenn Nesbitt, former Children's Poet Laureate (2013-15)
Robert Schechter's poems sing with irrepressible joy. His humor, wit, and verbal dexterity make The Red Ear Blows Its Nose a book that both children and adults will want to read over and over and over again. He is clearly one of the most accomplished poets writing for children today.
-Valerie Bloom MBE, winner, 2022 CLiPPA (UK)
Schechter's The Red Ear Blows Its Nose is a masterful collection from a masterful poet. Not only does every poem take you somewhere new, spinning ideas and jokes and thoughts and dreams and facts and observations on the tip of its finger like a Harlem Globetrotter at a showing-off convention, but it does so with such surefootedness, such deft rhythm and rhyme, that the poems are joys to read aloud. They sing themselves out of your mouth and will stick in the minds of kids and grown-ups everywhere they get heard. Schechter, it seems to me, is way up there with the great American kids' poets, a real Shel Silverstein for today's generation.
-A. F. Harrold
It's entertaining-sometimes hilarious, sometimes beautiful, always thought-provoking-and nothing short of brilliant.
-Diana Murray, author of City Shapes, Summer Color and the Unicorn Day series