Operational Updates
Click HERE for the most updated hours, customer guidelines and updates to store policy.
Christmas Every Day and Other Stories: Illustrated (Paperback)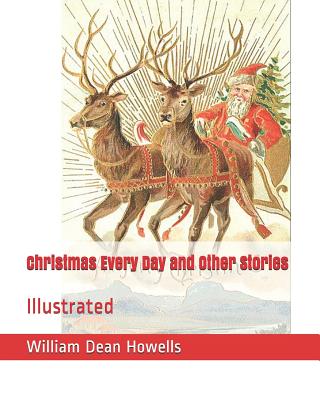 $6.98

NOT ON OUR SHELVES- available for order, usually ships in 1-5 days
Description
---
CHRISTMAS EVERY DAYTURKEYS TURNING THE TABLESTHE PONY ENGINE AND THE PACIFIC EXPRESSTHE PUMPKIN-GLORYBUTTERFLYFLUTTERBY AND FLUTTERBYBUTTERFLYWilliam Dean Howells ( March 1, 1837 - May 11, 1920) was an American realist novelist, literary critic, and playwright, nicknamed "The Dean of American Letters." He was particularly known for his tenure as editor of The Atlantic Monthly, as well as for his own prolific writings, including the Christmas story "Christmas Every Day" and the novels The Rise of Silas Lapham and A Traveler from Altruria.Early life and familyWilliam Dean Howells was born on March 1, 1837, in Martinsville, Ohio (now known as Martins Ferry, Ohio), to William Cooper Howells and Mary Dean Howells, the second of eight children. His father was a newspaper editor and printer who moved frequently around Ohio.In 1840, the family settled in Hamilton, Ohio, where his father oversaw a Whig newspaper and followed Swedenborgianism.Their nine years there were the longest period that they stayed in one place. The family had to live frugally, although the young Howells was encouraged by his parents in his literary interests.He began at an early age to help his father with typesetting and printing work, a job known at the time as a printer's devil. In 1852, his father arranged to have one of his poems published in the Ohio State Journal without telling him.Literary criticismIn addition to his own creative works, Howells also wrote criticism, and essays about contemporary literary figures such as Henrik Ibsen, mile Zola, Giovanni Verga, Benito P rez Gald's, and, especially, Leo Tolstoy, which helped establish their reputations in the United States. He also wrote critically in support of American writers Hamlin Garland, Stephen Crane, Emily Dickinson, Mary E. Wilkins Freeman, Paul Laurence Dunbar, Sarah Orne Jewett, Charles W. Chesnutt, Abraham Cahan, Madison Cawein, and Frank Norris. It is perhaps in this role that he had his greatest influence. In his "Editor's Study" column at The Atlantic Monthly and, later, at Harper's, he formulated and disseminated his theories of "realism" in literature.Howells viewed realism as "nothing more and nothing less than the truthful treatment of material."In defense of the real, as opposed to the ideal, he wrote,"I hope the time is coming when not only the artist, but the common, average man, who always 'has the standard of the arts in his power, ' will have also the courage to apply it, and will reject the ideal grasshopper wherever he finds it, in science, in literature, in art, because it is not 'simple, natural, and honest, ' because it is not like a real grasshopper. But I will own that I think the time is yet far off, and that the people who have been brought up on the ideal grasshopper, the heroic grasshopper, the impassioned grasshopper, the self-devoted, adventureful, good old romantic card-board grasshopper, must die out before the simple, honest, and natural grasshopper can have a fair field."Howells believed the future of American writing was not in poetry but in novels, a form which he saw shifting from "romance" to a serious form.Howells was a Christian socialist whose ideals were greatly influenced by Russian writer Leo Tolstoy. He joined a Christian socialist group in Boston between 1889 and 1891 and attended several churches, including the First Spiritual Temple and the Church of the Carpenter, the latter being affiliated with the Episcopal Church and the Society of Christian Socialists. These influences led him to write on issues of social justice from a moral and egalitarian point of view, being critic of the social effects of industrial capitalism. He was, however, not a Marxist.