Operational Updates
Click HERE for the most updated hours, customer guidelines and updates to store policy.
Bad Gays: A Homosexual History (Hardcover)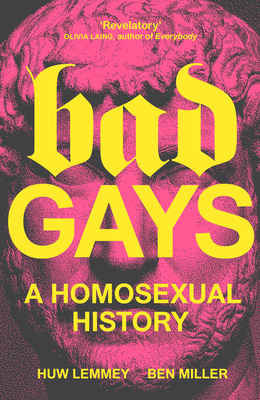 Description
---
An unconventional history of homosexuality for readers of The Deviant's War by Eric Cervini

We all remember Oscar Wilde, but who speaks for Bosie? What about those 'bad gays' whose un-exemplary lives reveal more than we might expect? Too many popular histories seek to establish heroes, pioneers and martyrs but, as Huw Lemmey and Ben Miller argue, the past is filled with queer people whose sexualities and dastardly deeds have been overlooked.

Based on the hugely popular podcast series, Bad Gays subverts the notion of gay icons and queer heroes and asks what we can learn about LGBTQ+ history, sexuality and identity through its villains and baddies. From the Emperor Hadrian to anthropologist Margaret Mead and notorious gangster Ronnie Kray, the authors excavate the buried history of queer lives. This includes kings, fascist thugs such as Nazi founder Ernst Rohm, artists, and debauched bon viveurs.



• Hadrian
• Aretino
• James I and VI
• Frederick the Great
• Jack Saul
• Roger Casement
• Lawrence of Arabia
• The Bad Gays of Weimar
• Margaret Mead
• J. Edgar Hoover and Roy Cohn
• Yukio Mishima
• Philip Johnson
• Ronnie Kray
• Pim Fortuyn



Together these amazing life stories expand and challenge the mainstream assumptions of sexual identity. They show that homosexuality itself was an idea that emerged in the nineteenth century and that its interpretation has been central to major historical moments of conflict from the ruptures of Weimar Republic to red-baiting in Cold War America.

Bad Gays is a passionate argument for rethinking gay politics beyond questions of identity and the search for solidarity across boundaries.
About the Author
---
Huw Lemmey is a novelist, artist and critic living in Barcelona. He is the author of three novels: Unknown Language (2020), Red Tory (2019), and Chubz (2016). He has written for the Guardian, Frieze, Flash Art, Tribune, The Architectural Review, Art Monthly, New Humanist, the White Review, and L'Uomo Vogue, amongst others. As an artist and filmmaker his work has been shown at the ICA, Lux Biennial of Moving Image, Mumok Vienna, Warsaw Museum of Contemporary Art and the Design Museum, London.

Ben Miller is a writer and researcher living in Berlin, where he is currently a Doctoral Fellow at the Graduate School of Global Intellectual History at the Freie Universität. He has written for the New York Times, Literary Hub, the Los Angeles Review of Books, and Tin House, and is the author of The New Queer Photography. He is a member of the board of the Schwules Museum, a queer museum and archive.