The Death of Sir Martin Malprelate (Paperback)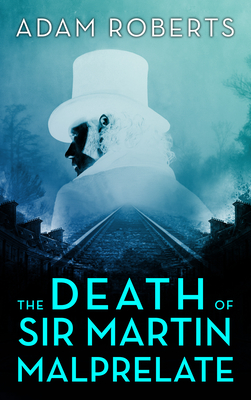 $18.99

NOT ON OUR SHELVES- available for order, usually ships in 1-5 days
Description
---
A gothic tale of murder and corruption set in 1840s Victorian London, taking inspiration from our most famous 19th century writers.

The 1840s.

Railway Baron Sir Martin Malprelate has been laying waste to the warren of Camden; buying up houses and clearing streets for his new railway line linking King's Cross with the prosperous town of Middlemarch. He stands to make his fortune ever more vast and to earn the loathing of all who attempt to stand up to him. Little wonder, then, that he meets a violent end on a foggy street after walking out of a particularly bitter meeting with outraged residents facing eviction. But the cause of his death causes more wonder. How could he have possibly fallen beneath the wells of a speeding spectral train running on tracks not yet even built?

Sir Martin's death is investigated by the police, but the company employ one of its senior engineers, Mr Bryde, to pursue his own investigation. Bryde uncovers a network of resentment and conspiracy, popular opposition to the expansion of the railways, agitating workers, scheming shareholders, corrupt politicians and a gallery of varied and grotesque characters, all of whom had some stake in the old man's death.

Lacing it's realism with both social commentary and the gothic imaginations of the time The Murder of Sir Martin Malprelate is a vivid recreation of a London stalked by poverty and haunted by visions of demons and ghosts; a world of slums, lavish wealth and opium dens. The narrative is coloured by exotic characters all too ready to believe in the supernatural but the plot is driven by rationality and the all too real motivations of greed and revenge.
About the Author
---
ADAM ROBERTS is Professor of 19th Century Literature at Royal Holloway, London University. He is a leading authority on the works of Charles Dickens and has also published numerous books and academic studies on, amongst others, Browning, Tennyson, Wells, Walter Scott and Coleridge. He is also a Fellow of the Royal Society of Literature, Vice President of the H.G. Wells Society and the author of more than 20 critically acclaimed SF novels and a number of non-fiction books on the genre. He lives to the West of London with his wife and two children.