Operational Updates
Click HERE for the most updated hours, customer guidelines and updates to store policy.
Dirty Dealing: Drug Smuggling on the Mexican Border and the Assassination of a Federal Judge: An American Parable (Paperback)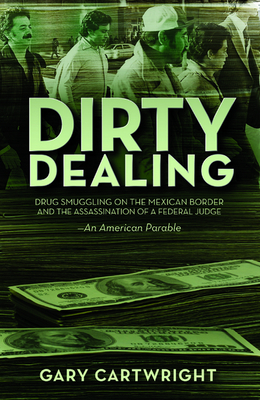 $14.95
Email or call for price
Description
---
Cartwright tells the story of the Chagra brothers, Lee and Joe, as they get mixed up with the drug-running community along the border and in short order find themselves hopelessly entangled in a net cast by the DEA. Even readers unfamiliar with the well-publicized events of the book or of the dark, lawless aspect that often rules El Paso will find themselves pulled along by the plot: brigands and intrigue leap from almost every page, and the story just gets wilder the further into it you venture.--from an Amazon.com review
Four pages into this rollicking good story, the central figure, Lee Chagra, comes alive: Lee] washed his morning cocaine down with strong coffee and remembered the time he had met Sinatra, how genuine he appeared. Everything you'll need to know and remember about Chagra--the son of Syrian immigrants to Mexico and an attorney who spun the world of dope-running, border-crossing, high-living outlaws along the El Paso-Juarez border around his finger like the gaudy rings he favored--can be neatly summarized in that one sentence. Chagra dies two pages later, yet he haunts the rest of this cautionary tale like a high-rolling specter.
Gary Cartwright is a long-respected, award-winning journalist and contributing editor to Texas Monthly magazine. The author of numerous books, he has contributed stories to such national publications as Harper's, Life, and Esquire. He lives in Austin, Texas.
Praise For…
---
"…It makes for good reading. In this Cartwright classic, the feds run amok in search for evil-doers, a federal judge gets murdered, and a whole mess of other folks get sent off to prison. Meanwhile, the drugs keep coming and nothing changes."—Molly Ivins

"Fast-paced, sure-footed nonfiction that packs all the intensity and dramatic qualities of a good novel.… Journalist Gary Cartwright's diligent research has produced a rich evocation of the lives of the Chagra family... A sharp and often startling disclosure of personal folly and government corruption"—Booklist

"Dirty Dealing, by Gary Cartwright: Dope smuggling, brotherly love, and the assassination of a federal judge, all leading to the biggest investigation in FBI history. Best of all, the Texas Monthly writer makes this true story read like a novel."—GQ Recommends

"Texas Monthly staffer Cartwright knows his territory, and this story of 'greed and fear' and life on the border (in all senses) will hook a wide audience"—Kirkus Reviews

"Not an uplifting story. But it does show that when a government has $11.4 million to spend on a case, and isn't finicky about its methods, or about releasing criminals to jail the innocent, it can put people behind bars. Cartwright has carefully researched his story and tells it well."—Newsweek

"Cartwright's undisguised distaste for certain law officials and agencies is sure to irk some readers; however, his ultimate ability to tell a good story should make Dirty Dealing palatable to even the most stalwart law-and-order types." —Amazon.com, Tjames Madison

"A hell of a story about drugs, corruption and violence, told by a virtuoso."—Playboy