Operational Updates
Reopening for in-person browsing: JUNE 6
store hours: 12pm to 6pm everyday
We are still accepting online orders, as well as care package orders at this link.
New Customer Guidelines:
No Mask, No Entry. If you don't have a mask, knock on the door and a staff member will bring you one that you can keep.
Browse with intention. Don't touch every book in the store if you don't have to.
In order to ensure touchless checkout, we are not accepting cash at this time.
Only 7 customers are allowed in the store at one time.
No pets at this time.
Children need to be vigorously supervised; they cannot leave your side while you are browsing.
All seating areas are closed.
Our tea service is currently suspended, but you can still buy the tea leaves to make at home.
Sea Monsters (Hardcover)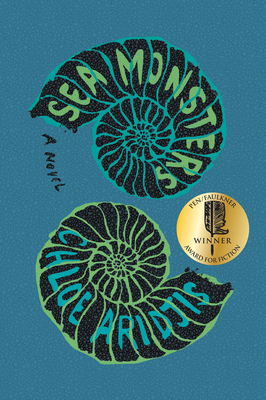 $23.00
Usually Ships in 1-5 Days
Description
---
Winner of the 2020 PEN/Faulkner Award for Fiction, this intoxicating story of a teenage girl who trades her a middle-class upbringing for a quest for meaning in 1980s Mexico is "a surreal, captivating tale about the power of a youthful imagination, the lure of teenage transgression, and its inevitable disappointments" (Los Angeles Review of Books)
One autumn afternoon in Mexico City, seventeen-year-old Luisa does not return home from school. Instead, she boards a bus to the Pacific coast with Tom's, a boy she barely knows. He seems to represent everything her life is lacking―recklessness, impulse, independence.
Tom's may also help Luisa fulfill an unusual obsession: she wants to track down a traveling troupe of Ukrainian dwarfs. According to newspaper reports, the dwarfs recently escaped a Soviet circus touring Mexico. The imagined fates of these performers fill Luisa's surreal dreams as she settles in a beach community in Oaxaca. Surrounded by hippies, nudists, beachcombers, and eccentric storytellers, Luisa searches for someone, anyone, who will "promise, no matter what, to remain a mystery." It is a quest more easily envisioned than accomplished. As she wanders the shoreline and visits the local bar, Luisa begins to disappear dangerously into the lives of strangers on Zipolite, the "Beach of the Dead."
Meanwhile, her father has set out to find his missing daughter. A mesmeric portrait of transgression and disenchantment unfolds. Set to a pulsing soundtrack of Joy Division, Nick Cave, and Siouxsie and the Banshees, Sea Monsters is a brilliantly playful and supple novel about the moments and mysteries that shape us.
"Aridjis is deft at conjuring the teenage swooniness that apprehends meaning below every surface. Like Sebald's or Cusk's, her haunted writing patrols its own omissions . . . The figure of the shipwreck looms large for Aridjis. It becomes a useful lens through which to see this book, which is self-contained, inscrutable, and weirdly captivating, like a salvaged object that wants to return to the sea." ―Katy Waldman, The New Yorker