Never Say Die: The Story of David Yone Mo and the Myanmar Young Crusaders (Paperback)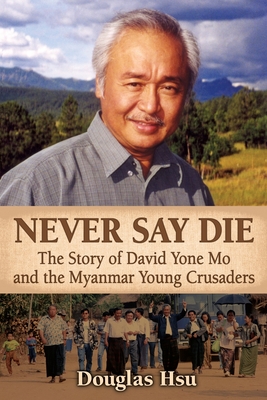 $16.95

NOT ON OUR SHELVES- available for order, usually ships in 1-5 days
Description
---
His father wanted him to become an engineer. His mother wanted him to become a doctor.
But David Yone Mo ended up becoming the leader of Burma's number one street gang.
This book tells the story of one of the greatest human miracles in 20th century Asia: the transformation of Burma's most reckless gangster into one of the country's most outstanding preachers and social workers. After God healed him supernaturally on his deathbed, this ex- heroin addict literally became a father to thousands of drug addicts, orphans, lepers, and HIV-AIDS patients across his nation.
The backdrop to David's life story is the fascinating Southeast Asian nation of Myanmar, formerly known as Burma. Politically, Myanmar is known for its isolationist military government with a questionable human rights record. Culturally, it is known for its staggering ethnic diversity: roughly two-thirds of the population are ethnic Burmans, while the rest consists of over 130 officially recognized different tribes. And religiously, it is known for its overwhelming Buddhist majority.
Unfortunately, Myanmar's most famous export in recent years has been heroin. The infamous "Golden Triangle" region comprised of Myanmar, Laos, and Thailand accounted for most of the world's heroin supply up through the 1990s. From this area blanketed with opium poppy fields, the poppies are processed into opium and the opium into heroin. For many years, Myanmar held the dubious honor of being the world's leading exporter of heroin.
Myanmar's heroin has not only ravaged the lives of millions in the West, but it has also ruined countless Burmese lives too. Heroin addiction and its inevitable consequences such as crime and HIV-AIDS continue to be monumental problems for millions of Burmese, especially the youth. In light of these sobering facts, the life and work of the late Rev. Dr. David Yone Mo take on even greater significance.