Insider (Exodus End World Tour #1) (Paperback)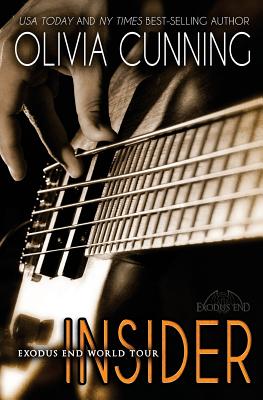 $16.99
Usually Ships in 1-5 Days
Other Books in Series
This is book number 1 in the Exodus End World Tour series.
Description
---
Toni wants to be an insider.Logan just wants inside her. She's finally ready to rock... Toni Nichols set aside her dreams to raise her little sister, but now she's reaching for the stars as the creator of a revolutionary interactive biography about Exodus End. She's on tour with the rock band to immerse herself in their world, but how will she ever gain the trust of four veteran superstars who've been burned by the media before? Nobody said this was going to be easy. Then again, good things can come in hard packages. He's always ready to roll... Adrenaline junkie Logan Schmidt lives for the rush of playing his bass guitar before thousands of screaming fans. When he's not performing onstage or in the bedroom, he's looking for his next thrill in extreme sports. So why does a sweet, innocent journalist get his heart pumping and capture his full attention? Is Toni the real deal or just digging up dirt on his band? Logan's eager to rock Toni's world and roll her in the sack, but when she starts to get too close to his heart, she takes her insider look to a place he may never be willing to go.
About the Author
---
Combining her love for romantic fiction and rock 'n roll, Olivia Cunning writes erotic romance centered around rock musicians. Raised on hard rock music from the cradle, she attended her first Styx concert at age six and fell instantly in love with live music. She's been known to travel over a thousand miles just to see a favorite band in concert. As a teen, she discovered her second love, romantic fiction-first, voraciously reading steamy romance novels and then penning her own. Growing up as the daughter of a career soldier, she's lived all over the United States and overseas. She currently lives in Illinois. To learn more about Olivia and her books, please visit www.oliviacunning.com.