Memorial Book of Goniadz Poland: Translation of Sefer Yizkor Goniadz (Hardcover)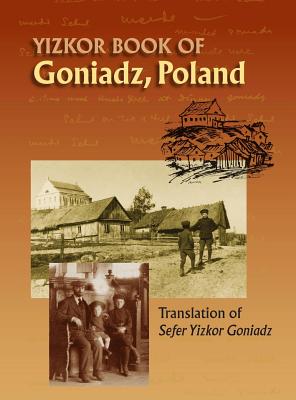 $59.95

NOT ON OUR SHELVES- available for order, usually ships in 1-5 days
Description
---
Goniadz Yizkor Book Summary
This Yizkor (Memorial) Book for the Jewish Community of Goniadz, in Poland is over 500 pages long. It contains information on the town's institutions, organizations, buildings, and families as recounted by survivors and prewar emigrants in addition to first-hand reports ofsurvivors of the massacre and of Jews who joined the partisans, family histories of extended families of the town and all the photographs and illustrations from the original Yizkor Book.
Jews may have been living in Goniadz as early as 1597 when the town was granted the right to have Jews settle there. Goniadz became a lively trading center for lumber and grains, horses and cattle. At the beginning of the twentieth century there were about 2,600 Jews or about 67% of the population. The Jewish Goniadz was very lively and interesting. The small Jewish population was very active, established many parties and clubs and gave to the world outstanding intellectuals in many fields, both Jewish and general. This vibrant small Jewish community was best known for an intellectual and social culture which included creating the first Hebrew public school in Poland and an active Zionist community. By the end of the First World War only 1,135 Jews or about 43% of the population still resided in Goniadz.
This Memorial-Book portrays to a great extent the many-sided life of Goniadz before its destruction, as told by pre-war emigrants. Several people who survived the holocaust have given us a heartrending description of the horrors and destruction they witnessed. Their stories, and those of the efforts of those fortunate enough to escape, are presented in this volume. Today there are many descendants of Goniadz living around the world and several have contributed to create this translation.
"Let this Goniadz memorial book be a living memorialto the annihilated-lost splendor of the past - for us and for our children, for eternity."
(Fishl Yitzhaki, page 806)
Goniadz, Poland is located at 53 29' North Latitude, 22 45' East Longitude and is 17 miles SE of Grajewo, 29 miles NW of Bialystok, 46 miles WSW of Grodno.
Alternate names for the town are: Goniadz Pol], Goniondzh Yiddish], Gonyendz Russian], Gonyadz, Gonyandz, Gonyondz, Gonyondzh, Goniondz
Nearby Jewish Communities:
Trzcianne 11 miles SSW Knyszyn 13 miles SSE Jasionówka 14 miles ESE Korycin 15 miles E Radzilów 16 miles WSW Suchowola 16 miles ENE Grajewo 17 miles NW Rajgród 17 miles N Wasosz 18 miles W Szczuczyn 19 miles WNW Tykocin 20 miles S
Janów Sokolski 20 miles E Sztabin 20 miles NE
Jedwabne 23 miles SW
Zawady 23 miles S
Wizna 25 miles SW
Choroszcz 25 miles SSE
Stawiski 26 miles WSW
Augustów 27 miles NNE
Wasilków 27 miles SE
Dabrowa Bialostocka 28 miles ENE Elk 29 miles NW
Bialystok 29 miles SE Sidra 29 miles ENE Rutki 30 miles SSW