Operational Updates
Click HERE for the most updated hours, customer guidelines and updates to store policy.
The Enforcer Enigma: San Andreas Shifters #3 (Paperback)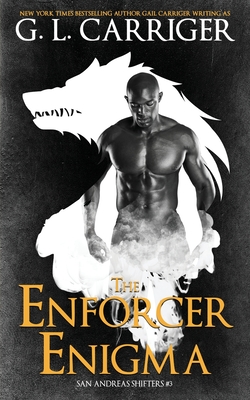 Other Books in Series
This is book number 3 in the San Andreas Shifters series.
Description
---
A werewolf without hope and an enforcer who has lived too long.
Judd has wandered from pack to pack his whole life, searching for wolves who will accept him for who he is and who he loves. Now he believes that he's finally found the right pack and the right man.
Rejected by his family for being gay and geeky, Colin has never fit in with werewolves, yet now he is one. He doesn't know how to react when Judd starts courting him. He's even more lost when a famous singer, the selkie mob, and the feds also start chasing him.
Can Judd protect Colin and still prove his love? Can Colin figure out why enemy shifters are invading his favorite cafe? And what's with all the gold sparkle?
New York Times bestselling comedy author Gail Carriger (writing as G. L. Carriger) brings you the next in her delightfully queer werewolves series. The San Andreas Shifter books stand alone and do not need to be read in any order. This installment contains gay sexy times, horrible puns regarding country music, and men who wear suits without shirts. So if you get offended easily, then you probably will. Not for the faint of heart or tongue.
Praise for Carriger
"Carriger has created a world that's uniquely her own in the shifter-verse that I thoroughly enjoy visiting and can't wait to see what comes next."
Boy Meets Boy reviews (The Omega Objection)
"I couldn't turn the pages fast enough."
V's Reads (The Sumage Solution)