Operational Updates
Click HERE for the most updated hours, customer guidelines and updates to store policy.
La pasarela de mi vida / The Catwalk of My Life (Paperback)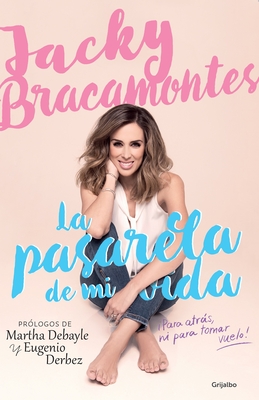 $17.95
Email or call for price
Description
---
Una bienvenida a la intimidad de una de las figuras más queridas de la televisión mexicana, y una invitación a reflexionar sobre los sueños y cómo alcanzarlos.

Jacqueline Bracamontes van Hoorde nació en Guadalajara en 1979, en el seno de una familia de clase media donde reinaban el respeto, el cariño, los valores y la dedicación. Su padre, el famoso entrenador de fútbol, Jesús Bracamontes, y su madre, impulsaron a Jacky a perseguir sus sueños desde muy pequeña. Con constancia y trabajo, y no sin obstáculos en el camino, ella pasó de ser una joven de Guadalajara, a ser el rostro más bello y carismático de México, manteniéndose con los pies en la tierra. La pasarela de mi vida está llena de anhelos, aprendizaje, experiencias, reflexiones y duelos, que nos muestran cómo los sueños siempre se pueden alcanzar. ENGLISH DESCRIPTION An invitation to the intimate side of one of the most beloved figures of Mexican television, and to reflect about dreams and how to reach them. .Jacqueline Bracamontes van Hoorde was born in Guadalajara in 1979, into a middle-class family that valued respect, care, values, and dedication.Jacky's mother and her father, the famous soccer coach Jesús Bracamontes, inspired her to follow her dreams since she was very young. With perseverance and hard work, and not without obstacles along the way, she went from being a young woman from Guadalajara to being the most beautiful, charismatic face in Mexico, all while keeping her feet firmly on the ground. The Catwalk of My Life is full of yearning, learning, experiences, reflections, and pain that show us how dreams can always come true.
About the Author
---
Jacky Bracamontes es hija del entrenador de fútbol, Jesús Bracamontes y de Jacqueline Van Hoorde. Cuando regresó a México, comenzó a trabajar como modelo para algunas revistas de moda juveniles; también inició actividades como modelo profesional en Guadalajara, realizando varios comerciales para televisión así como foto fija y de pasarela. Luego de verla en la portada de una revista, Lupita Jones, la directora del concurso Nuestra Belleza México (Miss México) la invitó a participar en dicho certamen y ganó el concurso en 2010. En 2008 protagonizó la telenovela de comedia Las tontas no van al cielo, al lado de Jaime Camil y Valentino Lanús; además de conducir el programa de televisión De por vida. En 2009 estelarizó Sortilegio, bajo la producción de Carla Estrada junto a William Levy. Es conductora de La voz... México.