Operational Updates
Reopening for in-person browsing: JUNE 6
store hours: 12pm to 6pm everyday
We are still accepting online orders, as well as care package orders at this link.
New Customer Guidelines:
No Mask, No Entry. If you don't have a mask, knock on the door and a staff member will bring you one that you can keep.
Browse with intention. Don't touch every book in the store if you don't have to.
In order to ensure touchless checkout, we are not accepting cash at this time.
Only 7 customers are allowed in the store at one time.
No pets at this time.
Children need to be vigorously supervised; they cannot leave your side while you are browsing.
All seating areas are closed.
Our tea service is currently suspended, but you can still buy the tea leaves to make at home.
The Pirate Next Door: Regency Pirates (Paperback)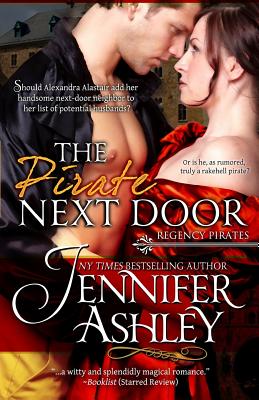 Description
---
Mayfair, London, 1810 Alexandra Alastair, a respectable young English widow, wonders if she dare add the new viscount who's moved in next door to her list of potential husbands. He certainly doesn't look like the gentlemen on her list-Grayson Finley, Viscount Stoke, is tall and sun-bronzed, muscular and blue-eyed. The men who attend him are just as strange, exotic-looking even. And the way Grayson smiles at her-sinful, blood-warming-turns her inside out. In the middle of the night Alexandra hears shouting coming from the house next door, and the viscount's life being threatened. She rushes over in time to save Grayson from being hanged by his greatest enemy. Thus is Alexandra pulled into the adventures of Grayson Finley, former pirate and terror of the seas. Grayson has made a bargain with the devil (in the form of the pirate hunter, James Ardmore), to ensure the well-being of his daughter, Maggie. But when Alexandra saves his life, he looks into her eyes the color of water and starts to drown . . .
About the Author
---
Jennifer Ashley is the New York Times bestselling author of more than 85 novels and novellas in romance, mystery, historical fiction, and fantasy.