Operational Updates
Reopening for in-person browsing: JUNE 6
store hours: 12pm to 6pm everyday
We are still accepting online orders, as well as care package orders at this link.
New Customer Guidelines:
No Mask, No Entry. If you don't have a mask, knock on the door and a staff member will bring you one that you can keep.
Browse with intention. Don't touch every book in the store if you don't have to.
In order to ensure touchless checkout, we are not accepting cash at this time.
Only 7 customers are allowed in the store at one time.
No pets at this time.
Children need to be vigorously supervised; they cannot leave your side while you are browsing.
All seating areas are closed.
Our tea service is currently suspended, but you can still buy the tea leaves to make at home.
The Care and Feeding of Pirates: Regency Pirates (Paperback)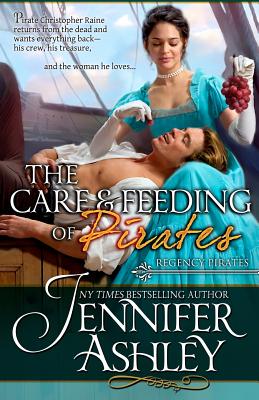 Description
---
A Pirate's Return from the Grave ... Honoria Ardmore has a secret. Four years ago, the notorious pirate Christopher Raine, arrested for stealing a ship full of gold bound for Napoleon, makes one last request of Honoria. She grants it, and Christopher is taken out to be hanged . . . Or was he? Honoria couldn't possibly have seen him come back to life in the rather thick air of Covent Garden, could she? Christopher is long dead and gone, Honoria's secret with him, and now she's betrothed to a respectable English gentleman. Captain Raine wants it all back ... His sentence having been commuted at the last minute, Christopher spent the last four years working for his freedom as he crisscrossed the world. He's lost everything, his ship, his crew, his very identity. And now he's determined to retrieve it all-ship, friends, the treasure he was forced to abandon. Most of all Christopher wants Honoria Ardmore-his wife. And he'll stop at nothing to get her back. Book 3 of the Regency Pirates series. This is a full-length novel.
About the Author
---
Jennifer Ashley is the New York Times bestselling author of more than 90 books in romance, mystery, and fantasy.