Creating Christ: How Roman Emperors Invented Christianity (Paperback)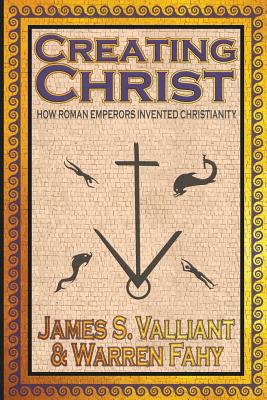 $19.99

NOT ON OUR SHELVES- available for order, usually ships in 1-5 days
Description
---
Exhaustively annotated and illustrated, Creating Christ is an explosive work of history, unearthing clues that finally reveal the truth about one of the world's great religions. Christianity was born out of the cataclysmic conflict between the Roman Empire and messianic Jews that culminated in two bitter wars fought during the 1st and 2nd Centuries. The Romans not only reduced the legendary Jerusalem Temple to a Wailing Wall, they grafted their imperial rule onto the religion of the vanquished, as well--just as they had done with other conquered cultures. Inherited from an era of tyranny, war and deliberate religious fraud, the New Testament was created for a long-forgotten purpose: the pacification of messianic rebels.
After 30 years of research, authors James S. Valliant and Warren Fahy present irrefutable archaeological and textual evidence that proves Christianity was created by the Roman state with arguments that break new ground in Christian scholarship while providing a clear and definitive voice to a growing new understanding of Christian origins--one that is destined to change the way the world looks at religion forever.
Praised by scholars like Dead Sea Scrolls translator Robert Eisenman (the author of James the Brother of Jesus), Creating Christ is a comprehensive synthesis of historical detective work that integrates all of the surviving ancient sources about the earliest Christians and reveals new archaeological evidence for the first time--and, when taken together, that evidence is resoundingly conclusive: Christianity was invented by Roman emperors.