Below the Line: A Hollywood Crime Novel (Hardcover)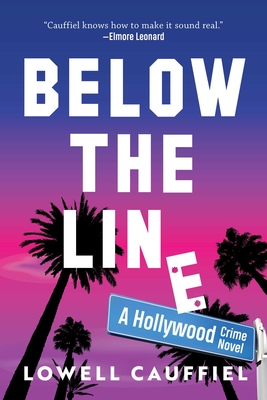 $29.99

NOT ON OUR SHELVES- available for order, usually ships in 1-5 days
Description
---
For Fans of Hollywood Noir and novels by Elmore Leonard and Michael Connolly comes a new crime novel from a Hollywood insider and true crime writer.

Former Detroit homicide detective Edwin Blake broke into show business as a script consultant on cop movies. Now living in Los Angeles five years later, Blake is suffering from clinical depression, is no longer in demand in film and TV – and money is short. But things look up when Blake gets a call from wealthy, oddball producer, Jason "JP" Perry, telling him he wants to hire him for a future cable TV series. But there's a catch.  First he wants Blake to locate the missing ex-wife of a "friend of a friend" from Chicago. Blake will be working for free on a promise – a typical Hollywood hustle. But Blake's not the only one on the case. Hired gun Warren Poole has also been contracted to find the woman.

When a corrupt Hollywood producer, an ex-cop with a conscience, and a career criminal without one all have the same quarry, trouble is bound to ensue. And it does, with remarkably satisfying results, thanks to Blake's girlfriend, Carla, a former roller derby queen who has turned more than her own life around. Filled with rich characters both easy to love and hate, BELOW THE LINE skewers Hollywood in a deliciously fresh way.

With his expert eye for true crime detail and his prowess at executing elaborate plot, Cauffiel gives us a thrilling ride on the dark side of Hollywood that lingers long after the credits roll.
 
About the Author
---
LOWELL CAUFFIEL is the best-selling author of nine books and an award-winning veteran investigative reporter. His research has taken him everywhere from the President's private living quarters in the White House to the dangerous confines of urban dope dens. Cauffiel's three crime novels have explored diverse characters and settings that range from a Detroit shakedown crew in Marker to the glitzy, corrupt underworld of the National Football League in Toss, which he co- authored with former Superbowl quarterback Boomer Esiason. His five nonfiction crime books have covered a monstrous, homicidal patriarch in the New York Times best-selling House of Secrets; a pair of female serial killers in Forever and Five Days, and a calculating criminal justice instructor who tried to design the perfect crime with the murder of his TV anchorwoman wife in Eye of the Beholder. Cauffiel's first true crime book, Masquerade, the story of a Grosse Pointe psychologist's deadly double life, was a national best seller. He has appeared in a dozen documentaries about his books, MSNBC, Court TV and A&E. Cauffiel has written and produced documentaries for the Discovery Channel and CNBC and has adapted his first book Masquerade to film. He now lives in Los Angeles, where he writes feature films and creates shows for television.
 
Praise For…
---
In Praise of Cauffiel's previous books:
"An excellent account of one man's flirtation with a twilight zone of his own making. Cauffiel conveys a sense of a man's loss of control and helpless spiraling into disaster through his highly readable narrative." — The New York Times Book Review on Masquerade.

"Cauffiel has done a masterful job of reporting. A powerful piece of nonfiction." — The Detroit News on Masquerade.

"Cauffiel keeps a state of heightened suspense. The mystery forces the reader onward. We're enthralled. In the end, we, too, become obsessed." — The Denver Post on Masquerade.

"A remarkably well-written book that reads like a gripping thriller." The Toronto Sun on Masquerade.

"Fascinating...well-written…straightforward...meticulous...The result is a book that not even the most hardened crime reporter or mystery reviewer will ever forget." — The Cleveland Plain Dealer on Masquerade

"One of the best true crime tomes of the past decade, right up there with Helter Skelter" — The Los Angeles Daily News

"A glowing gem of a novel." — USA Today on Marker

"Cauffiel knows how to make it sound real." — Elmore Leonard on Marker.

"You can't make up characters more fascinating or a plot that keeps you turning pages faster. Cauffiel knows how to dramatize true crime." — Elmore Leonard on Forever and Five Days

"Cauffiel is one of the top true crime writers in America." — Ann Rule on House of Secrets

"A true crime thriller of uncommon psychological complexity." — Jonathan Kellerman on Eye of the Beholder

"A probing, impressive book about crime and punishment within a complex modern marriage." — Gay Talese on Eye of the Beholder

"Lowell Cauffiel is one of a small number of responsible journalists who understand that the why of a crime is as interesting and as important as the who. " — Jack Olsen on Forever and Five
Days