Operational Updates
Dear Ripped Bodice Community,
We want to make sure we are keeping you updated on how we are handling this crisis. It's been a very challenging time but we are hanging in there.
The shop remains closed to all customers with no events on the calendar.
-Online orders
We are still accepting online orders and have adopted a process to best comply with the evolving guidelines from California and LA County Departments of Health.
This means that Leah is processing all incoming orders and our staff has been instructed to stay at home. Because this is now a one-woman operation, shipping may be slower than normal. We love and appreciate your support in this incredibly difficult time, so we ask that you bear with us as we continue to fill orders. Given the state of the world and The Post Office, we are strongly recommending that you use USPS flat rate shipping at this time to ensure the quickest and most accurate delivery.
-Care packages
We are now accepting new orders for care packages. However, because we are down to a shipping staff of one, we will be accepting orders in batches so as not to overwhelm Leah. Head to this link to enter your email address, and we'll send you the order link once it's your turn.
Questions about orders (or anything) can be directed to hello@therippedbodicela.com
Finally, now is a great time to think about becoming a Patron of the store.
http://patreon.com/TheRippedBodice
There is already a ton of cool content you can check out on our page. Including 12 original short stories from some amazing romance authors. Vlogs and other fun stuff. We know this is not an option for everyone and that's totally okay and understandable. But if you're looking for a way to help, this is a great option.

We hope you are all doing okay and making it through one day at a time.
xoxo, Bea & Leah and Fitz
Rogue Desire (Paperback)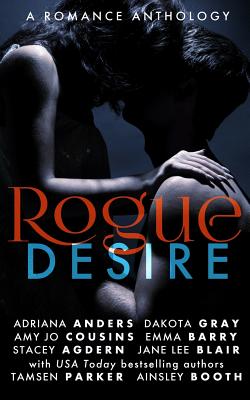 Description
---
Eight brand new romances for fans of the West Wing, fired-up #resistance fighters, and everyone who ever had a crush on that guy at a protest... GRASSROOTS by Adriana Anders Veronica Cruz is in the fight of her life for a seat on the city council. Meeting reclusive finance genius Zach Hubler should be a stroke of good luck-he has the power to sway public opinion. But when Election Day comes around and things don't go as expected, Veronica has to know: just how shady is the man of her dreams? DEEP THROAT by Dakota Gray He's an escort, but that's not his biggest secret. She's a maid at the hotel he uses "for business." When their worlds collide, everything is put on the line. But indulging every secret desire comes at a cost, and the sins of the past won't be forgotten. RESISTANCE by Amy Jo Cousins All Kaz Shamsi wanted to do was get his college students to and from the DC protest without losing any of them. Getting caught up in the fringes of anarchist violence was not on the agenda. Neither was a motorcycle escape, messing around with a bandanna-masked antifa protestor, or figuring out that guy was one of the students he was supposed to be chaperoning. Now he's got a ten-hour bus ride back to campus ahead of him, with a stupidly cute student who makes terrible decisions trying to talk Kaz into making one more. KISSING AND OTHER FORMS OF SEDITION by Emma Barry When a global crisis threatens to go nuclear, the world tips upside down and spills out Graham Wilcox's unspoken feelings for Cadence Martel. Cadence is equal parts shocked and delighted by his confession, but one night of passion isn't enough. So the new lovers set out on a road trip to save the world. TRUTH, LOVE AND SUSHI by Stacey Agdern When First Daughter Caroline Crosby finds herself in possession of the one document that can bring her father and his administration down, she turns to a real life social justice warrior for help. Max Wilcox isn't sure what to make of Caroline: is this an elaborate hookup or a political conspiracy? But he has to make up his mind fast because the information and their chemistry could change the world-or break their hearts. MY DELIGHT IS IN HER by Jane Lee Blair When Leonard West chose the pastorate, his college girlfriend chose a life without him. But not wanting to be a pastor's wife didn't mean Kim Jones didn't want to work for the greater good. Now, her resistance work has led her back to Leonard, and they must grapple with their old pain. Can they trust God and each other enough to try again? PERSONAL DISASTER by Ainsley Booth Marcus Dane left the tech world and joined the National Park Service a decade ago. Now an intrepid reporter has tracked down the park ranger-who-could-have-been-a-billionaire and, even worse, she has a theory that could blow his quiet life to smithereens. He needs to send her packing. But he's already tumbled head-over-heels in insta-lust with her flippy ponytail and smart mouth, and he just can't seem to let her go. LIFE, LIBERTY, AND WORSHIP by Tamsen Parker Paige Robinson has been working out her angst about the new administration in spin class, until a handsome stranger with maddening politics harshes her mellow. Now she's determined to get even...in the bedroom. Always awkward Carter Cox is shocked when his crush propositions him, but there's no way he's turning her down. Will their filthy assignation provide the catharsis Paige has in mind, or can they truly cross the aisle to find more?