In a Holidaze (Paperback)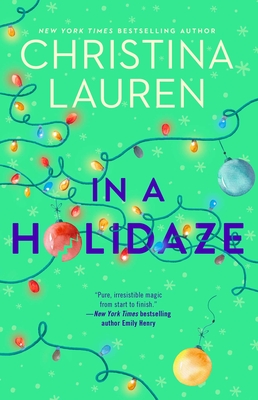 List Price: $17.99
Our Price: $16.00
(Save: $1.99 11%)
Description
---
THE INSTANT NEW YORK TIMES BESTSELLER

One Christmas wish, two brothers, and a lifetime of hope are on the line for hapless Maelyn Jones in In a Holidaze, the quintessential holiday romantic novel by Christina Lauren, the New York Times bestselling author of The Unhoneymooners.

It's the most wonderful time of the year…but not for Maelyn Jones. She's living with her parents, hates her going-nowhere job, and has just made a romantic error of epic proportions.

But perhaps worst of all, this is the last Christmas Mae will be at her favorite place in the world—the snowy Utah cabin where she and her family have spent every holiday since she was born, along with two other beloved families. Mentally melting down as she drives away from the cabin for the final time, Mae throws out what she thinks is a simple plea to the universe: Please. Show me what will make me happy.

The next thing she knows, tires screech and metal collides, everything goes black. But when Mae gasps awake…she's on an airplane bound for Utah, where she begins the same holiday all over again. With one hilarious disaster after another sending her back to the plane, Mae must figure out how to break free of the strange time loop—and finally get her true love under the mistletoe.

Jam-packed with yuletide cheer, an unforgettable cast of characters, and Christina Lauren's trademark "downright hilarious" (Helen Hoang, author of The Bride Test) hijinks, this swoon-worthy romantic read will make you believe in the power of wishes and the magic of the holidays.
About the Author
---
Christina Lauren is the combined pen name of longtime writing partners and best friends Christina Hobbs and Lauren Billings, the New York Times, USA TODAY, and #1 internationally bestselling authors of the Beautiful and Wild Seasons series, Dating You / Hating You, Autoboyography, Love and Other Words, Roomies, Josh and Hazel's Guide to Not Dating, My Favorite Half-Night Stand, The Unhoneymooners, Twice in a Blue Moon, The Soulmate Equation, Something Wilder, and The True Love Experiment. You can find them online at ChristinaLaurenBooks.com and @ChristinaLauren on Instagram or Twitter.
Praise For…
---
Praise for In a Holidaze

"A fantastical twist on holiday cheer in this hilarious and heartwarming rom-com... a perfect Christmas treat."
— Publishers Weekly (starred review)

"Take one lovably flawed heroine, add a doting boy-next-door hero, and sprinkle in a cozy family holiday, and you have the recipe for a delicious time-looping romantic comedy from best-selling duo Lauren."
— Library Journal (starred review)

"Lauren's first holiday romance is a feel-good from the get-go… The story and characters have a cozy, old-fashioned vibe, and the love scenes are warm… In a Holidaze is an engaging and entertaining treat, with no sharp edges and plenty of seasonal sparkle."
— BookPage (starred review)

"Christina Lauren excels at delivering dizzying, head-over-heels romance, but In a Holidaze is in the upper tier of their prodigious output. It wraps its reader in its cozy, jolly embrace like a beloved holiday sweater."
— Entertainment Weekly

"A classic plot plus Lauren's trademark snark and steam add up to a winning rom-com full of heart and holiday cheer."
— Kirkus Reviews

"Equal parts heartwarming and hilarious."
— The Skimm

"Sweet and steamy!"
— USA Today

"In a Holidaze is everything I've ever wanted in a wintry love story. As hilarious as it is sweet, and sexy as it is tender, this story is pure, irresistible magic from start to finish. I couldn't possibly love this book any more—my favorite Christina Lauren novel yet!"
— Emily Henry, New York Times bestselling author of Beach Read

"Christina Lauren's In a Holidaze is the perfect fresh take on finding your joy and falling in love. One page in and you want to put up your tree at all times of the year, sip hot cocoa, and dive into a marvelous cast of characters while staying on your toes as to what will happen next."
— New York Times bestselling author Carrie Ann Ryan

"An absolutely dazzling holiday romance: clever and cozy and deliciously sexy, with a cast of characters and a spirit-of-the-season lesson you won't soon forget."
— Kate Clayborn, author of Love Lettering

"Sweet and hilarious, In a Holidaze is the story of a woman who is given another chance... Christina Lauren's fans are sure to love this lighthearted novel, perfect for those who liked Groundhog Day or Life After Life."
— Shelf Awareness

"Sexy, festive, and heartwarming, In A Holidaze is the perfect book to read as you curl up under a blanket near a fire this holiday season."
— Insider.com

"This funny romantic comedy is one you won't want to put down...This hysterical story of love, family and magic is sure to warm your heart."
— CNN.com

"Peerless writing duo Christina Hobbs and Lauren Billings – aka, Christina Lauren – never disappoints, and their latest time loop rom-com will get you in the holiday spirit months early."
— Bust.com

"Groundhog Day gets a remix in this new release from Christina Lauren. There's plenty of laughs here, and Maelyn's reactions to the time loops were so realistic...Unconventional holiday meetups are the perfect catalyst for a new adventure."
— Frolic

Praise for The Honey-Don't List

"Lauren (The Unhoneymooners) delivers a breezy, tongue-in-cheek rom-com as insightful as it is irreverent. Readers will laugh out loud."
— Publishers Weekly

"A toxic workplace nurtures an intoxicating romance in Lauren's latest, supplying readers with all the drama and wit of the enemies-to-lovers trope. When a book has such great comic timing, it's easy to finish the story in one sitting."
— Kirkus Reviews (starred review)

"Fans will enjoy this charming romance."
— Library Journal

"[An] abosrbing romance."
— Booklist

"Christina Lauren (The Unhoneymooners; Josh & Hazel's Guide to Not Dating) has created charming protagonists to root for... [A] touching romantic comedy."
— Shelf Awareness

Praise for Twice in a Blue Moon

"The writing duo Christina Lauren have written another entertaining and moving romance, this time crafting a second-chance story about a couple whose intense, youthful holiday fling ends in heartbreak."
— Booklist

"This emotional, sweet, and surprising novel about first loves and second chances will leave a tender spot in your heart."
— Shondaland

"[The] story… is worth the wait, and the rich family backstories add sweetness... [with] a twist that offers readers something unexpected and new."
— Kirkus Reviews

"With a then-and-now plot similar to Lauren's Love and Other Words, the writing duo's latest has a youthful voice that may be a good fit for fans of new adult romances."
— Library Journal

"Readers inclined toward narratives of forgiveness will appreciate this story of learning to leave the past in the past."
— Publishers Weekly

Praise for The Unhoneymooners

"What a joyful, warm, touching book! I laughed so hard I cried more than once, I felt the embrace of Olive's huge, loving, complicated, hilarious family, and my heart soared at the ending. This is the book to read if you want to smile so hard your face hurts."
— Jasmine Guillory, New York Times bestselling author of The Proposal

"Witty and downright hilarious, with just the right amount of heart, The Unhoneymooners is a perfect feel-good romantic comedy. Prepare to laugh and smile from cover to cover."
— Helen Hoang, author of The Bride Test

"Heartfelt and funny, this enemies-to-lovers romance shows that the best things in life are all-inclusive and nontransferable as well as free."
— Kirkus Reviews (starred review)

"Lauren brilliantly wields familiar rom-com tropes—enemies to lovers, fake marriage, even height differences—to craft a delightful romance that will have readers hanging on every word."
— Publishers Weekly (starred review)

"Sassy and appealing, writing duo Lauren's ( My Latest Half-Night Stand) latest endeavor is sure to please. A perfect read for beach or poolside, this is one hot summer story not to miss!"
— Library Journal (starred review)

"Lauren's (after Josh and Hazel's Guide to Not Dating, 2018) latest is a sexy, hilarious rom-com that offers a look into the bonds of a large Mexican-American family and between twin sisters as well as at whether blood is thicker than water. Readers will laugh out loud… Perfect for fans of Jasmine Guillory and Sally Thorne."
— Booklist

"Lighthearted, laugh-out-loud funny and all too accessible (as the many Torres aunts and cousins keep butting into Ami's and Olive's lives), The Unhoneymooners is delightful. Olive's initial dislike of Ethan, tempered by her slow realization of his good qualities, makes for a charming and enjoyable romance."
— Shelf Awareness

Praise for My Favorite Half-Night Stand

"A funny, sexy page-turner that warns: Keep your friends close and their avatars closer."
— Kirkus Reviews

"This is a messy and sexy look at digital dating that feels fresh and exciting."
— Publishers Weekly (starred review)

"You can never go wrong with a Christina Lauren novel... Yet again, Christina Lauren offer up a delectable, moving take on modern dating with My Favorite Half-Night Stand, reminding us all that when it comes to intoxicating, sexy, playful romance that has its finger on the pulse of contemporary love this duo always swipes right."


— Entertainment Weekly

Praise for Josh and Hazel's Guide to Not Dating

"With exuberant humor and unforgettable characters, this romantic comedy is a standout."
— Kirkus Reviews (starred review)

"In Lauren's hilarious standalone... Lauren finds the perfect balance between charming moments and sultry episodes."
— Publishers Weekly

"Lauren (Love and Other Words, 2018) has penned a hilariously zany and heartfelt novel... the story is sure to please readers looking for a fun-filled novel to escape everyday life with."
— Booklist

"The story skips along…propelled by rom-com momentum and charm."
— The New York Times Book Review

Praise for Roomies

"This book has everything that makes romance novels great: a heroine's journey to self-discovery, a leading man worthy of a woman's love, and plenty of misty tears and full-on belly laughs along the way. Another knockout by Lauren."
— Kirkus Reviews

"Lauren's standalone brims with authentic characters and a captivating plot."
— Publishers Weekly (starred review)

"For decades, the tale of a marriage of convenience that becomes something more has inspired countless romances. With Roomies, Christina Lauren put a fresh, modern spin on the trope with their completely un-put-down-able green card romp…. Lauren masters rom-com banter and plotting, while also reminding us that the best entries in the genre are all about recognizing our own value regardless of relationship status. One of our 10 best romances of 2017. A+."
— Entertainment Weekly