Closer by Sea (Paperback)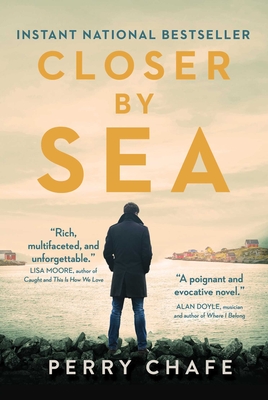 $17.99

NOT ON OUR SHELVES- available for order, usually ships in 1-5 days
Description
---
INSTANT NATIONAL BESTSELLER
CBC Books "86 Works of Canadian Fiction to Read in the First Half of 2023"
CBC Books "40 Canadian Books to Read This Summer"

From the writer and producer of the hit TV shows Republic of Doyle and Son of a Critch, a poignant coming-of-age debut novel about the mysterious disappearance of a young girl and the fragility of childhood bonds, set against the backdrop of a small island community adapting to an ever-changing landscape.

In 1991, on a small, isolated island off the coast of Newfoundland, twelve-year-old Pierce Jacobs struggles to come to terms with the death of his father. It's been three years since his dad, a fisherman, disappeared in the cold, unforgiving Atlantic, his body never recovered. Pierce is determined to save enough money to fix his father's old boat and take it out to sea. But life on the island is quiet and hard. The local fishing industry is on the brink of collapse, threatening to take an ages-old way of life with it. The community is hit even harder when a young teen named Anna Tessier goes missing.

With the help of his three friends, Pierce sets out to find Anna, with whom he shared an unusual but special bond. They soon cross paths with Solomon Vickers, a mysterious, hermetic fisherman who may have something to do with the missing girl. Their search brings them into contact with unrelenting bullies, magnificent sea creatures, fierce storms, and glacial giants. But most of all, it brings them closer to the brutal reality of both the natural and the modern world.

Part coming-of-age story, part literary mystery, and part suspense thriller, Closer by Sea is a page-turning, poignant, and powerful novel about family, friendship, and community set at a pivotal time in modern Newfoundland history. It is an homage to a people and a place, and above all it captures that delicate and tender moment when the wonder of childhood innocence gives way to the harsh awakening of adult experience.
About the Author
---
Perry Chafe is a Canadian television writer, showrunner, producer, and songwriter. He is a cofounder and partner in Take the Shot Productions. Perry was the cocreator, showrunner, and head writer for the TV series Republic of Doyle, which ran for six seasons on the CBC, and an executive producer and writer for the Netflix/Discovery series Frontier, starring Jason Momoa. In addition, he was an executive producer and writer for Caught, a CBC limited series based on Lisa Moore's award-winning novel of the same name. He is currently a writer and producer on the hugely successful CBC series Son of a Critch. Born and raised in the small fishing community of Petty Harbour, Newfoundland, he now lives in St. John's, Newfoundland. Closer by Sea is his debut novel. Connect with him on Twitter @PerryChafe.
Praise For…
---
"[It] will have you on the edge of your seat with each page turned. Filled with dialogue that will stay with you long after you're finished and characters that will stay with you for the rest of your life. An astonishing debut by someone sure to be your new favourite author. He's mine."
— MARK CRITCH, comedian and cocreator of the hit TV show Son of a Critch

"A deeply emotional exploration of the important ties that bind us to the people and places we love. It's also a fine coming-of-age story compellingly grounded in adventure, intrigue, best friends, and the struggle to find a way through all the awkwardness of adolescence. . . . Chafe's novel brims with seafaring charm and the marvelous details of a fishing village on the verge of economic collapse. Closer by Sea is a bittersweet, lovingly told tale that's sure to win your heart."
— WILLIAM KENT KRUEGER, New York Times bestselling author of This Tender Land and Fox Creek

"Chafe's teen mystery is salt-stained Newfoundland mixed with West Irish legend and the classic adventure of Goonies and Stand by Me. Equal parts haunting, heartbreaking, and hilarious, the reader is drawn into the tragic 1990s Grand Banks cod decline, foreboding paternal absence, and growing up an uncertain islander amid great social change. Sure to be loved on our shores and beyond."
— JESSE THISTLE, #1 bestselling author of From the Ashes

"Tiny, isolated fishing towns are postcard cute and perfectly wholesome. Until they are not. . . . In Closer by Sea, my lifelong friend and Petty Harbour native Perry Chafe has seamlessly woven the innocence and underbelly of Perigo Island in a who-done-it dance that will keep you guessing till the final page."
— ALAN DOYLE, lead singer of Great Big Sea and bestselling author of Where I Belong

"Set in an ancient Newfoundland community on the cusp of momentous change, Closer by Sea is an evocative, tender novel with a haunting beauty that lingers long after you finish the last page."
— ELIZA REID, bestselling author of Secrets of the Sprakkar

"Rich, multifaceted, and unforgettable. This novel has all the makings of a beloved, classic bildungsroman, as tender as tender can be."
— LISA MOORE, award-winning author of This Is How We Love and Caught

"A memorable coming-of-age tale in the spirit of Ray Bradbury and Stephen King. There is mystery and danger, shadowy figures who are not quite who they seem, and a wistfulness for that strange and beautiful time bridging our younger and older selves—but Perry Chafe's story is uniquely his own, uniquely of his place and of its people. With Closer by Sea, Chafe stakes his place in Newfoundland's writerly pantheon."
— CRAIG DAVIDSON, author of The Saturday Night Ghost Club and Precious Cargo

"A standout novel and story from a singular, unique voice. Perry Chafe manages to grab our hearts and doesn't let go until the final page. . . . At first glance Closer by Sea is a thrilling mystery, but as you delve deeper, it's truly the story of loss, innocence, mourning, and friendship. I cannot recommend this book enough. Bravo!"
— ALLAN HAWCO, award-winning actor, writer, and producer

"Filled with mystery and adventure. . . . Perry Chafe hasn't forgotten the wonder of Newfoundland; it's there on every page. I loved reading this book."
— SEAMUS O'REGAN, member of Parliament

"Is this beautifully constructed novel a coming-of-age story, a mystery, or a fictional examination of the catastrophic demise of the Newfoundland cod fishery? It's a bit of all three, but frankly, it's just a really fine tale spun by a gifted storyteller. . . .The adventures he encounters are part of the story but they are individually wonderful tales on their own. Short and sweet, it is the perfect weekend read."
— The Globe and Mail