Doctors and Friends (Paperback)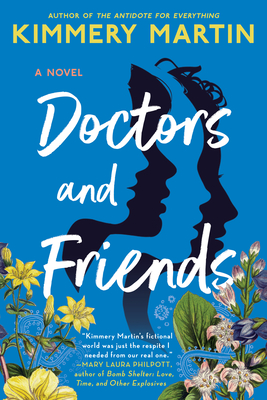 $17.00

NOT ON OUR SHELVES- available for order, usually ships in 1-5 days
Description
---
Three doctors' lives are transformed on the front lines of a new pandemic in this heart-wrenching yet ultimately inspiring novel by acclaimed author Kimmery Martin.

Hannah, Compton, and Kira have been close friends since medical school, reuniting once a year for a much-needed vacation. Just as they gather to travel in Spain, an outbreak of a fast-spreading virus throws the world into chaos.

When Compton Winfield returns to her job as an ER doctor in New York City, she finds a city changed beyond recognition—and a personal loss so gutting it reshapes every aspect of her life.

Hannah Geier's career as an ob-gyn in San Diego is fulfilling, but she's always longed for a child of her own. After years of trying, Hannah discovers she's expecting a baby just as the disease engulfs her city.

Kira Marchand, an infectious disease doctor at the CDC in Atlanta, finds herself at the center of the American response to the terrifying new illness. Her professional battle turns personal when she must decide which of her children will receive an experimental but potentially lifesaving treatment.

Written prior to COVID-19 by a former emergency medicine physician, Doctors and Friends incorporates unexpected wit, razor-edged poignancy, and a deeply relatable cast of characters who provoke both laughter and tears. Martin provides a unique insider's perspective into the world of medical professionals working to save lives during the most difficult situations of their careers.
About the Author
---
Kimmery Martin is a former emergency medicine doctor, born and raised in the mountains of eastern Kentucky. A lifelong literary nerd, she teaches writing seminars and narrative medicine courses, speaking frequently at conferences, medical schools, and bookstores around the United States. She lives with her husband and three children in Charlotte, North Carolina, where she serves on the Board of Trustees of the Charlotte Mecklenburg Library.
Praise For…
---
"The lives of three doctors—friends since medical school who meet for an annual get together—are thrown upside down when a contagious virus begins to spread across the world in this eerily prescient and timely novel written before the COVID-19 pandemic. Martin's complex characters are infused with such raw emotion that they nearly jump off the page."—Newsweek

"Martin's riveting latest focuses on a group of doctors during a pandemic...Martin fills the hospital scenes with vivid descriptions and moving moments. This fully realized account of a fictional pandemic manages to convey the deeply personal as well as the bigger picture."—Publishers Weekly (starred review)

"With echoes of Richard Preston's The Hot Zone, John M. Barry's The Great Influenza, and Anna Hope's Expectation, Doctors and Friends is precise in details but sweeping in scope and impact. With an innate understanding of emergency room medicine, the inner workings of government agencies, and the complexities of decades-long friendships, Martin's novel is compelling to its core."--Booklist (starred review)

"There is beauty in Martin's gem of a story that confirms that friendship is a powerful force."-- Library Journal (starred review)

"Doctors and Friends is an astounding achievement. It's both an eerily timely portrait of a world in the grips of a deadly pandemic and a poignant dive into the interior lives of the medical workers at its forefront. I was profoundly affected by these characters. I became emotionally attached to them and deeply invested in the outcome of their stories. I know they will stay with me for a long time."—New York Times bestselling author Cristina Alger

"The beating heart of this fast-paced and intensely moving novel is the warm, life-sustaining friendship between a group of doctors on the frontlines of a global pandemic. Martin shines a sharp, compassionate light on the lives of the women behind the masks and scrubs during a crisis that is both achingly familiar and punctuated by twists and turns you won't see coming. I couldn't put it down!"—USA Today bestselling author Meg Donohue

"Doctors and Friends is a stunning medical drama that will resonate with readers everywhere. I was riveted. Kimmery Martin's sharp, smart writing is infused with compassion, emotion and a belief in the healing power of friendship, love and hope."—New York Times bestselling author Jayne Ann Krentz

"Written prior to COVID, Doctors and Friends is an eerily foretelling and poignantly relatable tale of a devastating pandemic that upends the world. Three female doctors and friends remind the reader of the heart-wrenching tragedies and impossible choices that make such a cast not only heroic but human."—New York Times bestselling author Kristina McMorris

"A well-written apocalyptic tale about a global pandemic that is all too realistic."—Kirkus

"Doctors and Friends incorporates unexpected wit, razor-edged poignancy, and a deeply relatable cast of characters who provoke both laughter and tears. Martin provides a unique insider's perspective into the world of medical professionals working to save lives during the most difficult situations of their careers."—Scoop Charlotte

"An incredibly prescient book that is both thrilling and inspiring. Martin draws upon her deep knowledge to create a story and characters that are stunningly real. At turns hilarious, heartbreaking, and intense; I flew through this book."—Kathy Wang, author of Impostor Syndrome

"Martin's Doctors and Friends is nothing shy of stunning. While delivering the depth, wit, and soul that continues to garner both readers' love and critics' acclaim, she deftly reminds us that no crisis will ever shrink our capacity for love—and when threatened—our will to fight back. Absolutely brilliant."—P.J. Vernon, author of Bath Haus

"Would it be strange to say I found a pandemic novel comforting? Chapter after chapter, I looked forward to basking in the friendship, humor, and genuinely good intentions of these women doing all they could to save their loved ones, one another, and the world from a mysterious and fast-moving disease. Kimmery Martin's fictional world was just the respite I needed from our real one." —Mary Laura Philpott, author of I Miss You When I Blink

"Yes, Doctors and Friends is timely, but it's so much more than that. It's an introspective, heartfelt story of deep friendships, impossible choices, intense twists and a great deal of what we all crave right now: hope. Put this on your TBR immediately!"—Liz Fenton & Lisa Steinke, authors of How To Save a Life

"Gripping and compelling, Doctors and Friends is an eerily prescient "what if" pandemic scenario. Martin has created a powerful narrative of friendship and loss."--Julie Clark, New York Times bestselling author of The Last Flight