How to Catch an Errant Earl (The Disreputable Debutantes #2) (Mass Market)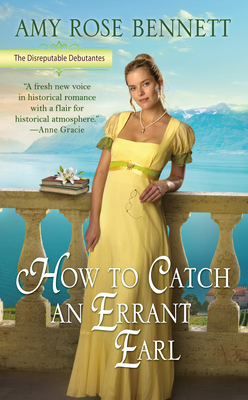 $7.99
Backordered or Out of Print
Other Books in Series
This is book number 2 in the The Disreputable Debutantes series.
Description
---
A debutante with a scandalous past is whisked away from London only to create new headlines on the Continent.
 
After being expelled from a young ladies' academy, it seems Miss Arabella Jardine will never find a well-connected husband. Not that she minds. A bluestocking at heart, she'd rather bury her nose in a medical text than wed. When Arabella is forced to accompany her family on a Grand Tour in Switzerland, she unexpectedly encounters the irresistible rakehell-in-exile, Gabriel, the Earl of Langdale. Arabella soon realizes the only thing worse than getting married to a charismatic but unrepentant rake would be to fall in love with him.
 
Dubbed the Errant Earl by the ton, Gabriel Holmes-Fitzgerald is no stranger to scandal. However, when Gabriel is caught in flagrante with the utterly delectable Arabella Jardine, he's obliged to offer for her hand. He'll endeavor to do the right thing even though he's not a prize catch. He'll certainly never let Arabella get close enough to discover the demons of his dark past. Indeed, there is one particular demon out to destroy Gabriel by exposing a long-buried family secret. 
 
Soon Gabriel and Arabella find they are not just battling overwhelming desire, but in a fight to save their future together.
About the Author
---
Amy Rose Bennett has wanted to be a writer for as long as she can remember. As she is an avid reader with a particular love for historical romance, it seemed only natural to write stories in her favorite genre. She has a passion for creating emotion-packed--and sometimes a little racy--stories set in the Georgian and Regency periods. Of course, her strong-willed heroines and rakish heroes always find their happily ever after.
Praise For…
---
Praise for The Disreputable Debutantes series:

"In the stellar debut of her Disreputable Debutantes series, Bennett makes the Regency historical seem fresh and new through her vividly rendered settings, which display her impeccable command of the glittering world of the ton; her perfectly matched protagonists, whose potent sexual chemistry evolves into sizzling love scenes; and her expertly graceful, tartly witty writing."—Booklist (starred review)

"Readers will enjoy this expertly executed Regency with likable characters. A well-written start to a historical romance series full of rakes and the women who love them."—Kirkus Reviews 

"Bennett delivers a fun start to a new Regency series in which embracing one's bad reputation yields some pretty good results."—Library Journal

"Amy Rose Bennett's HOW TO CATCH A WICKED VISCOUNT is delightful Regency romance infused with heat, energy and glamour. Bennett effortlessly captures the ingredients that make Regency romance so compelling to readers:  sparkling dialogue, passion, and the elegant ballroom manners that mask the danger and risks that lie just beneath the surface."—Amanda Quick, New York Times bestselling author

"A sweet and spicy read full of sly wit and rich with delicious details that pull the reader into the scene. A delightful confection of ballroom banter and bedroom seduction."  —Sally MacKenzie, USA Today bestseller

"Amy Rose Bennett is a fresh new voice in historical romance with a flair for historical atmosphere. In HOW TO CATCH A WICKED VISCOUNT she introduces us to a set of lively characters embarking on a fun, lighthearted, tried and true reader favorite romp."—Anne Gracie

"Sexy, sweet, romantic and funny, How to Catch a Wicked Viscount will steal your heart away. Amy Rose Bennett is a charming new voice in historical romance."—Anna Campbell