Operational Updates
Click HERE for the most updated hours, customer guidelines and updates to store policy.
Not Like the Movies (Paperback)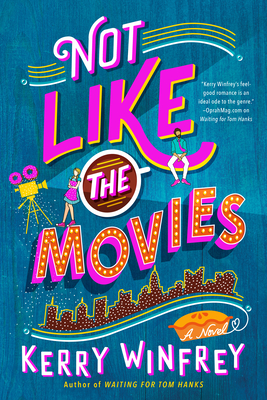 Description
---
What happens when your life is a rom-com . . . but you don't even believe in true love?

Chloe Sanderson is an optimist, and not because her life is easy. As the sole caregiver for her father, who has early-onset Alzheimer's, she's pretty much responsible for everything. She has no time—or interest—in getting swept up in some dazzling romance. Not like her best friend, Annie, who literally wrote a rom-com that's about to premiere in theaters across America . . . and happens to be inspired by Chloe and her cute but no-nonsense boss, Nick Velez.

As the buzz for the movie grows, Chloe reads one too many listicles about why Nick is the perfect man, and now she can't see him as anything but Reason #4: The scruffy-bearded hunk who's always there when you need him. But unlike the romance Annie has written for them, Chloe isn't so sure her own story will end in a happily-ever-after.
About the Author
---
Kerry Winfrey is the author of Love and Other Alien Experiences and Things Jolie Needs to Do Before She Bites It. She has written for many websites, including HelloGiggles. When she is not writing, she is most likely baking yet another batch of cookies or watching far, far too many romantic comedies. She lives with her husband, baby, and dog in the middle of Ohio.
Praise For…
---
"Winfrey excels at upending typical romantic comedy tropes, and Chloe is a complicated, realistic, believable character. Sitcoms, movies, and music are all heavily referenced in the story; fans of the TV series New Girl will no doubt love this book. A quirky novel perfect for rom-com fans and readers looking for a little sweet escapism."—Kirkus Reviews

"Humor and love abound in Winfrey's delightfully meta rom-com...This is a winner."—Publishers Weekly (starred review)

"The sparkling dialog and hilarious banter in this second in Winfrey's series (after Waiting for Tom Hanks) will dazzle readers craving a self-aware rom-com. Perfect for fans of Christina Lauren and Nora Ephron."—Library Journal

"Kerry Winfrey follows up last summer's delicious Waiting for Tom Hanks with this deliriously lovely rom-com…Hopeful, heartfelt, and poignantly tender, Not Like the Movies is the ideal title for late summer, a simultaneously warm and bittersweet package that feels just like this time of year."—Entertainment Weekly

"Winfrey has built in all of the charming things that make rom-coms addictive: richly developed characters, a deep pool of supportive friends, awkward situations, goofy reactions, missed opportunities, big misunderstandings and grand gestures. This romance is slow building, but the journey is a delight."—BookPage

"Those who enjoy fast-paced, sparring banter will find much to savor in this sexy story where love may—or may not—conquer all."—Shelf Awareness